I've always liked Sunny Health and Fitness. They're one of the only companies that can produce high-quality fitness gear and not charge the earth for it. I've reviewed their equipment for years, and it's rare that they don't impress me. Bang for your buck Sunny Health are the Go To company if your budget is tight, but you still expect quality.
The Sunny Health T7643 Heavy Duty Walking Treadmill is a perfect example of what these guys are all about. It's well made, easy to use, and does the job it's designed for.
No Bells & Whistles Treadmill For Walking
The first thing you'll notice about this treadmill is the lack of tech. It's a simple machine. Sunny has spent the money on the heavy-duty build and left the tech out of it. It's a fuss-free treadmill. So if you're happy to live without an HD touchscreen, fancy subscription fitness apps, and want a well-made treadmill without all the bells and whistles for walking? Then the Sunny T7643 might be for you.
It's definitely a treadmill worthy of some serious consideration, and today I want to take a close look at everything it has to offer, including any drawbacks, because there are a few minor ones.
First, let's check out the Sunny T7643 Treadmill products specs and then move on with the rest of the review!
Product dimensions – 60.5″D x 32″W x 52.4″H
Max user height – 6'1″ for walking
Running belt size – 19.5" X 45″
Why Do We Like The Sunny Health T7643 Heavy-Duty Walking Treadmill?
What I like most about this treadmill is how much it weighs. This machine is heavy, considering its compact size.
Most walking treadmills in this price range weigh around 90lb. The Sunny Health T7643 weighs over 140lb. This is heavy for such a small treadmill. That extra weight tells me it's a treadmill made from quality materials.
Also, weight aids stability. Stability is all important when owning a treadmill. You don't want a lightweight machine because they move around too much when walking, and they feel cheap. The 145lb weight of this treadmill helps keep it planted to the floor, and you'll feel like you're exercising on a proper treadmill.
Wide Running Belt
A wide running belt is important for any treadmill because it will prevent you from stepping off the side of the belt (which can be dangerous) in the middle of a session, which is a common problem with narrow belts.
The Sunny Heavy duty treadmill uses a near 20″ width belt. This gives you enough space not to feel restricted and will give you more confidence to walk at pace on the treadmill without holding on to the handles.
So yes, the heavy-duty build and the wide running belt are the two best features of this treadmill.
Is There An Incline?
There's no adjustable incline on this treadmill. Many walking treadmills don't have an adjustable incline, manual, or power adjustable. But the good thing about this treadmill is that the running deck is at a permanent 3% incline.
Walking on an incline will burn more calories than walking on flat, and it will help to strengthen those hard-to-train muscles such as your calves, glutes, and hamstrings, so there are health benefits associated with incline walking. An incline is a feature I feel is essential to get the most out of your cardio sessions.
However, if you're someone with a bad back, walking on an incline can cause pain. This is a 3% incline, so the gradient of the incline isn't a high one. Still, it may be worth having a chat with your doctor first about whether it's okay for you to buy a treadmill with an inclined running deck.
Basic Easy To Use Monitor
As I mentioned in the intro, you don't get much tech with this treadmill. The monitor is very basic. Basic isn't always a bad thing. A basic monitor is easy to use, There's nothing compared to set up, and there aren't hundreds of menus to scroll through. A lot of people prefer monitors like this on their treadmills.
What I like about this monitor are the large quick-speed buttons. These buttons allow you to access everything with a single touch of the button, they save time, and because they are large, they are easy to use while you walk.
The treadmill monitor tracks all your essential workout stats, such as time, distance and speed. Disappointingly there's no way to monitor your heart rate, but it's just a minor drawback, not a deal killer.
Other features include a bottle holder and a tablet holder for your iPad or phone.
2.5HP Motor With a Top Speed of 6MPH
The motor is an important feature of the treadmill. It usually determines what you can actually do on your treadmill, walk, jog, run, etc. But as this is a treadmill for walking, the motor's power isn't as important. Plus, the running belt is too short for intense cardio like running.
Still, with 2.5HP, you have a pretty powerful motor, especially for the size of the treadmill.
Most compact treadmills for walking have motors ranging from 1.5HP to 2.5HP, so you're at the higher end with this treadmill which is good news.
Because this treadmill has a top speed of 6MPH, you could use it for light jogging if you wish. Jogging requires a larger stride, so the max height for jogging will be lower than walking, but if you're under 5'9″, you could jog on this treadmill.
It has the power and the build to handle walking and jogging.
Protect Your Joints With Deck Cushioning
On low-cost treadmills like this, you don't always find deck cushioning systems, so it was a nice surprise to find some sort of cushioning system on the Sunny treadmil. It's not one of the best I've come across, but it's good enough to reduce the impact of each footstrike by 20-30%, says Sunny Health, so it's a useful feature to heave.
Lets The Hydraulics Do All The Lifting
Even though this is a compact treadmill designed to fit into small spaces, it also folds for storage. And when you purchase a folding treadmill, it's always best to choose one with a hydraulic folding system.
Sunny calls its folding system the soft drop system, which is just another name for a hydraulic folding system. The hydraulics do all the work for you. This means you can fold the running deck of this treadmill with a one-hand. It's that easy.
Do I Need a Treadmill Mat?
This treadmill is pretty heavy, so you don't really need a treadmill mat to help with stability. Still, if you have polished floors, it might be a good idea to get hold of a treadmill mat because the mat will protect your floors from scratches. Also, if you live in an apartment, a treadmill mat will help soak up the vibrations from your workouts.
Sunny Health and Fitness make the best cheap treadmill mats. Click the link below to view on Amazon.
30 Minute Assembly
Most people have found the assembly to be easy with this treadmill. The only challenging part of the assembly is unboxing the treadmill and getting it in place because the treadmill deck is fairly heavy. You might need two people for this.
Once unboxed, you'll need to attach the uprights to the treadmill deck and the monitor to the uprights. It shouldn't take longer than 30 minutes. All tools for the job are included.
For Maintenance: You'll need to lubricate the treadmill belt. Instructions for this are in the manual. Also, it's best to keep the treadmill belt clean, as this will prevent any debris from getting into the monitor. 
Sturdy build can handle 350lb
Wide running belt – prevents steeping off the side of the treadmill
Permanent incline of 3% burn more calories
Compact – designed to fit into small spaces
Ultra quiet motor – can watch TV or listen to music while you walk without being disturbed by the sound of the treadmill
Cushioning system to protect your joints
Monitor is basic, doesn't include any workout programs
No way to monitor heart rate
Might need two people for assembly as the running deck is heavy to unbox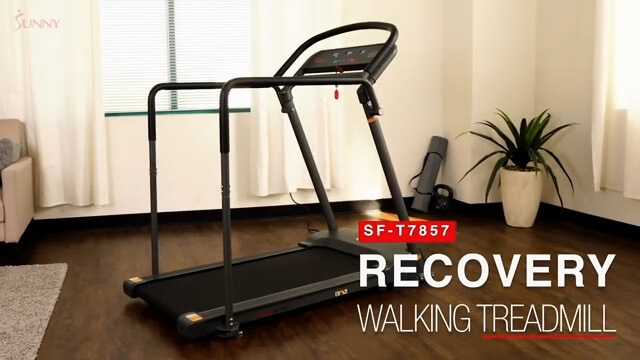 Sunny Health SF-T7857 Treadmill
The Sunny SF-T7857 is another popular walking treadmill from Sunny Health and fitness. It shares many of the same features as Sunny's heavy-duty walking treadmill, such as the wide running belt, the same 2.5HP motor, and deck cushioning system; both are compact and weigh around 140lb, so are sturdy machines.
The significant difference is that the SF-T7857 treadmill doesn't fold for storage because of the extended handrails. The handrails of this treadmill are its standout feature. They are there to support people with mobility issues who can't use regular treadmills or anyone who doesn't have the confidence to walk on a treadmill without support.
This is an excellent choice if you have recently had hip or knee surgery or have issues with arthritis etc. It's always nice to have some extra support, even if it's just for confidence.
You even have a low step-on height with this treadmill, making it much easier for people to actually get on the treadmill and start walking.
Like the Heavy duty treadmill in our review today, this treadmill also has a basic monitor that's easy to use and set up. These treadmills are very similar. Only the extended handrails and the folding feature set them apart.
An excellent alternative to Sunny's heavy-duty walking treadmill if you're someone who needs that extra support while walking.
To Sum Up
It's nice to finally find a heavy-duty treadmill for walking that doesn't cost over $1000. The Sunny T7643 Heavy Duty Treadmill has a durable, sturdy build, and this is its best feature. 
Yes, the monitor is basic, but it doesn't spoil an otherwise great buy. The monitor still tracks all your essential workout stats, and it's nice and easy to use, so im sure most people will be just fine with the monitor's basic design. What's more important is that Sunny got all the important stuff right with their heavy-duty walker.
It's a treadmill I'm happy to recommend.