I'm not a massive fan of Bowflex gym gear. I've reviewed a lot of it, and at best, their dumbbells, trainers, benches, etc, are average, but their fitness gear is on par with some of the best in the industry, and their treadmills are particularly impressive.
The Bowflex Treadmill 10 is one of their high-end treadmills. This thing is a beast. It weighs nearly 330lb. It's not far off commercial grade. It's my favorite of all the Bowflex treadmills, it's a treadmill that's got everything right, and you're not overpaying for a huge HD touchscreen. The 10″ screen on this machine is enough.
One Year free of Their App, and You Have Netflix Too.
If you buy a ProForm or NordicTrack Treadmill, you can only use their touchscreens with their fitness app iFit, and if you don't use iFit much, you basically just paid a ton of cash for a screen you cant use. At least with Bowflex, these guys let you use the Touchscreen on the T10 treadmill with other apps like Disney, Netflix, etc, and they give you a whole year subscription to their fitness app for free.
So not only is this treadmill boasting all the essentials like a large commercial-size belt, an excellent power incline, and a heavy-duty build – you also have a touchscreen that isn't limited to just a subscription app.
It's definitely a treadmill that makes me want to take a closer look, and today we'll look at everything it offers and any drawbacks. At the end of the review, I'll also compare the T10 with the Sole F85 treadmill, another beast of a machine that has similar specs to the Treadmill 10.
Product dimensions – 85″D x 40″W x 65.5″H
Max user height – 6'1″ for running, 6'3″ for jogging
Running belt size – 16″ X 43.3″
Why Do We Like The Bowflex Treadmill 10?
Without a doubt, the best feature of this treadmill is its heavy-duty build. I love large, heavy treadmills, you feel like you're using a gym machine, and that's what you want at home.
The Bowflex T10 weighs 323lb. It's never going to feel cheap or unstable; this machine has a max weight capacity of 400lb; as I said in the intro, it's a beast.
There's always a drawback to owning such a large treadmill, and that's space. You'll need a lot of space to house this treadmill, and even when folded, it takes up a lot of room.
And large treadmills like the T10 aren't that easy to fold, even with the soft drop system. If you want to buy the Treadmill 10, it's best to have the space to leave it unfolded. A garage or basement is the ideal place for a large treadmill.
Commercial Size Belt
Another feature you're going to love is the size of the running belt. Its probably the most important thing you should consider when buying a treadmill because it determines who can see the machine and for what.
Commercial size belts measure 22″ x 60″ thats the size you'll use in your local gym, and it's great to see a commercial belt on the T10 treadmill. It means most users will have more than enough room to jog and run on the treadmill.
Width is Just as Important as Length
The length of the running belt is important, but so is the width, You need a wide belt, especially if you're going to run at pace. A wide belt will prevent you from stepping off the side of the belt in the middle of a session, a real issue with narrow belts. 22″ width is as good as it gets, which you have with the treadmill 10.
15% 15 Level Incline and 5% Decline
You should always find an impressive incline feature on a treadmill at this price, and the Bowflex T10 has one of the best I've come across. I've used and reviewed a lot of treadmills over the years, and I never bother with the decline, but the incline on a treadmill is something I think is essential.
Even at a 10% incline, hill running burns three times more calories than running on a flat and builds and strengthens hard-to-train muscles like your calves, glutes, and hamstring.
If you want to get the most out of your time on a treadmill, then a decent incline feature is something you should always look for. The Bowflex treadmill boasts a 15 level 15% incline which is more than enough for hill running.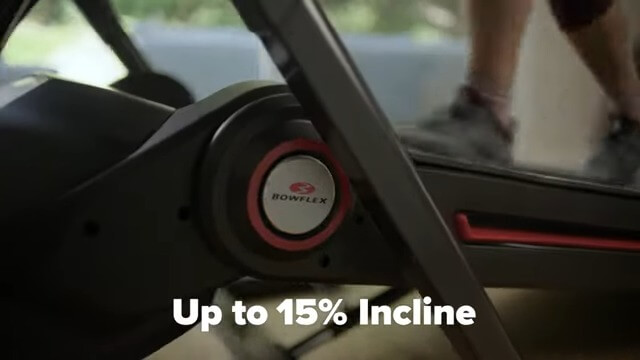 Can I Run on The Bowflex Treadmill 10?
You have the belt size and the build, and I'm pretty sure you have the power to cope with running. It used to state that the Bowflex Treadmill has a 4HP motor which is more than powerful enough for running, but recently this has disappeared, and it doesn't say anywhere on their website or the manual what HP this motor is.
Anyway, anything over 3HP is generally considered okay for running, and that fact this treadmill has a 400lb max capacity, it has to have a powerful motor.
Save $500 and Choose The 10″ Touchscreen.
The only difference between the T10 and T22 treadmill is the size of the touchscreen, and unless you really have an issue with the smaller screen, you should save yourself a lot of cash and stick with the 10″ screen.
And something else a lot of people asks about this treadmill is whether it can be used for NetFlix and YouTube, without the JRNY subscription, the answer is no, you have to subscribe, but you do get a one-year free with this treadmill, and after that, it costs $149 a year which is half the price of iFit.
JRNY is a subscription app that includes global routes, and personal trainers that run alongside you and encourage you, there's over 3000 workouts you can stream and over 50 global routes.
I'm not a big fan of subscription apps; I prefer to listen to music while I run, but it's nice you get a year free with this treadmill, and you can watch Netflix and stuff, plus there's an icon you can click, which gives you the option to watch on the treadmill screen or your smart TV. 
Now let's talk about the important stuff. The Bowflex treadmill monitor includes wireless heart rate monitoring, and they provide the HR wrist strap. Wireless monitoring is a much more accurate way to monitor heart rate than the handrail pulse sensors and an essential feature for those who love to train in their chosen heart rate zone.
Also, you have the quick speed buttons for incline and speed, a handy feature that saves time. Plus, all the usual tracking of stats such as distance, time, speed, etc.
The downside of the monitor is that it doesn't include the 1/4 mile track feature, which I found disappointing as most treadmills in this price range have the track feature. 
Comfort Tech Deck Cushioning
All good treadmills will have some sort of deck cushioning. Bowflex has used the same system for some time now, and it works well and should reduce the impact of each footstrike by up to 40%, which is great for the joints.
Still, this isn't the best cushioning system on the market. Why? A few treadmills released this year in the same price bracket include adjustable deck cushioning, and the reason adjustable cushioning is important is that road runners winter training indoors can choose the firm option to replicate road conditions,
For most people, an adjustable cushioning system isn't a feature they need, but for road runners, the Bowflex T10 deck might feel a little bouncy when running at pace.
Difficult Assembly
Some people are taking a whole day to assemble the treadmill 10. It's a large, heavy treadmill; unboxing it and getting it in place can be a headache. It's not just the Bowflex T10 that isn't easy to assemble. All large treadmills need two people for assembly and can take a good few hours to assemble. And you need to make sure you do it right because otherwise it won't work or you'll break it.
It's best to pay for assembly when buying a treadmill this size. Yes, it's a bit expensive, but it saves a lot of hassle.
Bowflex Treadmill 10 Assembly Video
Do I need a Treadmill Mat?
A lot of the time, people will buy a treadmill mat to stop lightweight treadmills from moving around when exercising on them. You won't have that problem with this treadmill; its weight will keep it firmly planted on the floor.
You will need a treadmill mat if you place your treadmill on polished floors to protect them from scratches.
And if you're going to use the treadmill in an apartment, it's always a good idea to buy a treadmill mat because they help soak up a lot of the vibrations from your workouts.
The best cheap treadmills mats are sold by Sunny Health & Fitness. Click the link below to view on Amazon
Great choice for larger users, solid build can handle 400lb
Commercial size running belt 22″ x 60″
Wireless heart rate monitoring with HR wrist band included
Most impressive incline in class – 15% incline and 5% decline
10″ touchscreen with 1 year free JRNY Membership and Netflix, YouTube + selection of other apps
Soft drop folding system – uses hydraulics
Deck cushioning for joint protection
Quick speed buttons for incline and speed
Built-in transport wheels, bottle holders, media shelf, BlueTooth
Bowflex known for poor customer service
Deck cushioning isnt adjustable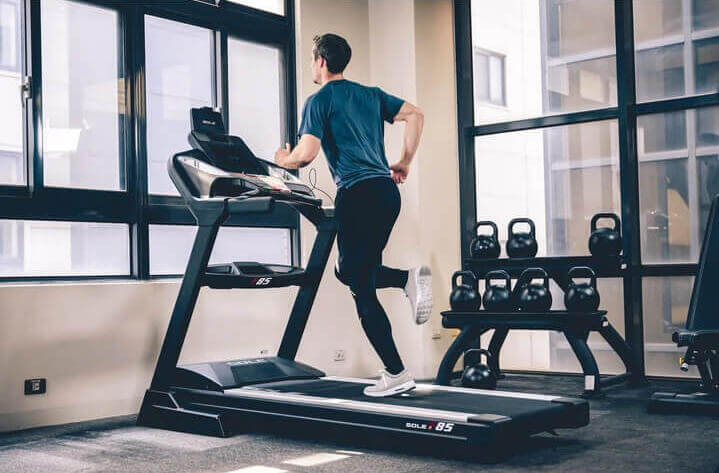 Sole F85 Treadmill
Before Sole Fitness started making home treadmills, these guys made treadmills for hotels and local gyms. They have a ton of experience in producing high quality treadmills. If there's one company you can trust to make something durable at a reasonable price, it's Sole Fitness.
The F85 is their heavy-duty treadmill. It's the most impressive machine they make for home gyms, and it shares many of the same specs as the Bowflex T10. Both have commercial size running belts, 15% inclines (although no decline with the Sole), both have a top speed of 12MPH, both use 4CHP motors, and both boast 10″ touchscreens that can be used with other apps as well as their subscription app.
On paper, these two machines are almost identical in specs, even regarding weight; the Sole weighs 310lb, just as heavy-duty and solid as the Bowflex treadmill.
But the Sole treadmill has a few features I really like; I love that it uses large rollers under the treadmill belt with sealed bearings. These are the rollers they use on $5k treadmills, and Sole uses heavy-duty motors with heavy flywheels again, something you see on a $5k treadmill, and it's these little touches from Sole that set them apart from the competition.
I've always liked the Sole F85. It's been my favorite 400lb capacity treadmill for a long time now. Yes, you don't get the 22″ screens of the NordicTrack treadmills, but who wants to pay an extra $500 for a larger touchscreen? A treadmill is for serious cardio. It's not all about the screen size. A 10″ screen is more than enough for a treadmill.
If I wanted to spend $2k on a treadmill, id go to Sole Fitness first; these guys offer the best build quality for the money. I like the Bowflex treadmill, but Sole has more experience building quality machines.
To Sum Up
If you can get hold of the Bowflex Treadmill 10 for just under $2k, the price it's selling for now, then yes, it's worth it. There isn't much difference between the three top treadmills for $1999, the Sole F85, the NordicTrack Commercial, and the T10 from Bowflex. All are heavy-duty and share the same specs apart from a few small things.
The Bowflex Treadmill 10 does stand out, it's a nice looking treadmill and large. I always say if you have the space, you should try and get as close to the feel of a commercial treadmill as you can for your budget. And the Bowflex is pretty close. It's heavy, its solid, and powerful. It's not going to feel much different from a commercial machine you'd use at a gym,
Still, unless you're really handy, I'd pay someone to assemble it. A lot of the time, when people complain about these large treadmills breaking down its because they haven't been assembled properly.