The NordicTrack EXP 10i is part of Nordictrack's new series of Mid-level Treadmills, and they're proving to be a hit. They're packed full of features and include all the essentials; something NordicTrack has failed at in the past. The EXP 10i is a treadmill that includes all the new tech and can match any treadmill in this price range on deck size, motor power, and incline.
It's a Treadmill That Has It All.
And because this treadmill has the build quality, the tech, and all essentials, it's becoming NordicTrack's best seller. These are the reasons I favor the EXP Series over many of the treadmills from Proform, and Sole. NordicTrack have got it right with the EXP 10i. You basically get a full-featured treadmill for under $1500, which is impressive.
Of course, if you want to make the most out of the NordicTrack 10i treadmill and its 10″ smart touch screen and auto-adjust features, then it's best used with iFit, their fitness app. And this is where the Nordictrack EXP 10i may lose a few supporters because iFit, although an excellent app, is expensive at $1 a day.
In today's EXP 10i review, I want to talk about everything this treadmill offers, its features, and any drawbacks. Also, I'll compare the EXP 10i with its little brother, the EXP 7i, at the end of the review.
But before we get on with the rest of the review, let's take a look at the product specs!
Product dimensions –  79.9" L x 35.08" W x 59.25" H Footprint
Max user height – 6'1″ for running 6'3″ for jogging
Running belt size – 20" X 60″
Why Do We Like The NordicTrack EXP 10i?
The touchscreen is what many people love when they first use the EXP 10i. The graphics are crisp, the screen tilts to suit your height, and it saves you from having to use an iPad or your phone. To get a 10′ smart touchscreen on a treadmill in this price range is excellent.
And the screen looks even more impressive when used with the global routes feature of iFit; whether you're running across a desert or through NewYork, it's just cool to have an HD screen built into the treadmill to view your routes, and what's even cooler is the treadmill automatically adjusts the speed and incline to suit the terrain you're running on. Nice!
Sturdy Treadmill With Large Running Belt
Still, perhaps what's more important is how the treadmill feels, and at 230lb in weight, it doesn't feel cheap. Yes, it's not commercial grade, but it does feel solid. There's enough weight there to keep the treadmill planted to the floor. And with the large running deck, it's not going to feel too different from the treadmills you've used in your local gym.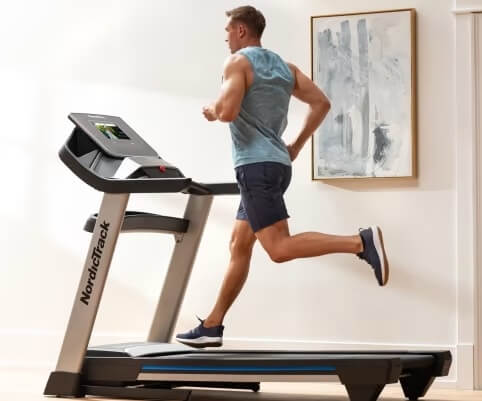 12% Incline and 3% Decline
Owning a treadmill with an incline is essential, especially for those who want to burn more fat, as jogging on an incline will burn 3 x more calories than on a flat surface. Also, if you want to build and strengthen your glutes, calves, and hamstrings, incline jogging is excellent for this.
In this price range, always look for a power-adjustable incline and at least a 10% max incline. The EXP 10i boasts a 12% incline and a 3% decline which is impressive and the only treadmill under $1500 to include a decline option.
To operate the incline, you can use the quick touch buttons of the monitor, or you can allow the treadmill to automatically adjust the incline depending on the workout you have chosen. The auto-adjust feature can be used with iFit studio classes, global routes, and Google maps.
Monitor With 10″ Touchscreen BlueTooth and iFit
I've reviewed a lot of treadmills in this price range over the years, and there's no doubt this is the best monitor I've come across.
It boasts a full HD smart touchscreen, quick touch buttons, auto-adjust, Bluetooth, built-in speakers, and cooling fans. Plus iFit, an app with over seventeen thousand studio workouts, globals routes, daily challenges, and you also have Google maps. This feature basically lets you plan routes anywhere in the world.
And, of course, it tracks all the essential workout data such as distance, speed, time, pulse, etc. You won't find a better monitor for the price point. It has all the latest tech and what I liked most about the EXP 10i monitor is that it's easy to use, there's nothing over complicated, and the one-touch buttons for the incline and speed are a handy feature that saves time.
How Big is a 20″ x 60″ Running Belt?
The size of the running belt is one of the most important things to consider before you buy a treadmill, as it will determine what you can do on the treadmill.
If you have the cash, it's best to try to get as close to the size of a commercial running belt as possible. Commercial belts usually measure 22″ x 60″, and some of the largest treadmill's belts even measure 22″ x 65″, but you're talking $5k treadmills here.
So to get anywhere close to commercial size for $1500 is excellent. And we're not far off with Nordeictrack's EXP 10i. Its belt measures 20″ x 60″.
A 20″ x 60″ is suitable for users up to 6'1″ for running and 6'3″ for jogging, so basically, unless you are especially tall, you shouldn't need a treadmill belt larger than this for a home treadmill.
Can This Treadmill Handle Intense Cardio?
Mid-level treadmills have never been the best choice for serious runners. However, with a 60″ belt and the Powerful 3.5HP motor of the EXP 10i, you should be okay training for half and full marathons, including HIIT.
The only thing I would be careful of is going over the max weight capacity of the machine because while a 3.5HP motor will cope with just about any cardio, it's not powerful enough for heavy users running at pace.
You really need 4HP + for heavy runners. My advice, stay 50lb or so below the max capacity of this treadmill to avoid motor burnout.
Anything Else Worth Mentioning?
NordicTrack uses adjustable deck cushioning for their treadmills. This is an excellent feature and rarely seen in this price range. Adjustable deck cushioning allows you to decide between soft and firm cushioning. This gives the option for road runners to choose the firm as to replicate road conditions.
Still, for most of us, it's best to choose the soft option as this helps protect your joints from the impact of each foot strike, and it's never too early to protect your joints!
Hydraulic Folding Ssytem
Another handy feature is the soft drop folding system. This is a folding system for the treadmill that uses hydraulics. The hydraulics do all the hard work for you, making folding the treadmill a breeze. Once folded, the EXP 10i treadmills' overall footprint is halved. To move? Just tilt and roll on the built-in transport wheels.
10″ HD touchscreen with tilt feature
Heavy duty frame feels solid
IFIT compatible – extensive workout library with over seventeen thousand workouts
Auto-adjust – let trainers auto adjust your speed and incline while you workout
Impressive 12% power adjustable incline and 3% decline
3.5HP motor with top speed of 12MPH
FlexSelect™ Cushioning – adjustable deck cushioning, only treadmill to include firm and soft options for cushioning
Built-in transport wheels, Bluetooth, speaks and workout fans
Relatively short warranty
Not many built-in workout programs unless you use IFIT
Heart Rate chest strap not included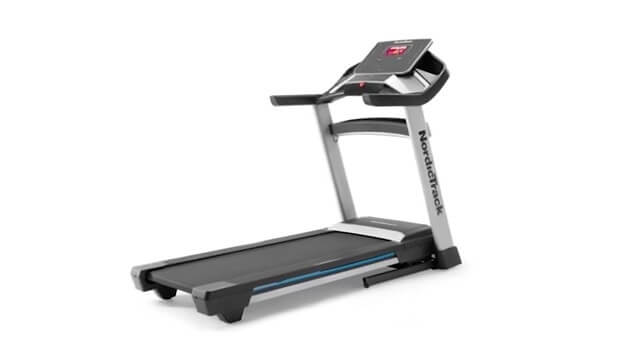 NordicTrack EXP 7i Treadmill
The NordicTrack EXP 7i is the little brother of the EXP 10i, but there really isn't much difference. The build quality is the same both treadmills weigh around 230lb, so both are nice and heavy for their price points, a telling sign the treadmills are made from quality materials. And that extra weight gives them a sturdy feel which is what you want.
So what are the differences? The EXP 7i has a slightly weaker motor, with 3HP, a smaller HD screen at 7″ compared to 10″ of the EXP 10i, and there's no decline.
These are pretty minor differences. The EXP 7i costs just $1099, and when you consider it has the same 20″ x 60″ running belt, auto-adjust, folding system, 12% power incline, deck cushioning system, cooling fans, Bluetooth, built-in speakers, and includes iFit you start to realize you get a lot of bang for your buck with the EXP 7i.
The only thing I would say with the NordicTrack 7i is that because you have slightly less power, I'd probably stick to light cardio and stay away from anything too intense.
To Sum Up
The EXP Series from NordicTrack offers more than anything else on the market right now for the price. The NordicTrack EXP 10i boasts the best tech on a treadmill under $1500, and it matches any other treadmill, including treadmills from Sole and Proform, on all the essential features, such as deck size and motor power.
This is an excellent treadmill for people who enjoy the challenges of subscription apps like IFIT and want a treadmill with enough power to cope with intense workouts. Overall a surprisingly good treadmill from NordicTrack.