There are a lot of fold-flat treadmills on the market right now, and I've reviewed most of them. The problem with many of them is they're cheap and unstable; most hover around the $350 mark, so the build quality suffers. The ProForm City L6 Treadmill is different. It's slightly more expensive, which means you get a more sturdy build, this thing doesn't feel cheap, and you get some useful features like a decent deck cushioning system to protect your joints and a larger running belt.
Is it Worth The Extra Couple of Hundred?
Yes, if you're tight on space, a well-made fold-flat treadmill is an excellent choice; the Proform City Treadmill is perfect for students who are sharing rooms or anyone who doesn't have the space to store a treadmill permanently. The ProForm L6 folds almost flat and can be stored against a wall or under a bed.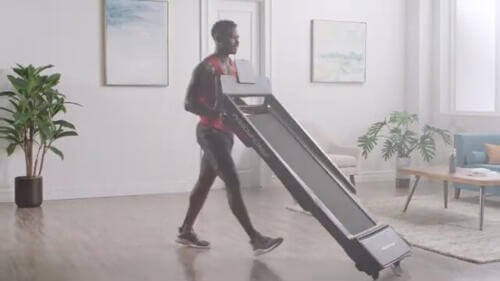 It's undoubtedly one of the more impressive compact treadmills out there; yes, there are a few drawbacks which ill talk about later, but nothing major. I haven't found any deal killers.
Before we get on with the rest of the review, let's take a quick look at the product specs!
Product dimensions – 29" Wide x 70.25" Deep x 44.5" Tall
Running belt size – 17.5″ x 45″
Why Do We Like The ProForm City L6 Treadmill?
The most appealing feature of this treadmill is that it's compact allowing it to be used in small spaces, and it's super easy to fold and store after use. But I think what many will like most about the City L6 Treadmill is just how easy it is to set up and use.
Fuss Free Design
There is no assembly needed. This thing is ready right out of the box. All you need to do is lift the raiser/handle, and you're ready to go. Also, there is no complicated monitor to set up. You can step onto the treadmill, select the speed from the one-touch buttons and get going. It's about as fuss-free as treadmills come, which I know is something many people prefer.
Sturdy – Feels Good When Exercising on It
The ProForm City L6 weighs 120lb which is quite heavy for a compact folding treadmill, especially considering budget ones weigh as little as 60lb.
That extra weight will help keep the treadmill planted to the floor, which is what you want. The last thing you need is the treadmill moving around while exercising.
The extra weight does make the treadmill a little more difficult to move, but it's worth it for the extra stability. Plus to make things easier when moving the treadmill you have the transport wheels built into the base of the treadmill, so you only need to tilt one end of the treadmill to move it, which is easy enough for anyone.
45″ Running Belt Good For Walking and Light Jogging up to 5'8″
The size of the running belt determines who can use the treadmill and for what. It's one of the most important features you should consider when choosing a treadmill.
This is a fairly compact treadmill, but still, it boasts a good-sized running belt for a compact machine. Typically I see belts with lengths of 39-43″ on fold-flat designs, so it's always good to find one with a couple of extra inches.
A 45″ belt will allow users up to 5'8″ to jog on the City treadmill and around 6ft for walking and power walking. 
What's most impressive about the running belt is the width. Nearly 18″ is excellent for a treadmill of this size. Most measure 16″.
A wider running belt will prevent you from stepping off the side of the belt in the middle of a workout which is one of the main issues with narrow belts on the cheaper compact treadmills. A wider belt will also give you more confidence to jog freely on the treadmill without holding the handrails for support.
Monitor With Quick Touch Buttons, BlueTooth and iFit
The design of this type of treadmill doesn't allow for a high-end monitor packed with features. There just isn't space. This isn't always a bad thing; simple monitors are sometimes best, as they're easy to use and set up.
Still, this isn't a treadmill without any monitor features, it's great to see that it's BlueTooth enabled, and I love the quick-touch buttons. Everything can be accessed with one touch of a button. You also get a 5″ LCD screen and, of course, this treadmill is iFit enabled.
iFit is a fitness app made by Icon Fitness, which also owns ProForm and NordicTrack.
It's an excellent fitness app that includes studio classes led by qualified trainers who even run by your side and encourage you. There are also global routes where you to run anywhere in the world, and much much more, too much to document here.
The downer is that iFit isn't a free app. It costs just over $1 a day. And it's only worth it if it's something you think you'll use every day. If not, you can still use this treadmill without the App, and because this treadmill uses such a quiet motor, you can always listen to music or watch tv while you exercise without the sound of the treadmill disturbing you.
ProShox™ Cushioning
I was surprised to see ProForms deck cushioning system on their City treadmill. This is the same anti-shock system they use on their high-end treadmills, and it's one of the best on the market.
The ProShox system will help protect your joints from the impact of each foot strike by a whopping 40%. It's rare to find a good deck cushioning system on a compact treadmill, which is why sometimes it is worth paying a little extra. 
Only 1.5HP
The motor on the City Treadmill is only 1.5HP; this is pretty normal to see on this type of treadmill, it's okay for light cardio, and you shouldn't have any issues with it.
I'm only mentioning the motor's power because 1.5HP is not suitable for heavy users. It says a max capacity of 250lb, but you need to keep 50lb under this. In my experience, if you want a 1.5HP motor to last, you need to stay under 200lb. 
Do I need a Treadmill Mat?
Most people buy a treadmill mat to prevent slips. If you buy a small light treadmill, they tend to move around on polished floors. Although this treadmill is pretty heavy for a small treadmill, it's still light compared to a large treadmill, so it could probably benefit from a treadmill mat to keep things even more stable.
Also, a treadmill mat will prevent your floors from getting scratched. And if you live in an apartment, a treadmill mat is essential if you want to keep your neighbors happy, as a mat will help absorb most 0f the vibrations from your workouts.
Sunny Health & Fitness makes the best cheap treadmill mats. Click on link below to view on Amazon.
Sturdy build for a compact machine
Good sized running belt for walking and light jogging
Easy to use monitor with BlueTooth and iFit
Compact size, great for shared rooms, apartments, or anyone whos tight on space
Sync with iFit and stream though your phone or tablet 
Quiet motor – can watch TV or listen to music without being disturbed by the sound of the treadmill
Proform is known for slow customer service
Not suitable for large heavy users
Sunny Asuna Space Saving Treadmill
Sunny Health & Fitness are a company thats been around for decades. These guys specialize in low-cost cardio gear; most of the time, they are unbeatable in the lower price brackets. Their Asuna Space-Saving Treadmill is one of my favorite fold flat treadmills and the Proform City L6's main competition.
Both of these treadmills are priced similarly. I think the Sunny is about $100 cheaper, but it offers just as good specs. It has the largest running belt of the fold flat designs under $600,  the belt measures 18″ x 49″, which is excellent for a compact treadmill, and you get a 2.5HP motor allowing the Sunny to easily cope with walking and jogging and users up to 250lb.
But perhaps this treadmill's best feature is that it can fold completely flat for storage, unlike the ProFor L6, whose monitor sticks up slightly. You can even store the Sunny Asuna under a sofa.
The monitor on the Sunny is even more basic than the ProForms. The Asuna monitor only tracks the essentials, like speed, time, and distance, but there is no Bluetooth, workout programs, or fancy fitness apps.
The Sunny Asuna is basically a well-made fold flat treadmill with an excellent running belt, good build quality, and the best fold flat design in this price range, and it comes in cheaper than the City L6.
The Sunny Asuna is an excellent alternative for those not interested in iFit.
To Sum Up
The Proform City L6 is an impressive compact from the guys over at Icon Fitness. It's not the usual cheap unstable small treadmill often found with fold-flat designs; it's sturdy and has a surprisingly good size running belt for walking and light jogging.
The motor is quiet, so it's great for apartments and shared rooms, and the monitor, although fairly basic, does include BlueTooth and their excellent iFIT app, although at an extra cost.
The only downside of this ProForm treadmill is their lousy customer service because should anything go wrong, it can take an age to get sorted, which is disappointing for such a large successful business.
If you don't think you want to use iFit? I feel the Sunny Asuna is the better treadmill for the price point. It's well built, has an excellent size running belt, a more powerful motor, and folds completely flat, making it even easier to store than the Proform City L6. Still, there's no Bluetooth with the Sunny Asuna and no fitness apps, so it, too, has a few minor drawbacks.