A lightweight dumbbell set such as the Skonyon Adjustable Dumbbells is an excellent choice for people just getting into lifting. They're compact, which makes them comfortable to train with. They boasts small enough weight increments for fast progression; they're affordable and use a foolproof adjustment system taking just a few seconds to adjust.
Solid With No Plate Rattle.
And surprisingly, the Skonyon dumbbell is well made considering its low price tag. Usually, when Im reviewing cheap lightweight dumbbells, there's some weight plate rattle when lifting, but not with this set of bells. They feel solid in hand, which is great news.
It looks like Skonyon got most of the essentials right with their lightweight 12.5lb dumbbells. The build quality is there, which is most important. Still, like all adjustable dumbbells in this price range,  there are a few minor drawbacks, not as many as most I've reviewed but some worth mentioning, which I'll cover later. First, the product specs.
Product dimensions – 13.2″*6.5″*5″
Weight – 12.5lb per dumbbell
Adjustment system – slide selectors
Weight increments – 2.5-5.0-7.5-10-12.5 lbs
Material – metal, plastic
Why Do We Like The Skonyon Adjustable Dumbbells?
The weight increments are the most important feature you must consider when choosing a pair of adjustable dumbbells. You need to avoid dumbbells with large jumps in weight as they will slow progress and cause you to cheat your form. Ideally, for an adjustable dumbbell, we look for weight increments of 2.5lb or 5lb at most.
Thankfully the Skonyon dumbbells use increments of 2.5lb. This is perfect for beginners and isolation exercises that demand smaller weight increases. You'll be able to progress fast with your lifting and safely using this set of dumbbells from Skonyon.
Compact, comfortable to lift with
Most selectable dumbbells, including the Skonyon dumbbells, use a fixed-length handle. A fixed-length dumbbell handle is a handle that stays the same length no matter how much weight you're lifting. Fixed length handles on heavy dumbbells sets are long so are awkard to lift with and I'd usually advise you against a dumbbell with a fixed length handle.
But the Skonyon dumbbell is lightweight, the fixed length of its handle is much shorter than the heavier 50lb per dumbbell sets like the Bowflex 552s.
The Skonyon handle length is a mere 13″; this is an excellent length for a dumbbell handle. It's compact and will feel natural to lift with. It won't clash into your sides when curing or over your head when pressing.  It really is a nice dumbbell to workout with.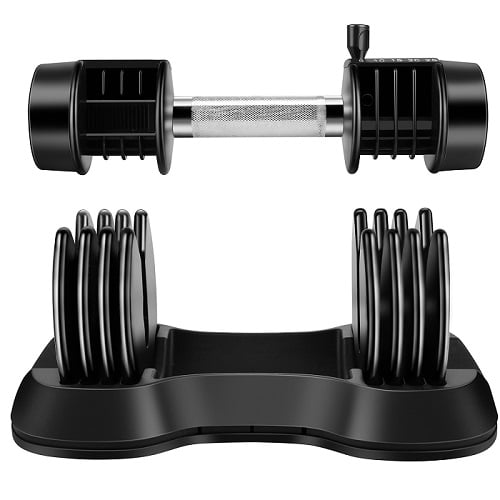 2 Second Weight Changes
The Skonyon adjustable dumbbells use one of my favorite adjustment systems, the pull slide selectors. The slide selectors are easy to use. You need to pull the selector and slide it to the amount of weight you wish to lift. It's that easy and takes just a second or two.
I've used many slide selectors over the years, and most are durable. Still, I recommend not to be too heavy-handed with them as they can snap if used with too much force. Best to be gentle when changing weight.
You should be able to perform any exercise with the Skonyon dumbbells as no advanced or basic bodybuilding technique requires faster weight changes than five seconds. You can easily adjust both Skonyon dumbbells in this amount of time. Even drop sets that require the quickest of weight changes can be performed with the Skonyon dumbbells.
No Drops From Height
One of the drawbacks of selectable dumbbells, even the more expensive ones, is that most of them use some plastic in their design. It's almost unavoidable. Unless you want to pay over $600 for a full metal pair of adjustables, you'll have to live with some plastic.
However, I was impressed with Skonyon dumbbells as they have less plastic than some of the dumbbells I've reviewed including the popular Bowflex sets.
There are no plastic casings surrounding the weight plates of the Skonyon dumbbells; this is a good thing because it's the plastic casings of the weight plates that usually breaks first when an adjustable dumbbell like this is dropped. Instead, Skonyon has powder-coated their weight plates to protect them from rust.
Still, even though the Skonyon dumbbells use less plastic, there is some in the handle and the adjustment system, so you'll need to be careful. They'll survive drops of six inches or so, but I wouldn't risk anything higher. It's not a deal stopper. All it means is no drops from height.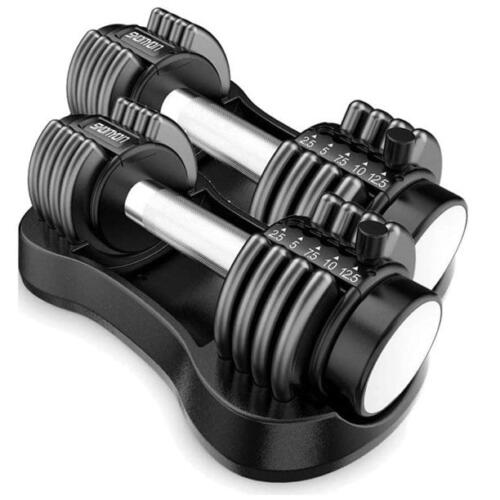 Is 12.5lb Per Dumbbells Enough?
Something else you'll need to think about before buying a set of lightweight dumbbells are your lifting goals? How serious are you about lifting? How many times a week are you going to workout? You'll be surprised how fast gains in strength and muscle mass come when you first start lifting. Many of you could easily outgrow a 12.5lb dumbbell within six months.
There are no weight expansion packs available for the Skonyon adjustable dumbbells. Once you reach the max, that's it. If you want to continue progressing, you'll have to buy a new heavier set of dumbbells.
If you think you'll workout 3 or 4 times a week, it might make more sense to buy a heavier set of adjustable for your first set, as it will save you money in the long run. Usually, I recommend 25lb per dumbbell sets for beginners such the Flybird 25lb dumbbells still relatively cheap but leave you much more room for growth.
Replaces 5 Sets of Fixed Weight Dumbbells
One of the reasons people love adjustable dumbbells is that they save a ton of space. This set replaces five sets of fixed weight dumbells or ten single dumbbells, that's a heck of a lot of space to save, and it means you can store them just about anywhere.
Anything Else Worth Mentioning?
There is only one other thing worth mentioning: to make sure to sit the dumbbell fully in its storage tray when changing weight. This will ensure smooth, fast weight changes. Push it fully down into the tray, so all the weight plates are level before you try to change the weight. Also, it's a good idea to store the dumbbells on a small waist height table; that way, you don't have to keep bending down each time you want to change weight.
Fast, easy to use adjustment system
2.5lb weight increments – perfect for beginners 
Compact – feel natural to lift with
Less plastic than most cheap adjustables
Space saving design, replaces 5 sets of fixed weight dumbbells
Come with storage cradles
12.5lb is fairly light for a dumbbell. Some of you may outgrow the dumbbells max weight within six months
No drops from height, drops are not covered in the warranty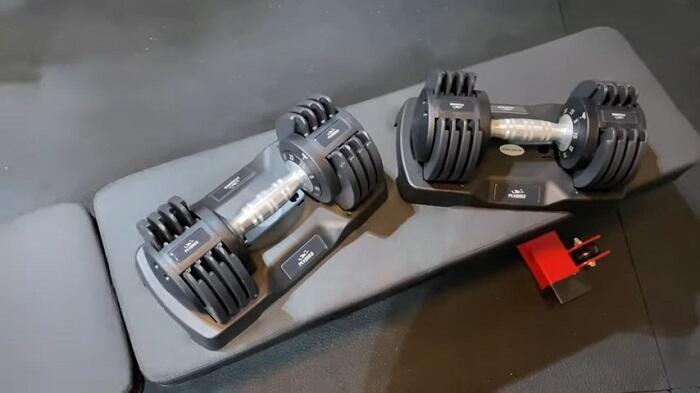 Flybird Adjustable Dumbbells (25lb)
For an alternative to the Skonyon's, I thought it would be worth showing you the Flybird 25lb adjustable dumbbells. They're the next level up in the weight range. The max for these dumbbells is 25lb per dumbbell. I mentioned earlier it's always worth considering something slightly heavier if you're a beginner because you need more room for growth.
25lb per dumbbell is about right for beginners. It's not too light that you'll outgrow it super quick and not too heavy that the price is scary.
Flybird makes some of the best budget gym gear on the market, I've been reviewing their gear for years, and they always impress me. Their 25lb dumbbells are, in my opinion, the best set of lightweight dumbbells on the market right now, and here's why.
First of all, the Flybird dumbbells use the twist-lock adjustment system. This is the fastest adjustment system out there. You can adjust it with just a twist of the wrist literally takes a second. The weight plates on this set are all metal with no plastic casing, and the handles are compact. Just 14″  in length for a 25lb dumbbell is impressive. They feel just as natural to lift with as a fixed weight dumbbell you might use in your local gym.
The Flybird dumbbell adjusts in 5lb increments. You won't see 2.5lb increments in this price range on a 25lb dumbbell. Still, 5lb increments are acceptable for beginners. It's the 10lb weight increments you need to avoid.
Apart from the adjustment system, the Flybird dumbbells are very similar to the Skonyon's, except you get twice the weight. Both sets of dumbbells are solid, with no plate rattle, boast fast weight change, and are compact, so they feel natural to lift with.
If you have the extra cash and are serious about making some progress with your lifting, I recommend you check out the Flybirds, as you won't find better in the 25lb per dumbbell range.
To Sum Up
The Skonyon Adjustable Dumbbells have everything you want from an adjustable dumbbell. These guys got all the essentials right. I love their compact design, many users have mentioned how good these dumbbells feel to lift with, and that's because of the short handles. Also, the adjustment system is one of the easiest to use. Just slide it across to change weight. It's a fav of mine but remember not to be too rough with it.
The small weight increases sell this dumbbell set, especially for beginners, as 2.5lb increments are ideal and will allow you to progress properly with your lifting without cheating your form. Overall a well-designed solid adjustable dumbbell.