The Cap Barbell 40lb dumbbell set includes a well made sturdy carry case to keep your iron weights and their handles safely in place and stored. The case supports a handle so you can take your dumbbells with you where ever you wish to workout.
The plates are made from cast iron and should prove to be very durable, not a great deal can go wrong with iron weight plates, apart from a few minor bumps and lumps from casting which will not affect the weight of the plate in any way.
Great For Beginners & Advanced Weightlifters
The dumbbell pair are aimed primarily at beginners, the low price point and low weight range of 20lb max per dumbbell reflect the sets beginner /intermediate status.
But don't let the weight range put you off, if you are more serious about your weight lifting and understandably worry about 20lb per dumbbell sounding light, the dumbbells are designed as such to be suited to most weightlifters looking for a cheap sturdy starter set to add extra weight plates to at a later date.
Thankfully the handles are 1″ industry standard allowing you to purchase additional plates from just about any reputable fitness plate manufacturer.
40lb set includes two handles, four 2.5-pound plates, four 5-pound plates, 4 collars, and a plastic storage case
Knurled handles ensure a secure grip
Rust and maintenance free
Strong and durable storage case provided
Rubber trim collars are used to prevent the plates from sliding and wobbling
Weight
If you have looked at the product description and tried to add the weights of the plates separately and arrived at a weight less than 40lb then don't worry because you may have forgotten to include the handles that weigh around 7lb with both collars, bringing the combined weight close to the 40lb advertised weight.
40lb is just enough weight for a beginner to start a basic weightlifting routine, you'll soon find after a few months into your training the 20lb weight per dumbbell will be outgrown for exercises such as the bench press or shoulder press but will prove more than enough weight for many isolation exercises.
You can easily fit up to 80lb on each Cap dumbbell handle and considering the Bowflex weight range max's out at 50lb each per dumbbell with no way of adding extra weight, you can see that a cheap iron plate dumbbell pair certainly has its advantages over some of the highly priced new-school sets.
The Cap Barbell 40lb dumbbell set is also a great set of weights for fitness enthusiasts who are not looking to gain any considerable amount of muscle but like to use resistance training in their routines. (40lb should be enough weight for light resistance training)
Something else to note is if you would like to buy separate training bars such as an EZ bar or triceps bar, you will not need to buy extra weights as most bars are 1″ and will be compatible with your Cap Barbell weight plates.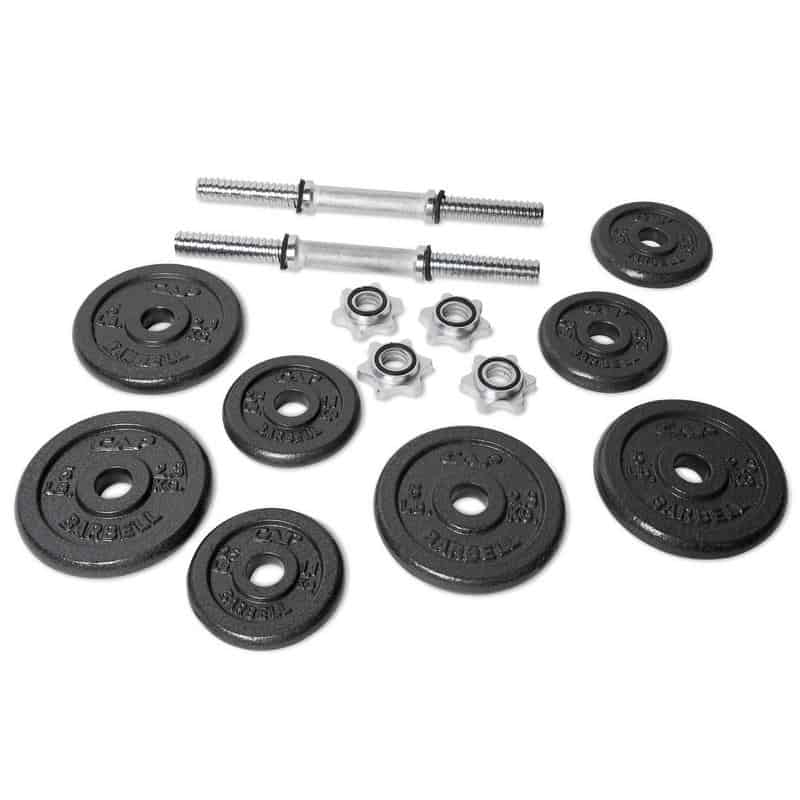 This is where dumbbells like the Cap Barbell 40lb dumbbell set suffer, the time needed to adjust the spinlock collar is considerably longer than say the pull-push system of the Power Block dumbbells or the Twist- Lock of the Core fitness dumbells. 
Having to manually change the weight by adding and removing plates bumps up the adjustment time that little bit more but it shouldn't take much longer than 40 seconds per dumbbell to change.
Depending on how you train, most people like a gap of say 60-90 seconds between sets, this extra time could cause a few problems. But for most people training at home, the extra bit of time needed to change the dumbbells shouldn't affect your workout in a negative way.
Note: make sure you tighten up the spinlocks with as much force as possible, I remember an old set I used to have and the collars do become loose quite easily.
Best Adjustable Dumbell Set Guide And Reviews
Durability & Build Quality
Not too much to say about build quality, they are a set of iron cast weight plates, like I said earlier there's very little that can go wrong with old school sets like Cap Barbells.
The plates are rust free so should last a lifetime, the handles have been chromed and include a medium knurling for grip, you shouldn't really need any weightlifting gloves with low to medium knurling on handles like this.
The more you use them the skin on your hands will start to toughen, medium knurling might give you a few calluses but that's all part of the training. Gloves are good if you need increased grip but even then your grip will strengthen after a few months of lifting.
The dumbbell case seems to be well built and durable, might be handy for some of you if you go away often and want to take your weights with you, the case is only made for the 40lb set so once you start lifting more and adding more plates there may not be a lot of use for the case.
Overall a very solid set of dumbbells that do not include any plastic parts, unlike some of the expensive adjustable dumbbells, the Caps can be dropped from a height if you like to train to failure, no need to worry about breaking expensive adjustment systems with plastic mechanics inside. You can throw these around if you wish, they are almost unbreakable.
Rust-resistant plates coated with protective finish
Cast iron plates will last many years
Very affordable set to start training with
1″ handle allows you to buy additional weight plates
Easy to disassemble for storage
Only 40lb of weight in the set
To Sum Up
A very well priced set of adjustable dumbells from Cap, beginners should be able to make the most from the set by adding extra plates when needed, overall they will prove to be versatile and will outlast many of the more expensive sets of adjustable dumbbells currently on the market.
If you can put up with the slow adjustment times then this pair of dumbbells will not disappoint. A worthwhile buy for any home gym.