Are you looking for a sturdy well-made bench for under $200? Body Solid's Powerline weight bench might be what you are looking for.
7 Back Pad Positions 500lb Capacity
No need for tools to fix this bench together. The Powerline PFID125X bench is designed straight for use out of the box. With 7 adjustment positions for the back pad, it's certainly a versatile bench and will turn any space in your home into a working home gym.
Our favorite feature of this bench is its user and weight load. It's tough, durable, and stable and should take the retailer's maximum of 500lbs.
With a weight load of 500lb, it's going to appeal to a wide range of users, from bodybuilders to general fitness fanatics. In fact, almost anyone looking for a mid-range bench for dumbbell and barbell workouts will be pleased with the quality of the Powerline weight bench.
Seat measure 15 x 10″ – backrest support 32 x 10″
Adjustable bench offers seven positions
10 year frame and 1-year parts guarantee
Has wheels for ease of transport
Why Do We Like The Body-Solid Powerline Bench?
The bench has been designed to provide you with all the positions a commercial gym bench would offer but at an affordable price. The bench is nice and sturdy and does feel solid, designed primarily for dumbbell training.
Still, if you are considering using this bench for barbell pressing, the relatively high weight capacity and high-quality build should make it ideal for light to medium barbell/rack work.
High-Quality Study Build – No Wobble
Spending slightly more $'s on a mid-range bench as the BodySolid Powerline reassures you of quality. With quality, we usually find stability the most important feature of any weight bench when lifting heavyweights.
You'll be happy to hear this bench copes very well with no seat or frame wobble.
And its the weight of the bench that gives us a good clue to the overall quality of the materials used in the build, and at 50lb, this bench is quite heavy for the price point.
The extra weight will also aid stability, helping keep the bench planted to the floor, plus the low profile design of the Powerline FID125X and its wide stabilizing feet add to the sturdy feel of the bench not dissimilar to benches costing twice as much.
Fast To Adjust Ladder Adjustment System
The Powerline bench is equipped with a ladder adjustment system. I always recommend, unless spending over $500 on a bench to choose a bench with a ladder adjustment system for the back pad, they are sturdier, faster to adjust, and can handle heavier weight loads than the pull pin type systems.
I was hoping for an adjustable seat but again as we find with many benches under the $200 mark they leave out this feature.
Fold Away Weight Bench!
We love the built-in wheels incorporated into the rear stabilizer, which makes moving the bench a breeze, but you can also fold the Powerline PFID125X Bench flat for storage, really handy if you are training in the bedroom and want to store it under the bed.
The idea of the front leg brace is to keep the body in alignment whilst in a declined position, most importantly helping keep your back straight preventing injury.
Body-Solid has been around for a couple of decades. They make high-quality strength training and exercise equipment. Body-Solid machines feature innovative technology and distinctive styling that suits your home.
From space-saving designs that suit any room to full-sized gym systems, Body-Solid is a company you can trust and a company that gives long guarantees with their products. Most of their products receive 4-5 star reviews on Amazon.
Design
The Body-Solid Powerline bench is designed to be very similar to the benches you find in a commercial gym, and we can safely say the bench is not too far off.
The metal ladder adjustable system seems solid and a much better idea than the pin locking system, which some of the lower-end budget benches use.
The seat padding is not too soft and not too hard to feel uncomfortable. This allows you to focus on your lifts fully.
If you are a seasoned trainer, you will know a tapering back support is normally a good idea as it will allow you to move more freely for certain movements. We were glad to see the Body Solid's Powerline bench incorporated into its design and works well, especially for movements like the bench press and flys.
Assembly
For the first time in our bench reviews, we're missing the assembly instructions. This one comes ready assembled straight out of the box!
Build Quality
The Powerline PFID125X bench is built to last. Still, if anything goes wrong, you do have the 10-year guarantee to fall back on. The ThePowerline lift and lock adjustment bar feels like it would take a lot to break. The simplicity of its use is its selling point.
There have been a few complaints of the gap between the bench seat and the back support, this is fairly common with the lower end benches, and if you think this might be something that may concern you, you may want to think about putting a towel between the seat and back support gap to cushion your back.
With over 30 exercises to choose from, you'll be able to use this bench for rack and dumbbell workouts.
Body Solid's bench features 7 adjustable positions including incline, flat, and a – 18 for decline, you should have no trouble getting the most from this bench, as said earlier it's a fully adjustable gym- like weight bench.
500lb max user and weight load
Come ready to use out of the box
Folds flat for easy storage
Small gap between seat and back support
The seat is not adjustable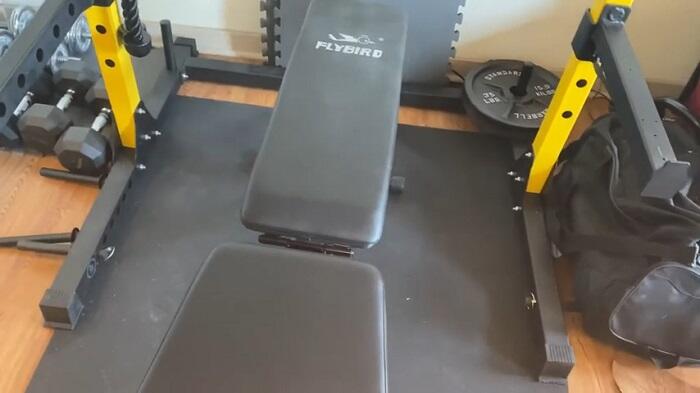 FlyBird Adjustable Weight Bench
If you are looking for a foldable weight bench? Then it might be worth taking a few minutes to consider the FlyBiurd bench. The Flybird folding weight bench is the most popular low-cost folding bench on the market, and there's a good reason why?
This thing boasts 7 adjustment angles for the back pad, 700lb max weight capacity, 2″ foam padding, and best of all. It includes a 3-way adjustable seat.
An adjustable seat will stop your butt from slipping down the bench when low incline pressing. It provides you with a stable base to press from. Thus increasing pressing power.
If you are serious about your lifting, an adjustable seat is almost a must, especially if you're thinking of pressing heavyweights.
Another positive of the Flybird bench is that it folds to almost half its original footprint which allows it to be stored in a cupboard or against a wall. I know a few users mentioned it fitted quite easily under their bed.
The only downside to the Flybird is its weight. It's quite light at 30lb, so that it won't feel as solid as the Powerline bench.
Still, the Flybird bench is one of the only light foldable benches I've reviewed where the weight of the bench doesn't affect the stability too much. And thats thanks to the extra-wide front and rear stabilizer bars, which really help keep the bench stable both in flat and incline positions.
Overall the Flybird is an impressive foldable bench with everything you need for dumbbell workouts at home. It's my top pick in the under $150 price bracket.
Our Full Review: FlyBird Folding Weight Bench
To Sum Up
A versatile weight bench the Powerline PFID125X  will make a great addition to most home gyms. 7 adjustable positions will offer you a wide variety of exercises. A stable easy to store weight bench for the beginner and intermediate user, even serious bodybuilders, will get some valuable dumbbell use from this bench.