The Advenor adjustable weight bench is a low-cost foldable bench. Yet it boasts some impressive features such as 7 adjustable back pad positions, an adjustable seat, and an 800lb max capacity. Still, this thing is a budget bench, so we can't get too carried away.
Lifetime Warranty – Versatile – Foldable Bench
There are a ton of these entry-level foldable benches flooding the market right now. Hence, we need to be particularly careful when choosing as the quality on offer varies hugely from one company to another.
Thankfully Advenor is one of the more trustworthy companies. They are the only company to offer a long warranty on a budget bench which is great news as it means this company stands behind its products, something rare in this price bracket.
Today I want to take a close look at everything the Advenor Foldable Weight bench has to offer, including its drawbacks. At the end of the review, we'll compare the Advenor with a similarly priced bench to see how it matches up.
First, a quick look at the Advenor product specs!
High density foam padding for seat and back pad
Why Do We Like The Advenor Adjustable Weight Bench?
The main selling feature of this bench is that it folds for storage, great for those of you who dont have a dedicated space to store the bench. It folds to almost half its original footprint allowing it to be stored up against a wall, under a bed, or in a large cupboard.
However, it's not the fold for storage feature I think that sells this bench. What I like most about this budget bench is just how versatile it is.
The Advenor includes 7 adjustable back pad positions. This is more than enough for all of your incline pressing needs, plus it includes a near-vertical for seated shoulder press and decline options for decline pressing and sit-ups. Thats a Full FID (Flat, Incline, Decline) bench for around $100!
Plus, we also have an adjustable seat. I always recommend when choosing any adjustable weight bench to choose one with an adjustable seat. Why? Because an adjustable seat will stop your butt from slipping down the bench in low incline positions, providing you a stable base to press from.
800lb Capacity? Doubtful.
You'll see a lot of cheap benches boasting large capacities, and the truth is most of them couldn't handle this type of weight on a regular basis.
The Advenor claims an 800lb capacity which is huge for a bench that weighs just 30lb. This type of capacity is usually reserved for heavy-duty benches built from 11 gauge steel with high-quality welds costing between $400-$800
Personally, I would never trust a 30lb foldable bench with this much weight. Yes, it might take a few times but not regularly. It will break. A more realistic weight capacity for a budget foldable bench is around 400lb, and remember this includes your own body weight.
We also have to think about the adjustment systems on these cheap benches because many of them, including the Advenor, use a pull-pin type adjustment system.
Pull pin type adjustment systems are ok for high-end commercial benches because the quality is there. Still, when we use this type of adjustment system on budget benches, it often breaks under heavy loads because of the cheap materials used.
I wouldn't trust this type of adjustment system on a cheap bench with heavy barbell lifting. If you need a bench for heavy rack work, you'll need to spend a few more dollars.
As I mentioned earlier, this bench is perfect for light to medium dumbbell workouts, but dont take it anywhere near its max capacity. $100, 30lb benches are not heavy-duty and never will be.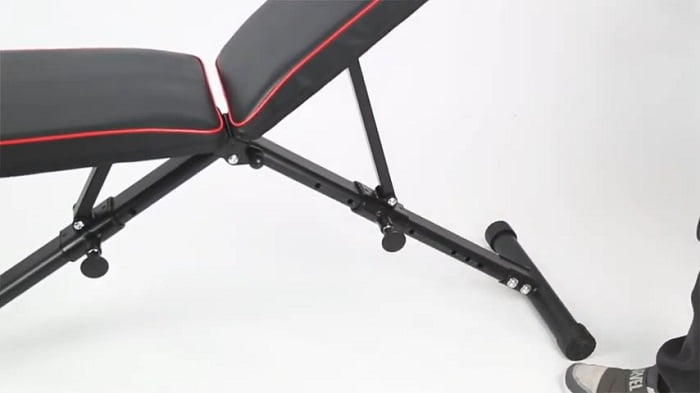 High-Density Foam Padding
On the positive, something that impresses me about this bench is that it uses high-density foam padding. This is the gold standard for weight benches. It not too soft to cause stability issues or too hard to be uncomfortable, and at 2.2″ thick, it's just right for a weight bench.
Something else I noticed is how wide the front and rear stabilizers are on the Advenor weight bench. Wide stabilizers will really help to keep this bench stable and prevent any wobbles, especially important considering how light the bench is.
Super Easy To Assemble
You'll be happy to hear most of the Advenor bench comes fully assembled. All you need to do is attach the foam foot holders shouldn't take longer than a few minutes. I also recommend you make sure all the nuts, bolts, etc., are tight before the first use.
Versitile – 7 adjustable back pad positions & adjustable seat
High density foam padding
Wide 12″ backrest for extra support when pressing
Great price for a decent foldable weight bench
Not suitable for heavy barbell workouts
Pull pin adjustment systems slower to adjust than ladder adjustment systems
The Bonnlo Upgraded Weight Bench
The Bonnlo adjustable bench is very similar to the Advenor bench in that both are lightweight foldable benches best suited for dumbbell workouts. And both benches cost around $100.
The reason I've included the Bonnlo in this review is thats it is one of the only benches in this price bracket thats worthy of some serious consideration, it built well, and stable includes the high-density foam padding, and just like the Advenor has been around for a couple of years so has a lot of user feedback most of which is positive.
The Bonnlo boasts a more realistic weight capacity of 600lb. Still just like the Advenor I wouldn't take it much past 400lb because of the lightweight build and pull-pin adjustment system.
The only real difference between the two bench is their warranties. The Bonnlo's is rather short while the Advenor offering a lifetime, and it's this extended warranty that may persuade many to choose the Advenor over the Bonnlo.
To Sum Up
I was impressed with Advenor foldable bench. It offers a lot for the price tag. It's highly versatile with every adjustment angle you could possibly need for pressing and an adjustable seat to give you that much-needed support when low incline pressing.
We also see high-density foam featured on this bench, a nice surprise and something I wouldn't expect to find on a low-cost bench.
Build quality will always be a long way off commercial grade, so dont expect a heavy-duty bench, but for dumbbell workouts, it's perfect. And if you're a beginner just getting into lifting, this bench should last a good few years before you outgrow it.
You won't find a better foldable bench in this price range, keep way below the 800lb capacity, and shouldn't run into any issues with the Advenor Adjustable Weight Bnech.