Best Foldable Weight Bench
Today we're going to look at 6 of the best folding weight benches. Thankfully there's a ton of folding benches on the market, and over the past few months, I've reviewed and researched well over 30 of them.
And surprisingly, although a lot of them were similar in price, the quality on offer varied hugely from one bench to the next.
And it's because the quality varies so much from one bench to the next that research is essential before buying any foldable bench.
The good news… There are a few excellent foldable benches! The Bad news…for every 1 decent bench, there are 3 rubbish ones.
The last thing you want to do is get your bench set up and have to send it back after a few weeks, something I know many people have the hassle of going through, especially with low-cost foldable benches.
Still, this shouldn't put you off because we found some exceptional Full (FID) foldable benches that stood out from the rest boasting solid builds,  high-density foam padding, adjustable seats, large-weight capacities, and more.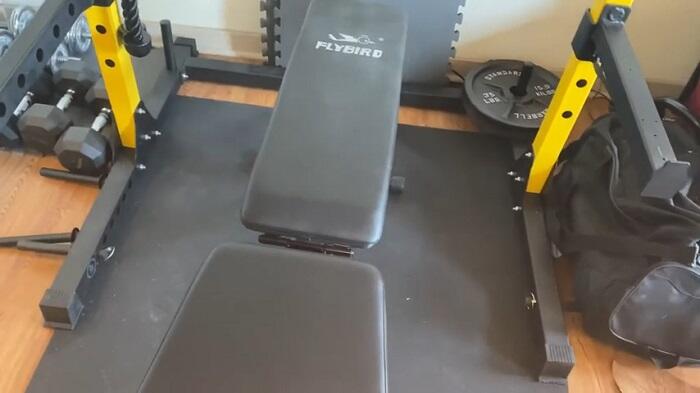 Our guide has everything you need to know, from the features you should be looking for as well as our top 6 picks. It will save you hours of research, and hopefully, you'll find the right foldable bench for your workouts needs.
I have the broken the review into two parts. First, we'll take a look at the Best Folding Benches under $150, and then for anyone whos looking for something a little more 'heavy-duty,' we'll take a look at the Best Two Folding Benches under $250. Followed by our top tips buyers guide.
For those who haven't got much time to read the whole review, here's a comparison table of the Our Top 3 Foldable Weight Benches.
Best Foldable Weight Bench – Comparison Table
Best Under $150
Flybird Adjustable Weight Bench
Weight – 32lb

Back Pad Positions – 7

Weight Capacity – 700lb

Adjustable Seat

Foldable

Our Rating – 4.8/5
Weight – 30lb

Back Pad Positions – 8

Weight Capacity – 660lb

Adjustable Seat

Foldable

Our Rating – 4.5/5
Best Under $250
Fitness Reality 2000
Weight – 65lb

Back Pad Positions – 7

Weight Capacity – 850lb

Adjustable Seat

Foldable

Our Rating – 4.8/5
Foldable Benches – Reviews For 2021
1. FlyBird Adjustable Weight Bench
This company has been building affordable adjustable benches for over two decades. Their folding benches are some of the best on the market, receiving high ratings wherever they are sold.
I particularly like the FlyBird foldable bench because, unlike other foldable benches, this thing is stable.
It's one of the only foldable benches that doesn't suffer from stability issues because of its lightweight build. And we can attribute its stable design to the wide front and rear stabilizers. These really help to prevent any moment when working out on the bench.
Another area where the Flybird shines is versatility, with 7 adjustable back pad positions. Easily enough, back pad angles for all of our pressing needs, including a near-vertical for seated shoulder press.
A near verticle is an important angle if you want to target the shoulders fully and its angle. Many of the cheap foldable benches lack, with some benches only inclining to a max of 70 degrees which is slightly too low to hit the shoulders hard.
As well as a near-vertical, we have a -20 for decline presses and sit-ups which makes the FlyBird a Full FID bench (flat, incline decline). Impressive for a bench in this price bracket.
Most importantly, the Flybird is equipped with an adjustable seat, a vital feature for incline pressing.
An adjustable seat will stop your butt from slipping down the bench in low incline angles. It provides a stable base for you to press from. If you want to pres heavy safely? An adjustable seat is a must.
So who's this bench for? Lightweight benches like the Flybird are typically designed for light to medium dumbbell workouts despite their high capacity claims.
But the Flybird is an exception as the build is that much better than its completion, so although I wouldn't recommend super heavy barbell/rack lifting,  beginners and intermediates should be fine using this bench for both dumbbell and rack work.
Overall – there really isn't anything else out there that can match the FlyBird on quality, features, and price an excellent foldable weight bench that doesn't disappoint.
7 back support adjustment angles
3 position adjustable seat, great for incline workouts
Foldable, light bench, makes for easy storage and moveability
Stable considering its lightweight build
Short warranty on upholstery
Pull-pin slower to adjust than ladder adjutment system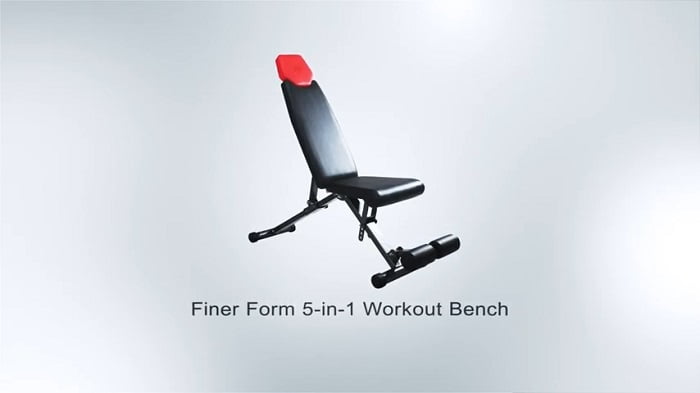 2. Finer-Form 5-1 Adjustable Weight bench
The Finer-Form Adjustable Bench is another versatile bench that includes the near-vertical for seated shoulder press, decline, flat, and another 5 more back pad positions. It is the most versatile bench in this review, plus we have a 3-way adjustable seat for support when incline pressing.
Another impressive feature of the Finer-Form is that it boasts high-density foam padding. This is the gold standard for weight benches, and surprisingly to see it on a bench that costs under $150.
The great thing about high-density foam is that it isn't too sort to cause stability issues nor too hard to be uncomfortable. It's just right and what you want to see featured on your foldable bench.
And it's nice to see a low-cost bench listing a realistic weight capacity of 660lb. They haven't gone crazy and labeled this bench a 1000lb. Instead, they have given the bench a realistic capacity, which I hope has come from extensive bench testing.
660lb is a high capacity for a budget bench. Still, it will always be a lightweight foldable bench, so I wouldn't recommend taking it to its max every day. Keep well under the max capacity of any low-cost bench if you want it to last a few years.
Are there any real faults with the Finer Form? I'm happy to say there isn't really anything wrong with this foldable bench. It is that good, and the 1000s of positive user reviews reflect this.
The only thing I didn't like is the tapering back support (it gets narrower towards the top). Tapering back supports are fine for smaller users, but larger uses will not get the support they need when pressing. Not a deal-breaker for most, but it is worth a mention.
Overall the Finer-Feather is a great buy considering what you get. High-quality padding, a ton of back pad positions, it's stable thanks to wide stabilizers and low profile design, plus folds easily for storage.
Versatile – 8 back pad positions & adjustable seat
Padding isn't too soft to cause stability issues or too hard to be uncomfortable
Good looking weight bench, similar to Bowlfex
Wide front and rear stabilizers keep the bench stable
Light weight build – not suitable for heavy lifting
Some people had trouble aligning pins
3. Magic Fit Adjustable Weight Bench (best $100 foldable)
The Magic Fit adjustable bench hasn't been around as long as the top two benches in this price bracket, yet it's already proving to be one of the most popular foldable benches around.
The Magic doesn't quite have the FlyBird or the Finer-Form quality, but we have to remember the Magic Fit costs a third less, so we can't expect it to really challenge the top 2.
Still, for the price, this thing is impressive. It boasts 7 adjustable back pad positions, a 2-way adjustable seat, descent 2″ foam padding, which thankfully isn't too soft. And it's super easy to fold, which is always a good thing.
There's no heavy lifting with this bench. Even though it has a 550lb weight capacity, it's a $100 bench and definitely best used for dumbbell workouts. If you own a set of Bowflex dumbbells, this is the perfect bench to go with them.
Overall all this is a good-looking sturdy bench thats get all the essentials right.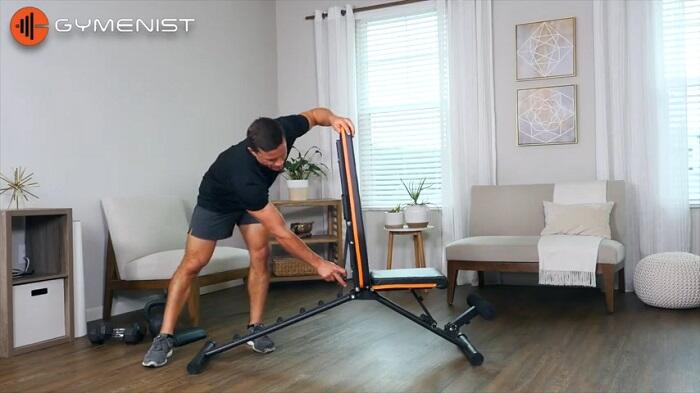 4. Gymenist Folding Workout Bench
I've always liked the Gymenist workout bench. It was one of the first well-built, affordable folding benches to come out.
And up until recently, it was my favorite budget folding bench, but since then, a few other benches have trumped the Gymenist in this price range.
However, the Gymensit can boast the test of time as this $100 bench has been on the market a while, and because of that, we are privileged to have a ton of feedback, and for the most part, it's all positive, with people praising the bench after years of ownership, which is rare for a foldable bench in this price bracket.
So we know the build quality is there. How about versatility? The Gymenist has always been impressive there, too, with 6 adjustable back pad positions and a 3-way adjustable seat.
It's another easy-to-fold bench, and just like the Magic Fit, there's no assembly required.
There isn't a huge difference between the Gymenist and the Magic Fit bench, which both carry the same price tag, the Magic Fit does include one more back pad position, and the padding is slightly thicker. However, the Gymenist still offers great value for money, and unlike the Magic Fit, it has proven to be durable.
6 adjustable back support positions (includes near vertical)
A lot of bench for the price
Pin lock adjustment system slows adjustment times
Staples on padding tend to come lose some owners have reported
Best Foldable Bench Under $250
Fitness Reality 2000 Super Max Bench
Fitness Reality are known for build high-quality gym gear. I've reviewed a load of their stuff, and they never fail to impress. The Super Max 2000 is their top-of-the-line folding bench. And In my opinion, it's the best folding bench on the market by a long way.
Built from heavy-duty 2″x3″ steel, this thing is heavy. It weighs 65lb thats twice the weight of the low-cost benches.
The extra weight will help keep this bench fully planted to the floor, and when you're lifting on this bench, it's going to feel solid. It won't feel like a cheaply made lightweight bench. It will feel more like a bench you would use in your local gym.
The extra weight is also a telling sign the bench is made from quality materials.
What I like about this bench is that it uses a ladder adjustment system for the back pad. These are much quicker to adjust than the pull-in type. They're studier and can handle more weight.
There are 7 adjustable back pad positions,  ranging from near-vertical +85 perfect for seated shoulder presses to -15 for decline pressing and sit up. Plus, we have a three-way adjustable seat for support when incline pressing.
A cool feature of this bench is that you can flip the back pad, a useful feature for larger users who need that extra support when pressing.
The front foot rollers are there for support for decline workouts but, thankfully, can be easily detached, so they dont get in the way when setting up for flat presses, etc.
And lastly, this is a no-gap weight bench meaning there is no awkward gap between the back pad and seat.
If you're serious about your weight training and want a folding bench thats going to last and can take heavy weight loads? The Super Max is a great choice, and for under $250, it's a bargain. A lot of weight bench for the money.
Heavy duty, solid build – 2″x3″ steel frame
Excellent bench for dumbbell & barbell workouts
7 adjustment position including near verticle and decline
Great bench in flat – No gap + 18″ from floor to padding
No awkard gap between back pad and seat
Folds for storage – transport wheels
You can flip the back pad for different size users
A few users found the seat difficult to adjust
A couple of people had issues with delivery saying the bench arrived broken. Although they did mention Fitness Reality were great and offered complete replacements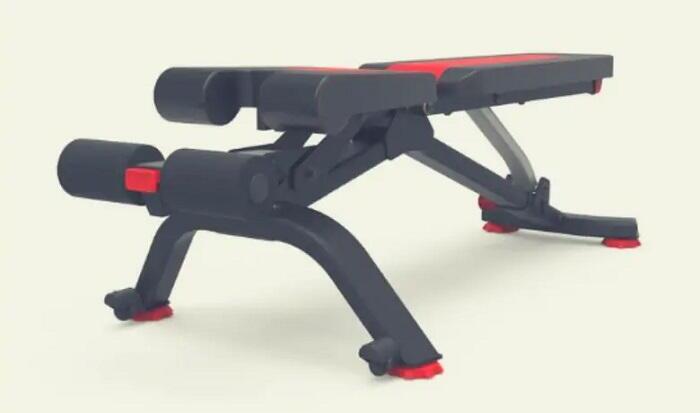 iBowflex 5.1s Stowable Weight Bench
The Bowflex 5.1s is an awesome stowable bench. We dont have to worry about quality as Bowflex are known for their high-quality products and boast some of the best warranties in the business, so should anything go wrong, you'll be covered.
The 5.1s is a stowable version of their 5.1 select-tech adjustable benches. It's packed full of the same features, including an adjustable seat, 6 position adjustable back pad that includes decline, and a vertical. The padding is made from high-density foam, so no problems there with comfort or stability.
This beach is built from heavy-duty steel. It should easily take its max capacity of 600lb.
Weighing an impressive 60lb, It has enough weight to keep the bench planted to the floor, and for extra stability, all four feet have adjustable levelers; these are fantastic for keeping the bench level on uneven surfaces.
Throughout the highs of covid, the Stowable bench was priced around 500, but since then, it has gone back down to almost half that, which is great news because it's worth every dollar at its current price.
Another excellent adjustable bench from Bowflex
Heavy-duty commercial grade frame
Durable high quality build – Plus 15 warranty
Easy to assemble, comes with all tools needed
Adjustable height stabilizing feet – helps keep bench level on uneven floors
Easy to assemble, comes with all tools needed
6 back pad positions & adjustable seat
Some users complained gap was large between seat and back pad when the bench was in flat position
Buying Tips – Foldable Benches
The quality of foldable beaches can vary greatly from one company to another even though the prices are similar. Hence, it's always a good idea to know exactly what you are looking for before buying. Take a few minutes to read our buyers guide to give yourself a heads up before purchasing.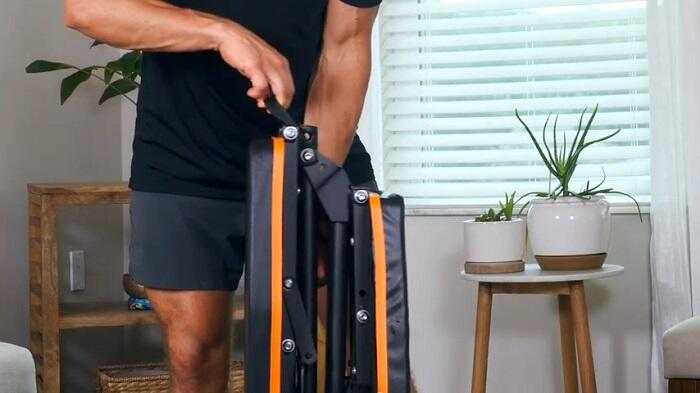 Weight of The Bench
Most foldable weight benches are light. One reason for this is that it makes them easier to fold, pick up and store. The other reason is simply that most folding benches are low cost, which means cheap, lightweight steel is used for the build.
If you choose to go low cost with your bench, then this is something you'll have to live with, but for the most part, if you're not going to use the bench for heavy barbell lifting, a lightweight bench will work just fine for dumbbells workouts.
Many Lightweight folding benches do suffer from stability issues as there is no real weight to help keep the bench planted to the floor. This means we have to look for benches that include wide stabilizing feet as they are great for preventing wobble.
The height of the bench also plays a part. Tall benches can cause stability issues – look for a low profile bench between 17 & 18 inches is ideal.
The lower center of gravity prevents movement it will also allow shorter uses to place their feet firmly on the ground when flat bench pressing.
Versatility – Back Pad Positions & Adjustable Seat
Only five years ago, finding a cheap bench with enough back pad positions and an adjustable seat was almost impossible; now, we're spoilt for choice.
Now thankfully, most low-cost benches include enough back pad positions for all our pressing needs and an adjustable seat to stop our butt slipping down the bench in low incline positions.
Still, there are a few things we should look for. The first is a near-vertical for seated shoulder presses (Military presses).
The only problem is many of the foldable weight benches only adjust to a max incline of 70 degrees which is slightly too low to target your shoulder full.
Ideally, we need an adjustable bench with a back pad that adjusts to a max incline of anywhere between 80-90 degrees.
I find a near-vertical is best 80-85 degrees as this allows you to keep your back arched and your shoulders contracted together to give you a better position to push from.
Do you need a decline angle? Depending on your training schedule, for decline sit-ups, yes, decline pressing maybe not. Decline presses are overrated. You'll develop lower pec mass faster performing dips.
Lastly, an adjustable seat is essential for providing a stable base to press from when low incline bench pressing. If you're lucky, you may find a low-cost bench with 3 adjustable seat angles.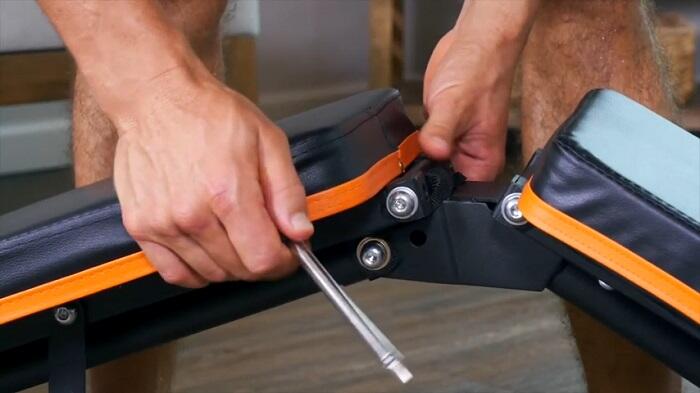 Folding Feature – How Easy Is It To Fold?
Most folding benches are super easy to fold. You either press a button or remove a pin. Some benches fold flat others fold in half. And a few just sit upright so can be stored against a wall (stowable)
There are, no doubt, a few tricky to fold benches out there, I have encountered one or two, but they are only tricky the first few times you fold them. Once you get used to how they fold, it becomes easy. No bench should take longer than a minute to fold.
Padding – Not too Soft or too Hard
Something people often overlook when buying any weight bench is the type of padding it uses. They concentrate more on the look or feel of the material covering the padding.
The padding is more important than what covers it. If the padding is too soft, it will cause stability issues when pressing; if it's too hard, it will be uncomfortable. Look for 2″ thick high-density foam padding, which luckily can be found on a few low-cost benches.
Weight Capacity – How Far Should You Push Your Bench?
Weight capacity can get a little tricky when talking about low-cost light benches, especially foldable ones.
Many cheap benches claim high weight capacities but do have the build to support such a high weight regularly, yeah they might take their max capacity a few times, but if you took a cheap bench up to its max every day, it wouldn't last longer than a few months.
High-weight capacities are usually reserved for heavy-duty commercial grade benches, so if you're going to buy a low-cost bench, I'd be careful; dont take it too far; stick to dumbbell workouts.
Try to stay way below its max capacity. 400lb for a foldable bench that costs under $150 is about as far as I would go regularly. And remember, the max capacity of a weight bench includes your own body weight.
To Sum Up
It was good to see some impressive foldable benches on the market, but a few stood out more than the others. The FlyBird Adjustable Bench in the Under $150 and, of course, the excellent Fitness Reality 2000 Super Max.
What I really liked about the FlyBird is that it offered so much for the price point – a high-quality frame, 2″ padding, and the all-important back pad angles you will need for your pressing exercises.
The Finer Form 5-1 is another excellent high–quality, low-cost folding bench that matches the FlyBird on all features and includes the high-density foam padding. This is a great dumbbell bench that has the quality to last years, just a shame about the tapering back support which may put a few larger users off.
And finally, we have the Fitness Reality Super Max 2000; this bench surpasses everything out there its price bracket with its heavy-duty 65lb frame, a ton of back pad positions, 850lb capacity with the build to take it, plus a few cool features such as a back pad you can flip to suit larger users, and the no gap between seat and backrest. A rock-solid foldable bench.