Marcy is a company well known for building quality entry-level gym gear. I've had the pleasure of reviewing a few of their products, and every time this company has never failed to impress me.
One of their weight benches I reviewed the SB 670 was particularly impressive, well built stable, and highly versatile for the price.
Packed Full of Features
Today we're going to take a close look at the Marcy Deluxe Utility bench; this thing boasts four adjustable back pad positions, adjustable seat, heavy-duty frame with a 600lb weight capacity, and a foldable feature all for under $150!
I'll also compare the Marcy with two other similarly priced popular benches, you'll find out if the Marcy SB-10100 Utility bench can cut against the best in the price range, hopefully by the end of the review you should know if the Marcy Utility bench is the right choice for your weight training needs.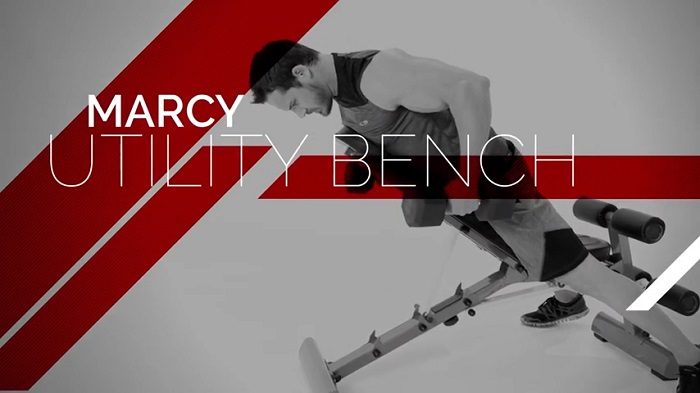 First Lets take a quick look at the product specs!
Product dimensions –  55 x 17.5 x 45.5 inches
Back pad positions – 4 including decline
Seat – 4 adjustable positions
Frame – 14 gauge steel tubing
Weight Capacity – Combined user and weight load of 600lb
Why Do We Like The Marcy Deluxe Utility Weight Bench?
Most budget benches have weak frames made from cheap light gauged steel. The Marcy Utility bench shines in these aspects, built from heavy-duty steel tubing the Marcy is going to feel solid, especially for a foldable weight bench.
Foldable benches around $100 mark usually weighs 25lb or so. The Marcy weigh 44lb; this is still quite light for a weight bench, but for a foldable entry-level bench, it's an impressive weight.
The extra weight is a telling sign this thing is made from quality materials; the extra weight will also help with stability. And surprising Marcy offers a lifetime warranty on the frame almost unheard of in this price range. Great to see and shows us the confidence Marcy has in their bench.
Another surprise was to see high-density foam being used for the padding, high-density foam is usually reserved for high-end weight benches costing four times that of the Marcy.
High-density foam is the gold standard for weight benches; this stuff will give you the correct support when pressing. It's not too soft to cause stability issues nor too hard to be uncomfortable; it allows for the perfect base for you to press from.
Is This Bench Good Enough For Rack Work?
Many people ask me about budget benches and power racks, and usually, I'll give the simple answer – budget bench and power racks do not belong in the same sentence.
Power racks are for heavy barbell lifting you need a rock-solid weight bench with a large max capacity, ok there's a couple of budget benches out there that could be used for some light rack work. Still, in general, I'd recommend you stay away from power racks if you own an entry-level bench.
A Foldable bench such as the Marcy is an excellent choice for dumbbell workouts; you can put on a considerable amount of muscle mass using dumbbells.
When you first start lifting, make sure you incorporate a lot of compound dumbbell exercises into your lifting routines. Compound lifts such as dumbbell shoulder press, bench presses, etc. are proven to add muscle fast.
Start with dumbbells and a decent entry-level bench like the Marcy, and when you're ready to lift progressively heavy weights using a barbell, it's at this time when you need to consider buying a heavy-duty bench and power rack.
So, yes, the Marcy has all you need for dumbbell workouts; it's a great little bench for beginners and intermediates. If you have already been lifting for a few years, the Marcy Utility bench is not best suited for your needs.
Versatile
The Marcy Utility Bench includes four back pad positions, while this isn't a vast amount still it should be enough for most of your pressing needs, the minimum I'd recommend is three.
Many people might be disappointed there isn't a full 90 degree for shoulder press, but don't let this be a deal killer. You'll come across benches costing 400 or 500 dollars that do not include a full 90-degree angle. Why?
Because there's a fair bit of evidence out there that a 90-degree angle puts a considerable amount of unneeded stress on your lower back.
Instead many benches now boast a near 90degree for shoulder presses, eliminating the lower back stress somewhat while still giving the shoulders a good pump. Heck, even in commercial gyms, most of their incline benches only adjust to 80 degrees or so.
Adjustable Seat
What the Marcy lacks in adjustable back pad angles it makes up for by including an adjustable seat. Adjustable seats are a must if you want to get the most out of your incline pressing.
Adjustable seats give you the support you need in low incline angles. Without an adjustable seat, your butt will slide down the bench; this creates an unstable base reducing your pressing power. Whatever your budget, always make sure to look for an adjustable seat!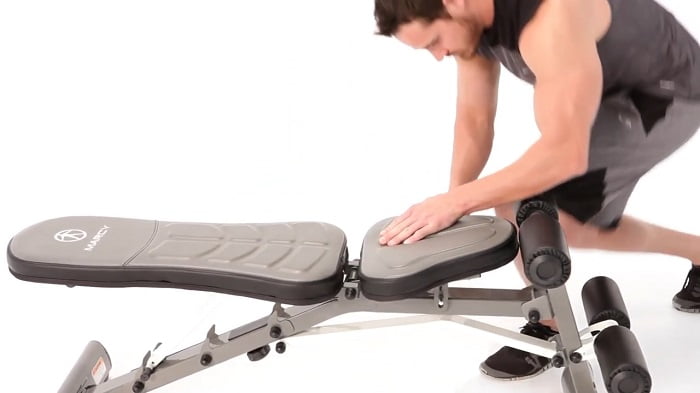 Stability
Foldable benches are, in general, quite light in weight. Their main selling feature is that they are easy to store and move thanks to their lightweight design. However, owning a lightweight foldable bench also has its disadvantages, the main being stability issues.
Thankfully the Marcy is a little heavier than most in this price range almost twice as heavy as its competitors with a total weight of 44lb; this will go some way in helping to keep this thing planted to the floor when lifting.
Also, there are four rubber pads two on each of the stabilizing feet, these will help with any slippage issues plus there'll protect your hard floors from scratches.
High-density foam padding
Ladder adjustment system – fast to adjust
Well built, stable bench for price
Not suitable for heavy rack work
Back pad is a bit short giving the bench a max user height limit of 6ft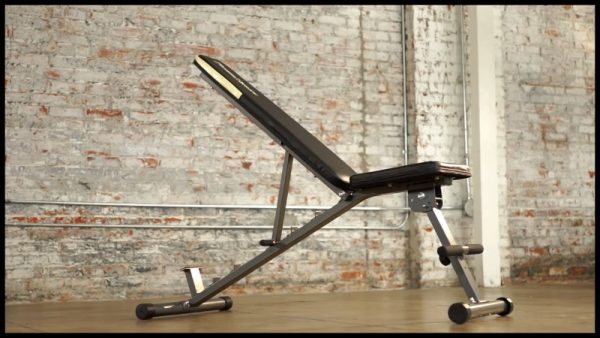 Fitness Reality Super Max Weight Bench
The Fitness Reality Bench has been around for a few years its a popular choice and one of the better foldable benches in under $100. It doesn't quite have the build quality of the Marcy, but it does offer a few extra back pad positions and higher weight capacity.
The Super Max weight bench offers more adjustable back pad angles than any other bench in the price range 12 in total. But what t doesn't provide is an adjustable seat, which is a big disappointment, especially if you are planning on building your pecs with this bench.
The powder-coated steel frame has been praised by its users, some saying it felt solid when they were bench pressing with little to no wobble.
Another excellent bench for dumbbell workouts. Limited slightly by the lack of an adjustable seat but too include 12 adjustment angles for the back pad may be a significant selling feature for some.
Our Full review: Fitness Reality 1000 Super Max Bench Review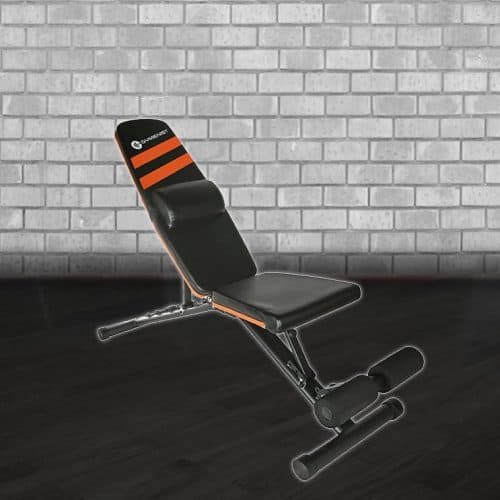 Gymenist Exercise Bench
By a long way, the Gymenist is the most popular foldable bench on the market, and there's a good reason why. For under $100, you have six adjustable back pad positions, adjustable seat, and a realistic 600lb weight capacity.
The Gymenist offers all the features you need for a full upper body workout at an unbeatable price.
Again build quality isn't as good as the Marcy. But for the price, the Gymeneist build quality is better than most in this price bracket.
The only real problems I have heard about this bench is the upholstery tearing after a few months use, nothing major and something that troubles most budget benches, if you're spending under $100 on a weight bench you cannot expect commercial quality.
To find a well built adjustable weight bench that includes an adjustable seat and a foldable feature at this price is a great buy. Users are still praising the Gymenist after months of use. 
Would I choose the Gymenist over the Fitness reality? Yes, the Gymensist is of similar build quality but offers the all-important adjustable seat.
Would I choose te Gymesist over the Marcy? No, the Marcy Utility benches build quality is far higher, with a 14 gauge steel frame high-density foam padding, and a lifetime warranty on frame is excellent at this price point.
However, there is a problem with the Marcy! The Marcy has a fairly short back pad which sadly means it's only suitable for users under 5'11" so, if you're over 5'11" I'd recommend the Gymenist as the next best foldable bench in the $100 price range. 
Our full review for the Gymenist exercise bench can be found here