When a company comes out with a new adjustable bench and claims the bench can do all the stuff usually reserved for benches costing 2 to 3 times more, you have to stand back and wonder what's the catch?
The Fitness Reality 1000 Super Max Weight Bench, is one of those benches, 800lb weight capacity, strong powder coated steel frame, 12 adjustable positions, foldable, all for under a $100, to be too good to be true? Let's find out!
Review & Comparisons With Two Other Top Benches.
In this review I'll take a detailed look at Fitness Reality's entry-level bench, I'll compare it with two other top benches in this price range and by the end of the review, you'll have a good idea if this is the right weight bench for your needs.
Weight Capacity
The Fitness Reality adjustable bench has a weight capacity of 800lb which is fantastic on paper, a weight capacity of 800lb would usually mean this bench is suited for seasoned weight lifters and heavy barbell pressing inside a rack.
But don't go getting too excited, I've reviewed and used a ton of weight benches over the years and nearly all of the benches with a high weight capacity have heavy-duty steel frames to match, which sadly the Fitness Reality does not.
We need to remember this is a $100 weight bench, cheap benches are made from cheap steel and loading a cheaply made bench with 800lb of weight is something I would never do. If anything it's dangerous.
So can it take its 800lb capacity, maybe it can, would I use this bench for heavy barbell work inside a rack, no!
The best use for a bench such as the Fitness Reality 1000 is for dumbbell workouts, beginners and intermediate lifers can get a lot of use out of this bench if they have a good set of adjustable dumbbells to go with it.
Can we give this bench a full FID (flat, incline, decline) badge, almost! I wasn't expecting to see a full 90-degree incline angle on a budget bench, but this one gets quite close with a near vertical angle of 80 degrees for shoulder presses.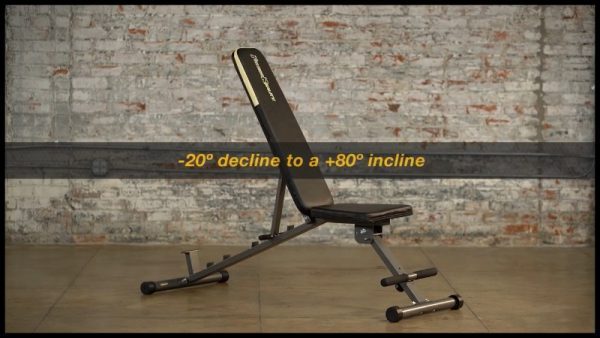 The Fitness Reality 1000 bench also includes a couple of back pad angles in decline and a few more in incline, which is great for a variety of dumbbell exercises
On the whole, a very versatile bench with enough adjustment angles to suit most peoples needs, this should help any beginner who has been looking to increase muscle mass with dumbbell workouts.
What the Fitness Reality 1000 Super Max Weight Bench does lack, is an adjustable seat, this won't be so important if you've just started out lifting, but when you start to lift heavier dumbbells you will definitely need an adjustable seat for incline pressing.
An adjustable seat stops your butt slipping off the bench when in inclined positions, the last thing you need when benching heavy dumbbells is your butt slipping, if you haven't got an adjustable seat, your pressing power will be reduced because of the unstable base.
Build Quality/Stability
For a $100 bench we are not going to complain too much about the quality, yes, it's made of light gauged steel but at least it's been powder coated, the padding looks to be of a good thickness, not too hard and not too comfy, just about right.
One of the big positives of this bench is the ladder adjustment system, this is a faster system to adjust compared to the pin lock type and far more stable in my opinion, so thumbs up here!
Nice wide stabilizing feet capped in rubber should help keep this thing from wobbling, and the rubber capped feet are great for stopping the bench from sliding on hard floors.
Many users have praised how stable this bench is, which is surprising considering how light the bench is.
The bench is light because of the cheap materials used, but thankfully the weight has not affected the stability too much. Being light will make the bench that much easier to move and store, plus the bench folds flat for storage, a very handy feature if you're tight for space.
Assembly
This bench is delivered with most parts pre-assembled, all you need to do is attach the feet with the tools provided. Should take no longer than 15 minutes. 
Great bench for dumbbell workouts
Versatile, 12 adjustment angles
Quick to adjust ladder adjustment system
Folds for easy storage/includes integrated transport wheels
No adjustable seat for incline workouts
Narrow back pad, can cause problems when pressing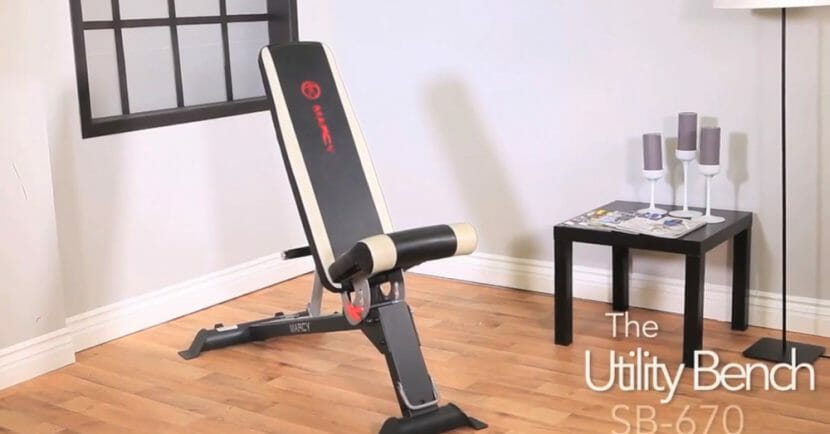 Marcy SB670 Adjustable Weight Bench
There is no other weight bench that can come close to the Marcy SB670 in the Under $150 price bracket.
The Marcy weight bench is solid in all positions including incline, a high-quality bench with a low price tag.
And unlike the Gymenist and Fitness Reality benches, the Marcy bench will be durable.
The Marcy bench is made from heavy-duty powder-coated steel, the upholstery consists of high-density foam the gold standard for weight benches (the good stuff) excellent for stability when pressing. And a two-toned durable upholstery which gives the bench a good look.
A realistic 600lb weight capacity comes with this bench, and with the high build quality, I'm sure this one can take it with ease. With 6 adjustable back pad positions including decline and an adjustable seat, this bench is easily versatile enough for most people's lifting needs.
A very capable bench at an affordable price, this one shouldn't be missed.
If you would like to take a closer look, our full review can be found here: Marcy SB 670 Review
The Gymenist Exercise Bench
The Gymenist bench is very similar to the Fitness Reality bench, they both offer a lot for the money, they are both very versatile and both are extremely lightweight.
But I have to admit the Gymenist bench is good, actually it's really good for the price.
Yes, it's made from cheap material just like the Fitness Reality and yes, the upholstery probably won't last much longer than 12 months but the design is much better.
The back pad isn't as narrow, which leads to greater stability when pressing, it also has the important adjustable seat which is great to see on a budget bench.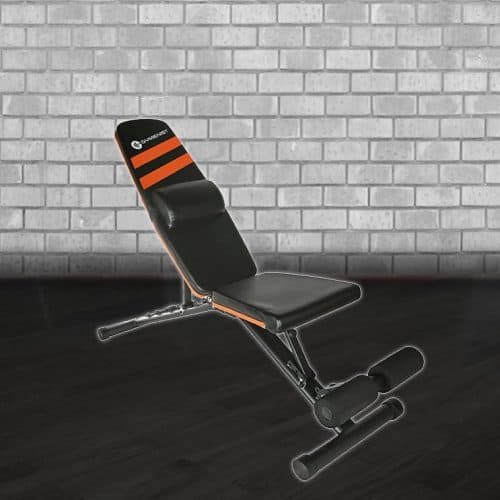 600lb is the Gymenist's max capacity and a far more realistic estimate for one of these entry-level benches, but overall, the Gymenist weight bench offers the weightlifter that much more than the Reality bench. If you're going to go for a lightweight, cheap bench then this is the best option out there.
To Sum Up
The Fitness Reality Super Max Weight Bench has enough going for it to warrant the price tag, I think any beginner will be more than happy with this bench, great for dumbbell workouts and decline sit-ups and dare I say it maybe some light rack work.
The bench suffers from not having an adjustable seat and the materials used will probably cause some durability issues, but if this is your first bench, you could do a lot worse.
What many will like, is just how easy this bench is to store and move, folding flat for storage is a nice option to have especially if you're training in tight quarters and something both the Marcy and Gymenist bench cannot offer.