It's always a good idea to research first before buying any piece of home gym equipment. This especially true when it comes to affordable adjustable weight benches.
The quality of budget weight benches varies so much from one company to another it's wise to know what you're looking for before buying. Otherwise, you could end up with a substandard bench that only lasts a few months of use.
6 Top Buying Tips For Beginners – How To Choose An Adjustable Weight Bench
Today I'll take you through everything you need to know when choosing an adjustable weight bench, we'll cover the whole nine yards from build quality to versatility, and I'll share all my tips with you.
I've reviewed well over 50 affordable benches over the years, and if you follow my tips, you'll know exactly what to look for when choosing the perfect adjustable bench for your home gym.
1. How Much Does The Bench Weigh?
The first thing to look for when choosing a bench is its weight. Weight is important when choosing an adjustable bench because the heavier the bench, the more stable the bench will be when in use.
We want our bench to be as stable as possible when lifting heavy weights. The last thing we need is any movement because not only is this dangerous, it's also off-putting.
The weight of a bench is also a telling sign of the quality of materials used in the build. The heavier the bench, the higher the quality of the materials. We won't find benches built like tanks in the affordable price ranges but look for benches that weigh over 40lb. This will ensure stability and quality.
2. Upholstery – Padding
Adjustable benches for beginners are not known for high-quality upholstery. Usually, it's the first thing to wear on cheap benches. If it does wear quickly, it can be tapped up. It's not a big issue.
What's most important is the type and thickness of the padding. Unfortunately, too many adjustable weight benches include thick, overly soft padding. We need to avoid this.
The type of padding we should look for is high-density foam padding. Around "2 thick is ideal.
High-density padding is the gold standard for weight benches and used to be reserved for high-end weight benches. Thankfully, in the past 5 years or so, we are starting to see high-density foam featured on many cheap weight benches, such as the Marcy SB-670.
High-density padding is perfect for pout lifting needs as it not too soft to cause stability issues nor too hard to be uncomfortable; it's just right.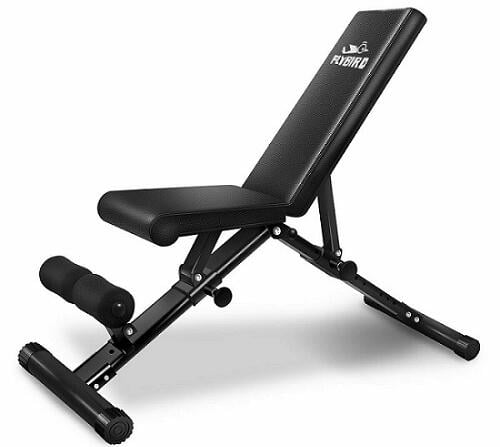 3. Adjustable Back Pad – How Many Positions is Enough?
It doesn't matter how much you pay for an adjustable weight bench. All of them come with an adjustable back pad.
I always recommend looking for an adjustable bench with at least 3 adjustable back pad positions, a near verticle or verticle for seated shoulder press, an incline angle for incline presses, and a flat for flat presses and other exercises.
3 back pad positions are the absolute minimum, but most benches, even in the budget ranges, should include at least 5,  some with a decline for decline presses and sit-ups.
Another important feature of the back pad is how it adjusts. There are two adjustment systems one is the ladder adjustment system the other is the pull pin type.
For budget benches, it's usually best to choose a bench with a ladder adjustment system as this system is much sturdier than the pull pin type used on the cheap benches. It's also quicker to adjust.
There's nothing wrong with a pull-pin type adjustment system on high-end benches because the quality is there. Still, on cheap benches, the pull-pin adjustment system is made from low-quality materials and can snap under heavy loads.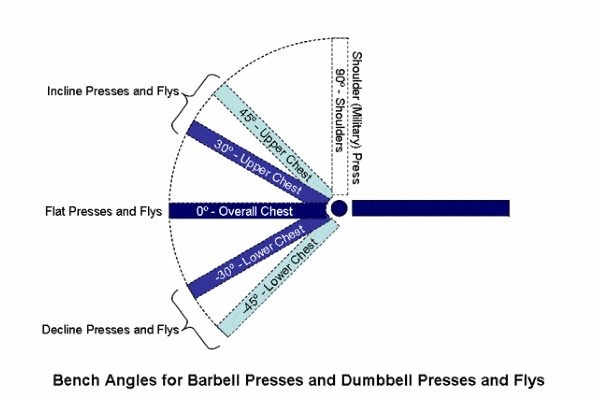 Adjustable Seat – Support For Incline Pressing
Not all of us will need an adjustable seat, but an adjustable seat is essential if you plan on incline pressing, especially at low incline angles.
An adjustable seat will stop your butt from slipping down the bench in low incline angles and provide you with a stable base to press from.
Adjustable seats feature on many affordable benches, so if you can, make sure your bench includes this handy feature!
Weight Capacity
Weight capacity is another factor we must consider before buying a weight bench. We dont want to buy a bench and outgrow it in a year or so.
You'll gain strength fast when you first start training, so ideally. You need a bench that can match your strength gains.
Max capacities of weight benches include your own bodyweight, so if you're a 200lb guy and you can bench 180lb, you'll need a weight bench with at least 500lb capacity to allow for growth.
Still, when we consider budget benches and capacity, we must be extra careful as there's a ton of cheap benches out there that claim high capacities (1000lb) but do not have the heavy-duty build to support that type of capacity regularly.
You need to look for heavy-duty frames and high-quality welds, which can be found in the budget ranges plus a realistic weight capacity.
A well-built $150 bench should have no trouble supporting a 600lb capacity.
Foldable Weight Benches Are They Worth The It?
Lately, there have been many foldable benches hitting the market, and while there are one or two decent ones, most of them are lightweight, poorly designed attempts at a weight bench.
Foldable benches are an excellent idea as they can save a ton of space and are the only choice for many people with limited spare space in their homes. However, if you're going to buy an affordable foldable bench, I urge you to take your time and research.
The problem with foldable benches is that they are designed to be easily moved and stored, resulting in a lightweight bench.
Most of the 30lb foldable benches love to claim high weight capacities, but I wouldn't recommend over 450lb on any of them.
High weight capacity such as 1000lb are only realistic on benches that include heavy gauge steel frames and high-quality welds. Not on cheap 30lb foldable benches.
So while foldable benches are a great idea to save space, the affordable, lightweight ones are best suited for light to medium dumbbell workouts. For heavy rack work, you'll better off buying a heavy-duty bench.
Still, it's not all doom and gloom when it comes to foldable weight benches. As I mentioned, a couple of decent ones out there impressed me, which I'll give a summary of at the end of the article for those interested.
Top 3 Adjustable Cheap Weight Bench Worth Considering Right Now! 
I won't go into any great detail here just a quick summary of my favorite three affordable weight benches available right now and one of those top 3 is a foldable bench. I'll also leave links to our full reviews for each bench.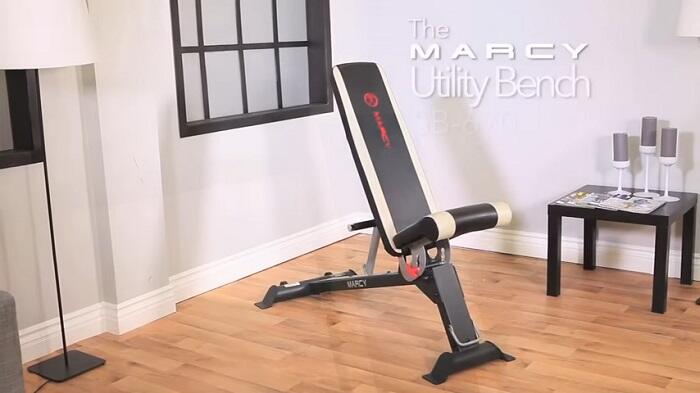 1. Marcy SB-670
The Marcy SB-670 has been one of my favorite adjustable benches for beginners for a long time. It's a high-quality, low-cost bench built from heavy-duty steel and weighs 52lb, an excellent weight for a bench that costs less than $150.
The Marcy boasts high-density foam padding, 6 adjustable back pad positions, a 3-way adjustable seat, a ladder adjustment system, and a realistic 600lb capacity.
And what's most important is that the Marcy 670 has passed the test of time. Its been around for 5 years + now and still receives praise from users who have owned it for years. There are not many budget benches out there that lay claim to that.
The Marcy is an excellent low-cost, high-quality bench built to last.
2. Mevem Adjustable Weight Bench
The Mevem is another heavy-duty, low-cost bench. It's surprisingly well built for a weight bench costing just shy of $150. Built from heavy-gauge steel and supporting a weight capacity of 1000lb, the Mevem is impressive.
It's versatile, too, with a 3-way adjustable seat for support in low incline levels and a 7 way adjustable back pad.
The only slight let down with the Mevem is that the back pad only adjusts to 70 degrees, and while this will still give the shoulders a good pump for seated shoulder presses, it is on the low side at 70 degrees.
Ideally, it would be best to look for a bench that supports a max incline for a seated shoulder press of around 80-90 degrees to fully target the shoulders.
Still, this is one of the only budget benches you'll be able to use for heavy barbell lifting safely, so if you're looking for a cheap adjustable weight bench to go with your new power rack, the Mevem would be an excellent choice.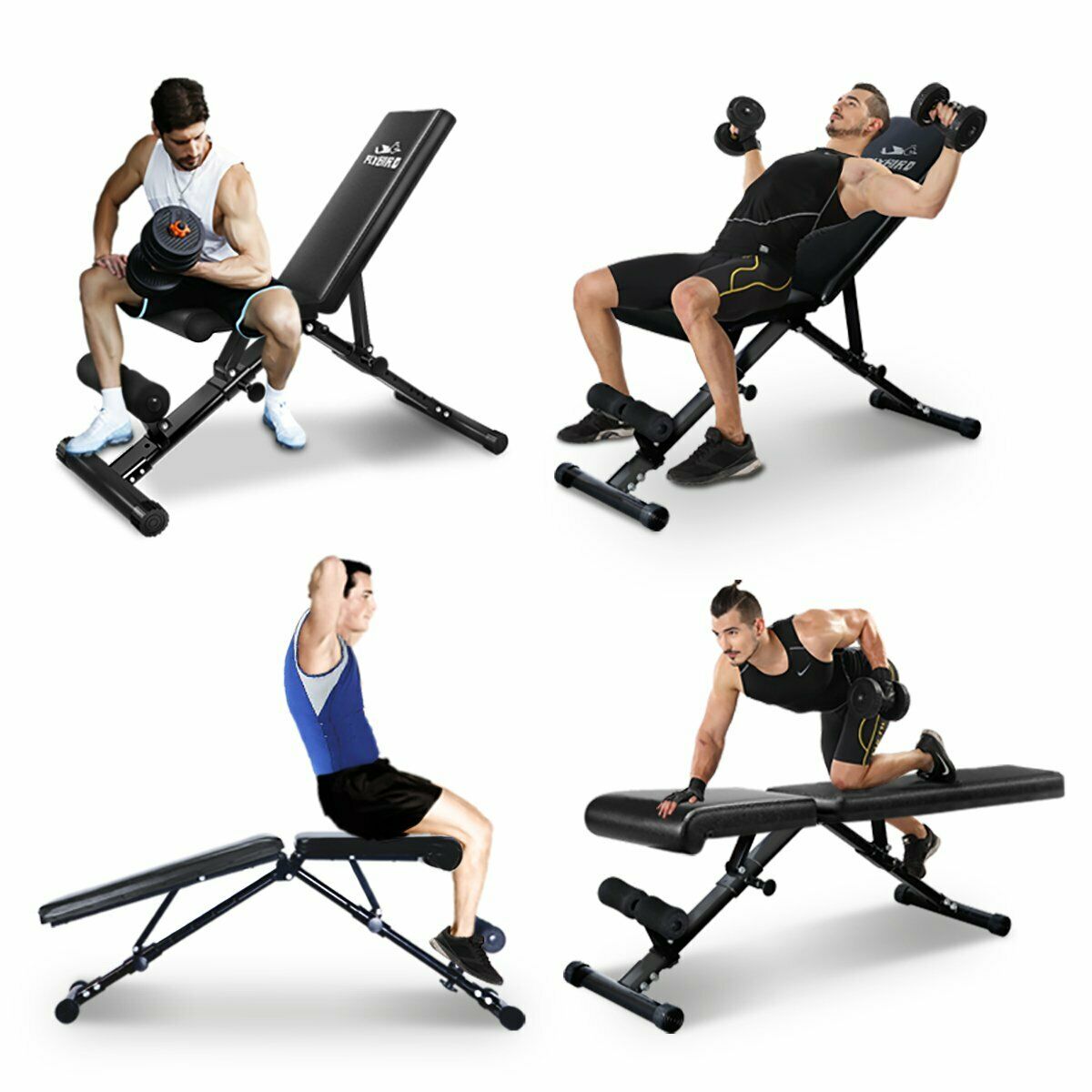 3. Best Foldable – FlyBird Adjustable Weight Bench
One of the best foldable benches available is the Flybird adjustable weight bench.
This impressive foldable bench includes 7 adjustable back pad positions with verticle, decline, and flat, making it a full FID bench great to see in this price bracket.
The padding on the beach isn't too hard or too soft, thanks to the high-density foam. Plus, we have the fold for storage feature.
I'm not a big fan of folding benches, but the FlyBird is one of the only foldable benches out there that doesn't compromise on stability because of its lightweight build. Many users have mentioned just how sturdy this bench feels when in use, which is reassuring to hear.
An impressive easy to store adjustable bench, perfect for dumbbell workouts.