Ironmaster Super Bench & Pro Comparison
For over two years, the Ironmaster Super Bench has been our No.1 choice for an adjustable weight bench in the under $350 price bracket.
The Ironmaster Super Bench is built like a tank from heavy 11 gauge steel; it shines with versatility thanks to the 11 adjustable back pad positions. The bench is solid in all positions, plus it probably has more useful attachments available than any other bench.
It's also one of the best benches you are going to find in flat, why? Because the bench boasts a removable seat, by quickly removing the seat, you eliminate the awkward gap between seat and back pad.
So not only does this bench provide more adjustment angles than any other bench out there, but it's also one of the best you'll going to find in flat.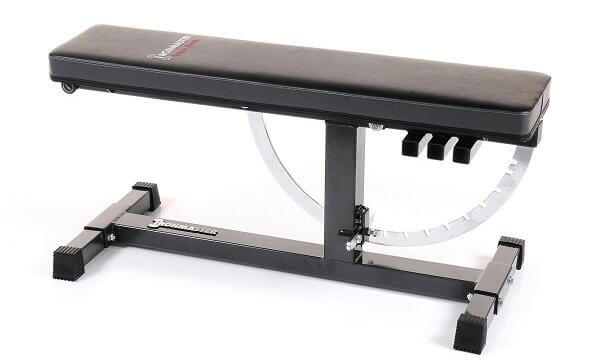 Yes, the Ironmaster bench is, almost faultless, its that good! Still, there is one thing that bothered a few people, and that's the height of the bench in flat at 20″ it's on the high side for flat pressing.
The Pro Even Better In Flat
The Ironmaster Super Bench Pro has tackled the height issue in flat, the bench now stands at 17.2″ from pad to floor in flat, and it's for this reason, I also want to look at their Pro bench today.
17.2″ is just about perfect for pressing, and especially useful for shorter guys who were having issues with placing their feet flat on the floor with the first bench.
Reviews
In our detailed review, we're first going to look at the excellent Ironmaster Super Bench; we'll focus on this bench as it shares everything with the Pro apart from a few minor changes.
At the end of the review, we'll take a quick look at the Pro and decide if the new super bench is worth paying an extra $50 for?
But first, let's take a quick look at the Ironmaster Super Bench product specs!
Product dimensions –  44" long x 18.75" wide x 20" high
Optional attachments add even more versatility
Pad dimensions – 44″ x 10″ x 3″
11 adjustable back support angles +/- 0º, 5º, 10º, 20º, 30º, 40º, 50º, 60º, 70º, 80º, 85º 
Versatile
With 11 adjustable back pad positions, I think the Ironmaster bench has to be the most versatile bench in this price range; you will be able to do all the upper body exercises you can think of.
The 11 back pad positions are – 0º, 5º, 10º, 20º, 30º, 40º, 50º, 60º, 70º, 80º, and 85º and again in decline, and 3 seat positions.
And what's great about the adjustment mechanism is it's placed in such a way that there'll be no worries of hitting it when moving around the bench.
It's super easy-to-use push it up with your foot to change the angle to the one you want.
No room for any complaints here you can bench press, and overhead press all at different angles to suit your workouts.
Add in the extra attachments (purchased separately from Ironmaster), and you will have a pull-up bar, leg curl extender, dip attachment, and an attachment for decline pressing and crunches. It truly has more features than any other bench we have reviewed.
Company Rep
A family-owned business, Ironmaster has lead the way in innovative personal strength training equipment.
Founded in 1978, the company has gone from strength to strength over the past three decades, with over 30% of its business coming from repeat customers and referrals. Ironmaster has grown in popularity: it brought its home strength training equipment into Europe in 2008, where it has proved to be very popular.
Design
Designed primarily to be versatile, the Super Bench does work exceptionally well as a flat bench.
You start with a flat bench, and when you need to incline press, you can add the seat by sliding in the seat attachment, and for decline, you add their decline attachment.
The big plus of owning a bench with a removable seat is that you eliminate the problems most adjustable weight benches take on, such as the problematic gap between the seat and back pad that the standard adjustable seats create.
Still, the seat design produces a capacity problem, and this is because of how the seat attaches to the bench, the incline combined max user and weight load is only 600lbs, compared to a 1000lb in flat.
If you plan on lifting super heavy, you may find this bench has a too low capacity in incline, and at this price, it might not be the best buy for some. You may want to check out the Xmark adjustable bench with a 1500lb capacity both in flat and incline around the same price mark.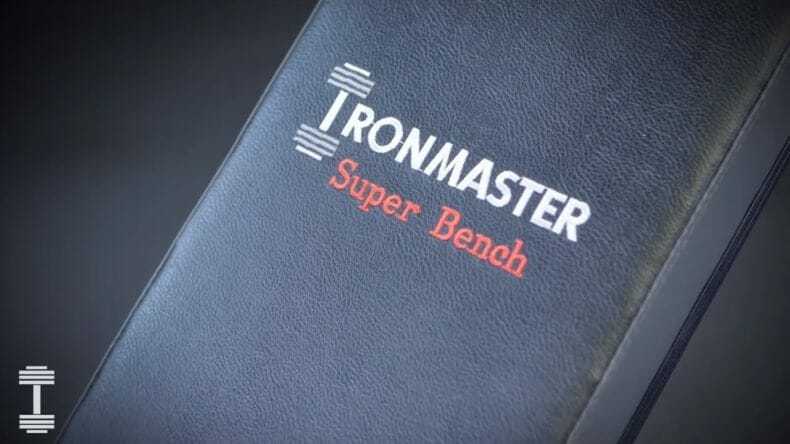 Although this is one of the better designed adjustable benches, it still has a few issues when it's flat, compared to most flat utility benches, it's 4″ short of the recommended 48″ long.
Ironmaster's bench is only 10″ wide, compared to the preferred 12″ while the length probably won't cause too many problems. The width may be of some concern to larger lifters, as the lack of width will not give the lats enough surface area to support the shoulders, and injury over time could be a problem.
Another issue some lifters might not like with this bench is the height, 20″ from pad to floor is a little too high for my liking, giving that flat utility benches are 17-18″ high,  if this is a problem it can be sorted easily by putting two 1-2″ blocks under your feet when flat pressing.
We are being very picky here when talking about the Super Bench in flat.
You need to remember most adjustable benches are rubbish in flat some have huge gaps between seat and back pad; many have tapering back supports, and a lot of them are even higher from floor to pad than the Ironmaster Super Bench.
One positive is the frame design, as unlike the tripod style frame, the Ironmaster bench makes contact on all four corners. Contact on all four corners makes the bench more stable in the higher incline positions, where the tripod design suffers.
Weight
This super bench is a good weight at 65lb, heavy enough for the weight to aid stability and light enough to be moved easily. The bench also has transport wheels integrated into the rear stabilizers, making it very easy to move in and out of racks.
Build Quality
The Ironmaster Super Bench is about as solid as they come in all positions, made from 11, 12, and 14 gauge steel. The mainframe is 11 gauge steel and coated to resist scratches and rust, the super bench has been built with utmost stability and durability in mind.
The chromed parts give the bench a nice look, and the attachments are of top quality, made from high-density steel and fitting into the bench seamlessly.
The upholstery is made from heavy-duty vinyl and should last for years. I have read many reviews for this bench, and so far there have been no complaints about the durability of the upholstery.
With all the weight pivoting on the central post, I expected the pad might have some play, but remarkably many users have commented on just how stable this bench is. Rock-solid are words I've often heard from owners of the Super Bench.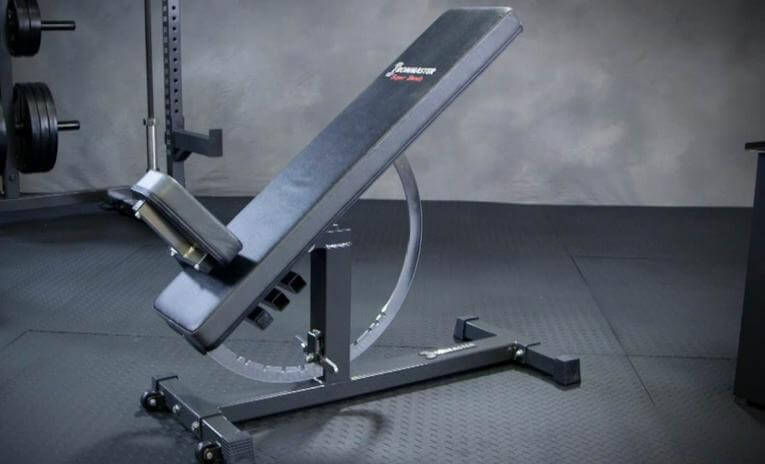 Assembly 
You will be happy to know the Ironmaster bench arrives completely assembled apart from the feet, you will have to attach those with the 4 bolts provided, assembly time 5 mins.
Attachments
With an array of attachments including the dip attachment, the crunch attachment, the pull-up attachment and the leg curl attachment this bench wants to turn your space at home into a full home gym and the good news is they are all made from high-density steel and are comparable to the quality of the main bench.
The first attachment is the dip attachment, a nice piece of kit for the Ironmaster bench. Is it worth it? Yes, out of all six attachments, I think this is probably the best and most usable attachment of them all.
That said, watch your ceiling height with this bit of kit as I have read a few complaints from customers saying their ceilings are too low, not a design fault, just a good idea to research first before buying home gym equipment.
Decline Attachment
I know this is an essential feature for many people when considering which adjustable bench to buy; personally, I find declined pressing is overrated and weighted dips add mass on the lower pecs quicker for me.
Still, if decline presses and decline AB crunches our important to your training routine, then this attachment may be an essential purchase for you.
The crunch attachment is adjustable by height, so should suit most users and because of the design of the attachment, only your butt back, and shoulders will be on the back pad, and the rest of your lower body will be around the crunch attachment—so no need to worry about the lack of length in the back pad.
1000lb flat combined user and weight load capacity
Rock-solid in flat, incline and decline
Comfortable supportive high-quality upholstery
Great price for such a well made versatile stable bench
Versatile, 11 decline and incline angles
Wide variety of attachments available
10″ back pad might be too narrow for some people – Check out pro version below this issue has been fixed 12″ back pad now aviliable
20″ height in flat is disappointing – check the Pro below they fixed this issue the Pro now has a height in flat of 17.2″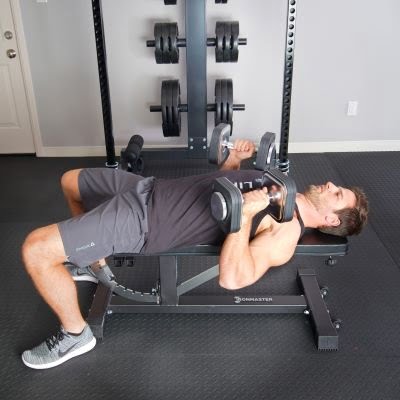 Ironmaster Super Bench Pro
The Super Bench Pro includes everything good about the first bench, including the same build quality, same amount of adjustment angles, quality of the padding, etc. except the Super Bench Pro has a few important upgrades, the first being the height of the bench.
As we touched on earlier, the Ironmaster Super Bench is already one of the best adjustable benches you will find on the market when in flat, and that's thanks to the removable seat. But the Pro brings something new, and that's its height from pad to floor of just 17.2″ in flat.
Ironmaster has been listening to its customers and lowered the height of their bench to the standard height of a commercial flat bench. This is excellent to see as it now makes the Super Bench Pro the best adjustable bench in flat on the market.
And if this bench wasn't stable enough in all positions, the lowered profile of the bench will also contribute to even more stability.
Plus, they have widened the tubing for the stabilizing feet from 2″ to 3″ giving the feet a beefy look, and again this will aid stability.
The other thing they added to the Pro is an extra pull pin tightening knob for the attachments; a few of the attachments had a slight wobble when in use, so they added a locking system this will keep things more stable.
I need to mention there is another back pad available 12″ wide, excellent for larger guys who need that extra support. The only bummer is you can't buy the bench with the wider back pad included. It has to be purchased separately for around 60 bucks.
The Pro – As Impressive In Flat As it Is In Incline
The Pro makes the Super bench appealing to a wider range of lifters, so many adjustable benches are way too high in flat, it's about time someone made an adjustable weight bench that's just as good in flat as it is in incline and that's what we have here with Ironmaster Pro.
11 positions in incline and decline plus a flat bench that measures 17.2 inches from pad to floor, it's certainly impressive, and there's nothing else out there right now for the price that can beat this bench.
The Ironmaster Pro takes everything good from the old bench and adds a few important features to make it appealing to all. Yes, the incline max capacity may be slightly too low for the advanced lifters out there, but for most of us, this rock-solid weight bench should last years of use.