The Body Solid Series 7 Smith Machine ticks all the right boxes! Commercial grade build? Yes. Lat pull, free weight station, linear bearings, pec dec the list goes on. This isn't just a smith machine; it's a heavy-duty beast all in one home gym.
Commercial Grade Smith Machine For Serious Lifters
If you have been looking to put on some serious muscle mass, the series 7 is one machine capable of the job.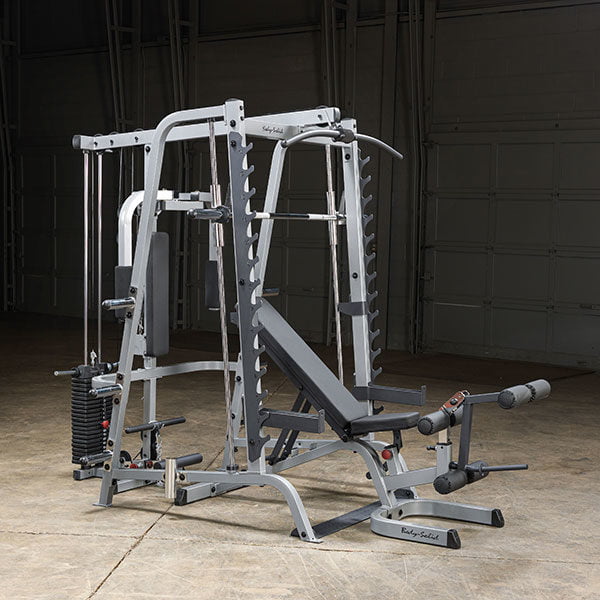 When you are paying this kind of money, you expect quality, and if you are familiar with Body-Solid, that's precisely what this company is all about. Quality goods and excellent customer service.
I've reviewed a load of their gym gear, and when researching their products, I frequently run into feedback with users praising the quality of their goods and the excellent after-sales customer care.
So no need to stress about problems or quality issues with this steel monster, a well-respected company selling first-rate, fitness gear. Any problems and they'll sort them quickly.
In this review we are going to take a close look at Body-Solids top of the line smith machine the Series 7 Master Package, I'll also compare the Series 7 with a couple of other smith machines. You should, by the end of the review, get a good idea if the Body-Solid Series 7 is the ideal smith machine for your needs.
First, let's take a quick look at the product specs.
Product Dimensions –  L 78″ W 64″ H 84″ (assembled)
Weight – 743lb / 337kg (assemebled)
Frame – Heavy-duty all-4-side welded 11 gauge and 12 gauge 2″x3″ mainframe steel construction with a safe, solid 4-point stance for maximum stability
Precision linear roller bearings
Warranty – Lifetime on everything
Why Do We Like The Body-Solid Smith Mchine Series 7?
The first thing that stands out about series 7 is the build quality. Any company willing to back their product up with a lifetime on everything has a lot of confidence in their work.
Over the years, I've reviewed an absolute ton of gym gear, and you hardly ever see a lifetime warranty on everything.
At best, most companies offer a lifetime on the frame, which is excellent but to see a lifetime on everything, that includes pads, pulleys, cables, frames, and everything in between is surprising and reassuring.
And if you have a look at the weight of the Body-Solid, you start to realize it really is built like a tank. The closer to being built like a tank, the better, is something I always reiterate when it comes to heavy-duty gear such as power racks, smith machines, leg press, etc.
When your training inside one of these things, you want to feel like you are in a heavy-duty tank-like enclosure.
A smith machine at this price needs to feel planted to the floor with little to no movement at all, especially when lifting the heaviest of weights.
And with a weight of 743lb, I think we can be sure the Series 7 is about as stable as they come, and don't forget the Body-Solid smith machine includes six weight plate holders.
Weight plate holders are not only good for keeping your plates off the floor, they are also another feature that can help with stability. When loaded with your weight plates, they will add an extra 200 – 300lb of extra weight.
So with close to an overall weight of 1000lb with plates, you will have one very stable smith machine with little to no need to bolt the machine down to the floor.
Linear Bearings
When training in your local gym, you may have noticed how smoothly the bar travels when using the smith machine. Does it stick at all? Hopefully not, because most commercial smith machines use a linear bearing system, so the barbell travels smoothly.
You would be surprised how many home gym smith machines some costing $2000+ do not take advantage of linear bearings, many of them come with bushings.
Bushings tend to stick, which not only interrupts your workout; it can also be dangerous; this is why we always want to find a smith machine that utilizes linear bearings for a smooth traveling bar.
You will be happy to hear users have praised how smoothly the bar travels with Body-Solids series 7, thanks to the built-in linear bearings system, so a big thumbs up here.
Commercial Bench?
When I research a home gym machine, I always pay special attention to the bench. If the bench is of bad quality, then you can usually bet the rest of the gear is too.
With Body-Solid, you are in safe hands, they already produce a couple of very capable weight benches, so I had a good idea the bench they supply with the series seven was going to be a good one.
And thankfully, no nasty surprise here. The supplied bench is a full FID (flat, incline decline) adjustable bench. This is not a budget bench by any means. 1000lb capacity, heavy-duty steel tubing for the frame, and quality upholstery. Overall a very nice bench indeed.
At first, I was a little worried about the leg curl attachment. A Fixed leg extension often prevents you from proper foot placement, etc. Luckily it is just that an 'attachment' that can be lifted out after a leg session.
Another handy feature of this bench is the adjustable seat; adjustable seats are an essential feature to stop your butt slipping down the bench in low inclined angles. Without one, your pressing power will be hampered because of the unstable base from which you are pressing.
A 1000lb capacity, heavy-duty frame, comfortable high-density padding, eight adjustments for back pad position, adjustable seat, leg curl, and preacher curl attachments. This bench certainly scores a few brownie points.
Heavy Duty, commercial-grade frame
20 lock out points on the smith machine
Free weight station with 14 mounting positions on the gunrack
High and low pulley system with 210lb weight stack + option to add more weight
Lifetime warranty on everything
Linear bearings for smooth gliding barbell
Adjustbale safty catchers for both smith machine and free weight gun rack
Solid, stable smith machine, weight 753lb
Heavy duty 1000lb capacity weight bench – Which includes 90-degree angle for shoulder press and an adjustable seat!
6 Olympic weight plate holders
Will The Series 7 Suit My Needs?
This all depends on what you are looking for. The Series 7 does a great job of providing just about all you need for a full-body workout.
You'll be able to perform every compound exercise you need to add muscle mass fast. And thanks to the smith machine, all of this can be achieved in relative safety.
For exercises such as deadlifts, I'd advise you to stick with the free weights.
Deadlifting using a smith machine will teach you bad form and could cause injury because the range of motion is restricted, but for squats bench press and shoulder press, these things are fantastic.
The Body-Solid Series 7 should suit most levels of lifters from beginners who need the extra support for barbell workouts and for seasoned lifters who want to lift heavy and can do so without worrying about balance or the bar crushing them.
Plus, to also have a free weights station included is a big bonus, especially if you only need the smith machine for squats.
Having a free weight station allows you to bench and shoulder press without assistance. Free weight exercises activate the stabilizer muscles, something a smith machine can not provide. You get the best of both worlds with this machine.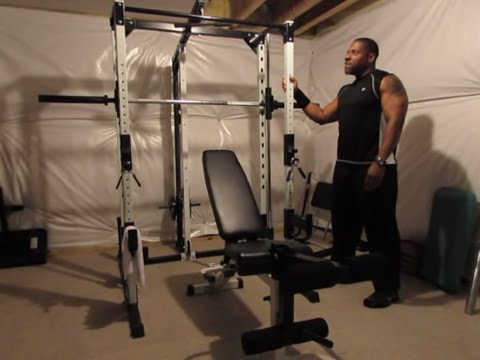 Yukon Caribu III Smith Machine
For our alternatives I thought it would be a good idea to look at a couple of cheaper smith machines, there are a few good quality smith machines under $1500 worth taking a look at. We'll start with Yukons Caribou III.
The Caribou III offers more than most in this price bracket. A high/low pulley system. Free weight station, smith machine, and just like the Body-Solid, the Caribou comes with a decent weight bench, which includes the all-important adjustable seat.
Users have praised the stability of Yukon, saying it feels stable even when doing pull-ups. Ok, this thing isn't commercial grade, but it is quite a heavy beast at 453lb, which is a telling sign the Yukon is made of high-quality materials.
$1200 for all of this is a steal but, there's always a but, the Yukon comes equipped with bushings, not linear bearings. Big problem? No, Yukon sells linear bearing sets separately for $200.
Many people who have bought the Yukon have upgraded to linear bearings and said they were reasonably easy to install.
One guy mentioned, adding linear bearings to his machine made all the difference, he goes on to say the upgrade turned the Yukon from a home gym machine to something that felt similar to what he had been used to at his local gym.
With the upgrade, you are looking at less than $1500 for a robust smith machine that offers high low pulleys, free weight option, pull up bar, bench, and an excellent smith machine when you upgrade.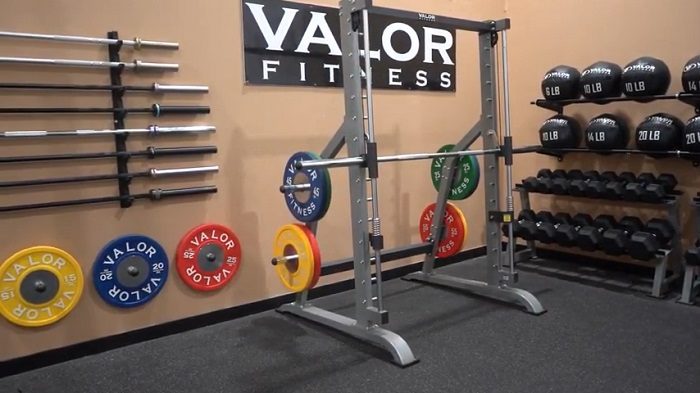 Valor Fitness BE-11 Smith Machine
And lastly, we are going to have a look at the awesome Valor BE-11. This is a stand-alone smith machine; there's no bells and whistles with this one. What you get is a solid, heavy-duty smith machine, boasting linear bearings and a large 1000lb capacity, that's 400lb more than the Body-Solid.
This is old school design at its best and currently my favorite smith machine under $1000, suitable for all lifers from beginners to advanced, no one's going to be disappointed when they get this heavy duty beast home.
Yes, there no pulley and no pec deck. As I mentioned, this is a no BS machine for anyone who takes there weightlifting seriously — built by a company that has a long history of building heavy-duty home gym gear. The BE-11, just like Valors other products, receives high ratings wherever it is sold.
If you can do without all the attachments, I urge you to take a closer look at the light commercial Valor smith machine.
Our Full Review: Valor Fitness BE-11 Smith Machine Review
To Sum Up
When I first looked at the Body-Solid, I have to admit. I thought this machine looks huge! There's one thing you are going to need if you opt to buy the Body-Solid and that is space.
If you have got the space, then I'd agree with many of the users who have purchased it that the Body-Solid Smith Machine is almost unbeatable for full-body workouts.
A heavy-duty 750lb tank of a home gym machine, this thing is going to last decades of heavy training. Built by a company with a great reputation, their commercial-grade smith machine will be an awesome addition to anyone's home, especially those looking to build some serious muscle mass.