Marcy 4008 Smith Machine
There aren't many companies out there that can produce a smith machine, that includes high/ low pulleys, cable cross over, pec deck, free weight station, and a weight bench all for well under 1k.
The Marcy SM-4008 Combo Smith Machine has it all at a very affordable price indeed!
Marcy is known well for producing quality gym gear at affordable prices. I've reviewed a few of their budget-friendly products, and so far, none have failed to impress, receiving high user ratings wherever they are sold. 
Has Marcy managed to deliver a high-grade smith machine at a market-beating price?
Or is the SM-4008 combo just another feature-packed smith machine boasting all the bells and whistles while cutting on quality to achieve it?
First, a quick look at the product specs, then we'll find out how good this thing really is!
Product dimensions –  98 x 59 x 82 inches 
Weight capacity – 300lb on the bar 600lb on the bench
Bushing system for smith bar
Frame – 14 gauge steel tubing
Extras – high/low pulley – weight bench – pull up bar – pec dec – cable cross over
Why Do We Like The Marcy SM-4008 Smith Machine?
The Marcy is more of a complete home gym rather than a smith machine; this thing offers you everything you need for a full-body workout.
If you are looking to add some muscle mass fast, the Marcy Combo offers you well over 50 different exercises to help you bulk up.
Serious about your weight lifting? Then you should know the fastest way to add muscle mass is with compound exercises — bench press, shoulder press, squats, etc.
The Marcy allows beginners and intermediate lifters to perform compound movements in relative safety thanks to the smith machine.
You can lift heavy without having to worry about balance or the bar crushing you underneath.
The Marcy comes fully equipped with numerous safety catches, just a twist of the wrist, and you can safely lock the bar in place on your last killer rep.
The one downside of a smith machine is that they fail to activate the stabilizer muscles. For this, you need to lift with free weights. Thankfully the Marcy also includes a free weight station at the front of the machine for all of your presses.
But what's most surprising about the Marcy is the inclusion of a pulley system, pulley systems are usually reserved for much higher priced machines.
The Marcy boasts a low pulley and high pulley great for working out the back, they also supply an attachment so you can perform tricep pushdowns, an excellent exercise for working all three heads of the tricep.
But, yes, there's a but. Pulley systems on budget smith machines come with issues, especially if you plan on using this thing daily, the cables can become twisted 'easy to sort out' but still a hassle and can have a habit of sticking.
One user has complained of such issues, and as suspected, he started seeing these problems after a month or so of use. This is quite common with budget gear. It's not a deal killer. Just don't expect commercial quality when you are paying budget prices.
Linear Bearings?
Have you used a smith machine in your local gym? If so, you may have noticed how smooth the Olympic bar travels when moving across the guide rods. This usually is thanks to the linear bearing operating system.
All commercial and quality home gym smith machines include linear bearings. Without linear bearings, you will run into trouble with the bar sticking. This is not only off-putting when you are lifting it can be dangerous.
Sadly this where the Marcy fails, Marcy is still using bushings instead of bearings for bar travel, ok, we shouldn't expect too much at this price. Nevertheless, an upgrade should be available for the machine. This way, if you wish to, you can change out the bushings for bearings yourself; it's not a big job takes an hour or two.
Even some $2k machines use bushings instead of bearings, although read any of the users' experiences, and I can bet you the most common complaint will be a sticking barbell.
You need a smooth gliding barbell, especially when lifting heavy weights, and bushings, for the most part, will not provide this.
I would have rather seen Marcy save some cash by eliminating the unneeded pec dec and instead equip it with linear bearings.
Again it's a sign of a company trying to give the user everything but forgetting the primary importance of their product, and for a smith machine, a 'smooth traveling barbell' is key. Hopefully, in the future, they will provide an upgrade for the SM-4008.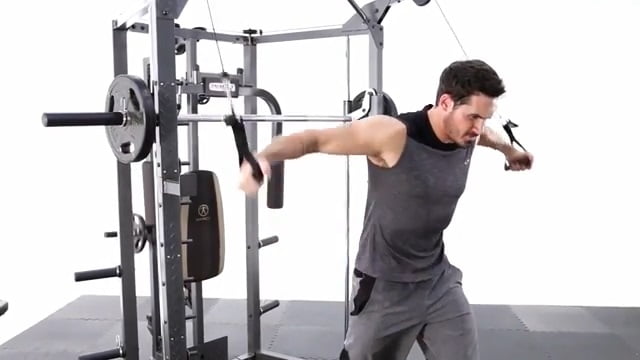 The Bench
On the whole, Marcy's weight benches are excellent, I've reviewed one of their budget benches, and it was by a long way the best for the price, high quality, durable, versatile, and stable.
And it looks as though the bench they include with their smith machine is of similar quality.
With a 600lb weight capacity, the beach is suitable for some heavy barbell pressing (flat & incline). You can also pull the bench out and use it for dumbbell workouts.
However, the seat of the bench is not adjustable! Unlike Marcy's other benches, which all include an adjustable seat, it seems they didn't bother with this bench.
Adjustable seats are a must if you want to press heavy in low inclined positions, an adjustable seat will stop your butt from slipping down the bench. Without an adjustable seat, your pressing power is hampered because of the unstable base you are pressing from.
As before, if you go for a cheap smith machine with all the bells and whistles, they have to cut back somewhere. Its a shame but at this price, I suppose it is unavoidable.
This is still a good solid bench, which includes a ladder adjustment system for the back pad. A much faster to adjustment and more stable system than the pull pin type. So a thumbs up here.
Weight/Stability
One of the most important things to consider when buying home gym gear is stability. Weighing around 275lb including the bench, the Marcy combo is quite light for an all in one home gym.
In general, the weight of the machine gives us a good clue to the product's overall quality. Considering most all in one home gyms weigh well over 400lb you start to realize why the Marcy costs less.
Lighter 14 gauge steel is used for the mainframe of the Marcy whilst this isn't particularly a bad thing, it does make the machine quite light. Mid-level to high-end smith machines usually use 11-12 gauge steel for the frame. Which gives them a lot more weight and stability.
Luckily the Marcy does include weight plate holders. If you load the weight plate holders up with your weight plates you will be adding an extra 200-300lb of weight. Excellent for giving your machine some extra stability plus you keep all your weight plates off the floor and close to the barbell to load.
Versatile offers over 50 exercises
Nice to see a low and high pulley
Good quality weight bench with 600lb capcity
Includes V bar, shiver bar, triceps rope, chain link, ankle strap and two handles
Bushings can get stuck over time – No bearing upgrade available at the moment
Need to buy weight plates separately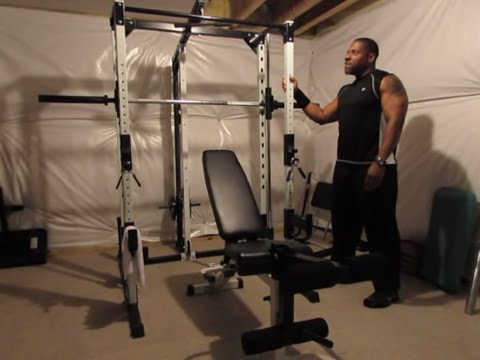 Yukon Caribou III Smith Machine
The Yukon Caribou III has been around for a few years and is proving to be a popular choice. It's quite similar to the Marcy except it comes with fewer features, no pec dec, which in my opinion is probably for the better. Pec decs get in the way. Always better to have more space inside the cage.
The Yukon weighs over 450lb, so there should be no issues with stability, although disappointingly, there are no weight plate holders with this one. But the heavy-duty rolled steel frame gives us a lot of stability.
The Yukon comes with a full FID bench, including the all-important adjustable seat. There's a lat pull and a low pulley, a pull-up bar, and free weight station, all you need for a full-body workout.
The Yukon is a step up next to the Marcy and is aimed at the more serious of weight lifters.
Yukons smith machine is considered a budget smith machine even tho it has a price tag of over $1000, but you do get a very a lot for your money with this machine. It will prove to be far more durable than the Marcy.
The only thing stopping the Yukon from being close to commercial-grade is again the lack of linear bearings, just like the Marcy the Yukon utilizes bushings for a smooth traveling bar. Thankfully Yukon offers a linear bearing upgrade that costs around $200.
Many people have bought the bearing upgrade and mentioned it was easy to install with one guy saying it took the Yukon from a home gym smith machine to something very similar to what he had been used to in his local gym. So, this is one upgrade we highly recommend if you decide to purchase the Yukon.
To Sum Up
When I first took a look at the Marcy and saw the price, I kind of guessed there was way too much going on there for the price.
Having all that gear for around $700 had to be too good to be true! And it was, although it wasn't as bad as I thought. Many users praise the Marcy and are getting a good workout from the machine.
Yes, the Marcy isn't for seasoned weight lifters, a 300lb max capacity barbell is evidence of this. But for beginners and intermediate users, the Marcy Combo offers a lot of bang for your buck.
If you can live without linear bearings and don't mind having to sort your cables out once in a while, the Marcy SM-4008 shouldn't disappoint.
For $700, you won't find better. Marcy has done their best, with the inevitable few corners being cut. Keep it for a few years, increase your strength and muscle mass, sell it, and upgrade.