Can you believe cable pulley weight training systems have been around for over 100 years? Its true the Lat Pulldown Machine 'pulley systems' were invented long ago because they offer something free weight exercises can't, and that's constant resistance.
Weaving the two modes of resistance into your training program – free weights (accommodating) and cables (constant) is one of the keys to ultimate success in hypertrophy training.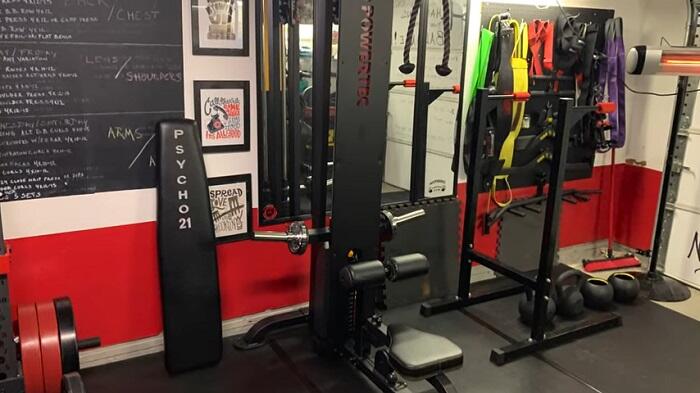 Reviews & Comparison Table
Our reviews consist of a mix of heavy-duty and entry-to mid-level standalone lat pulldown machines.
Theres nothing in there costing over $1000.
Super heavy-duty commercial lat pulls are overkill for a home gym; not only do they cost upwards of $2k, they also take up a ton of room, so no need to include any in this review.
My focus is on helping you choose a well built heavy-duty machine that's going to last you years of use but not cost the earth. Heck, even if your budget is only $300, you'll be surprised at what that can buy you!
Before we get to our main reviews and for those of you in a rush, here's a quick look at the Top 3 Lat Pulldowns (compatriotsn table).
Best Overall
Xmark Lat Pulldown
Assembled Weight – 122lb

Max Load Capacity – 400lb

High/Low Pulleys – Yes

Rating – 4.5/5
Assemebled Weight – 84lb

Max Load Capacity – 250lb

High/Low Pulleys – Yes

Rating – 4.5/5
Assembled Weight – 101lb

Max Load Capacity – 300lb

High/Low Pulley System – Yes

Rating 4/5
Best Lat Pulldown Machine Reviews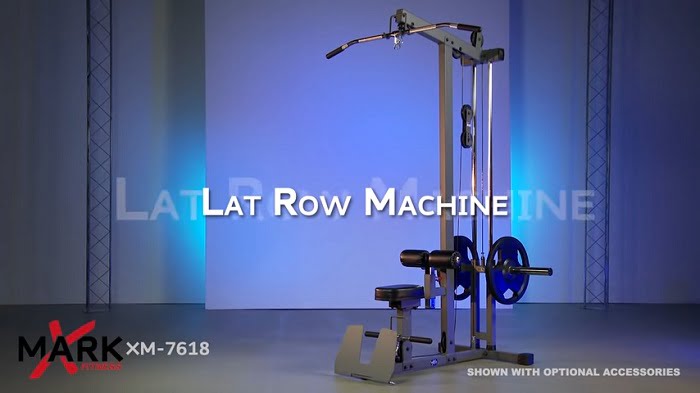 1. Xmark Lat Pulldown XM-7618
Xmark is a company well known for building heavy duty gym. I've reviewed a load of their weight training gear, and this is one company that never fails to impress.
Heavy-duty, durable frames are their specialty, and that's precisely what you can look forward to if you opt to choose this excellent lap pulldown from Xmark.
Built from heavy-duty 2″ x 3″ 11 gauge powder-coated steel that's industry standard for commercial-grade, the Xmark is going to be stable and durable.
The Xmark XM-7618 lat pulldown weighs close to 125lb when fully assembled; that's good going for a lat pulldown priced under $600. Heavy-duty frames not only help with stability; they are a telling sign this lat pulldown is made from quality materials.
The Xmark has been built for serious weight trainers, boasting a 400lb max load capacity even seasoned lifters will take years to outgrow this lat pulldown.
The pulley systems have been praised by many who have purchased the Xmark, saying they felt smooth and very similar to the commercial lat machines they had used in their local gyms.
It's difficult to find anything negative to say other than the Xmark has a slightly larger footprint than the others, but this thing is by far the best you'll find in this price bracket. There's no other lat pulldown machine out there that can boast an 11 gauge steel frame for under $600
And to have the reassurance that you are buying from one of the most experienced companies in the home gym market is always a good thing.
The Xmark is our top pick for any level weight trainer wanting to bring constant resistance exercises to their home gym. High and low pulleys, stable, impressive max user height of 6'3″ and a sizeable 400lb load capacity. I can be sure no one will be disappointed once they get this lat pulldown home and built.
Heavy duty, stable build-11 gauge 2″ x 3″  powder-coated steel frame
Users up to 6'3″ can achieve full range of motion
High & low bearing pulley system
Flippable seat, with 3″ of Dura-Craft cushioning
Lat bar, short bar, and chrome Olympic adaptors included
Lifetime warranty on frame
Weight plates not included
Weight sled can stick to rubber bumpers if left for too long without use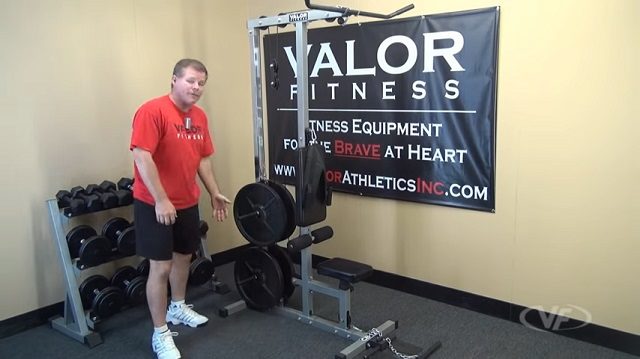 2. Valor Fitness CB 12 Lat Pulldown
Again Valor is another company known for building heavy duty gear, I've reviewed their power racks and smith machine, and the one thing that stands out about all of them is the build quality and price.
I don't know how these guys produce such well-built gear at low prices, but they do, and the user's praises for their products are a testament to the quality of their goods.
Take the CB 12 lat pulldown for example, here we have a 12 gauge heavy-duty frame, 250lb max load capacity, adjustable seat, ab cruncher plus a high, mid, and low pulley all for under $300 that's impressive stuff.
You might think build quality would suffer when offering so much for such a low price, but with an average of 4.5 out of 5 from 125 user reviews, it doesn't seem so. Great to hear and reassuring for weight trainers looking for a decent lat pulldown in this price bracket.
Something I liked seeing on the Valor were the storage weight plate holders.
Not only do the plate holders keep the plates off the floor and close to the loading bars, but they also allow for some extra weight to keep the lat machine stable.
You can load the storage bars up evenly with some plates, and it's going to add some much-needed stability to the machine. Loaded storage plates will also lessen the need to bolt the lat pulldown to the floor.
Just like the Xmark, the Valor uses weight plates to create resistance. The 250lb max load capacity isn't bad at all at this price, maybe not enough for seasoned lifters, but for most 250lb is more than adequate for a home gym lat machine.
The Valor Fitness CB 12 is unbeatable in the Under $300 bracket. Ok, it's not a heavy-duty option like the Xmark, but this thing boasts more features and better build quality than a lot of lat pulldowns I've seen costing twice as much. Bang for your buck the CB-12's a winner!
Impressive load capacity for price – 250lb
Versatile – over 25 exercises t choose from
Heavy-duty nylon pulleys, with sealed ball bearings
Come with weight plate holders (increase machine stability & keeps plates close to loading points)
Olympic sleeve adapters for the load carriage are not included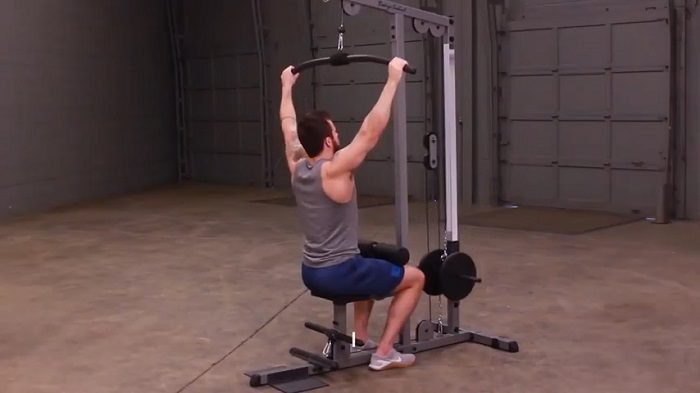 3. Body-Solid Pro GLM83
It might surprise a few lifters out there to see the Body-Solid Pro in 3rd place, and yeah, it could have made it into the top 2 if the Pro offered a little bit more for the price tag.
The Pro is around the same price as the Xmark but doesn't quite have the same build quality. Its an excellent machine, but with a 300lb max capacity, the GLM83 doesn't offer much more than Valors CB-12, which is 250 bucks cheaper.
On the positive, Body-Solids GLM83 has the patented no cable change technology, which is excellent for those looking for a fast change over from high to low pulleys.
The Pro also boasts eight positions for the adjustable leg holders, so if its comfort you are after the Pro should fit most people's body size well. With one user saying he achieved full range of motion and he's 6'3″
What impressed me most about Body-Solid's lat pulldown machine are the warranties; you get a full lifetime on everything, including the pulleys! It's not often a company offers you that sort of support may be on gear costing $2-5k but for a $500 piece that's almost unheard of, and that's not all.
Body-Solid rate the Pro commercial, hmm maybe, still to include a full commercial warranty on everything says one thing to me, and that's confidence! They have a lot of it for this machine so you can be certain on one thing when you buy the Pro? You'll never have to pay for replacement parts!
Although nothing particularly stands out about the Body-Solid lat pulldown, it is overall a capable machine: high-quality pulleys, heavy-duty stable frame, and the no cable change technology: a solid, well built lat pulldown with an awesome warranty.
No-Cable-Change Technology
Thick, comfortable DuraFirm™ seat pad
Seated Row Foot Brace for low pulley
Commercially rated + full lifetime warranty on everything
8 position adjustable foam rollers. Help keep your feet planted to the floor and legs locked down (keep correct form) for high pulley lat work
More expensive than the others but doesn't offer more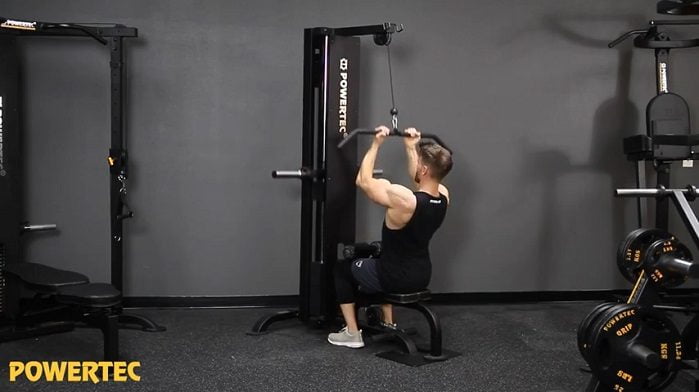 4. Powertec Lat Pulldown Machine With Weight Stack Option
A slick-looking lat pulldown from the guys over at Powertec. The Powertec lat pulldown is the most heavy-duty option in this review. Weighing close to 175lb, this is a beast of a lat machine.
With a 500lb weight capacity, the Powertec is suitable for all levels of weight trainer. It has the highest weight capacity for any lat pulldown under $1000, and with its heavy-duty 12 gauge steel frame and steel bearings pulleys, it's going to take just about anything you can throw at it.
Powertec offers a weight stacking system to accompany their lat pulldown; however, it's an optional extra. Weight tracking systems are the holy grail for home lat pulldowns. They allow you to perform more advanced weight training techniques such as drops sets or Russian ladders thanks to the quick weight change over.
The optional stacking system comes with a hefty price tag of 300 bucks add that to the cost of the lat pull, and you're looking at well over $1k, which is too much for what's on offer here.
On its own as a plate loading machine, it's one of the best if slightly overpriced! With high and low lat pulls and a nice heavy frame.
The Powertec is an excellent choice for serious weight lifters who need a high capacity machine. Also, the adjusted lower seat means taller users up to 6'3″ will have no trouble achieving full range of motion.
A great looking heavy duty lat pulldown, if you can afford to purchase it with the stacking system, you'll have a very versatile piece of home gym gear indeed.
High quality pulley – smooth motion
Adjusted lower seat – Increased range of motion even for tall users upto 6'3″
Stacking system too expensive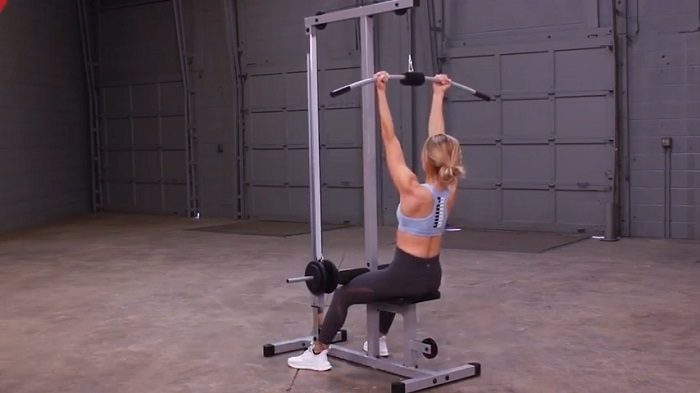 5. Powerline PLM180X (Cheap Lat pulldown Machine)
The PLM180X is one of the most popular lat pulldowns on the market. Not only is the Powerline built well, but it also has one of the smallest footprints. For people with tight training quarters, the Powerline would be an excellent choice.
The Powerline is an entry-level lat pulldown built purposefully for beginners and intermediate weight trainers; still, it offers an impressive 250lb max weight load capacity, which is rare for under $300.
The Powerline is the Valor CB 12's main competition. But when you think the Valor includes an adjustable seat, an ab crunch station, and a 12 gauge steel frame, you start to realize what an excellent buy the Valor is!
If it weren't for the Valor, the Powerline would be the best in its price bracket; it is, after all, a capable machine that will last years of use.
Also, it was a surprise to see how many users have praised the smooth motion of the pulley system, always good to hear when it comes to budget lat pulldowns as pulleys are notorious for sticking and twisting in the lower price levels.
If you're after a durable well-built budget lat pull with a smaller footprint than most, It might be worth taking a closer look at Powerlines PLM180X
Solid build for price point
Includes wide-grip pulldown bar and low row bar
Olympic sleeve adapters not included
Not suitable for users over 6'3″
Frame
One of the most important things to consider when buying your first lat pulldown is the frame. As with most gym gear, power racks, smith machines, leg presses, when looking at the frames, we want them to be as beefy as possible for the price.
Professional welds and heavy gauged frames are essential not only for safety but for weight. If you are not going to bolt the lat pulldown to the floor, you are going to need a lat pull that has a decent amount of weight to it.
The weight helps a ton when it comes to stability; the last thing you need when training on one of these things is for it to lift or move around when you are exercising.
Gold standard or commercial grade for a home gym lat pulldown is 11 gauge 2″ x 3″ steel. Anything less will have a lower weight capacity and stability. If you haven't got the cash to for an 11 gauge frame lat pull at least try and get hold of 12 gauge. Remember, the lower the number of the gauge, the thicker the steel, not the other way round.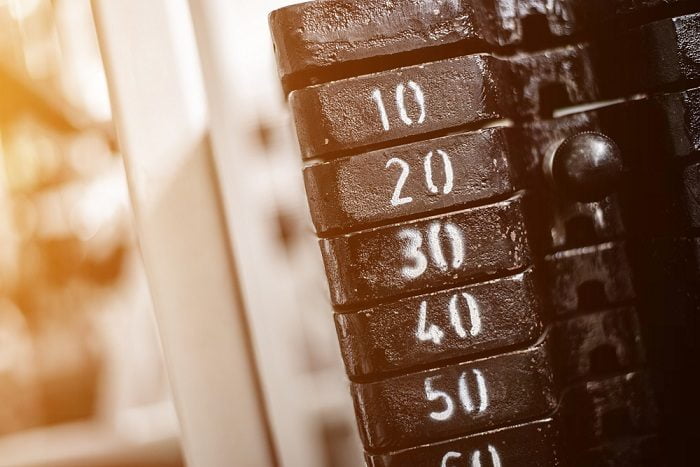 Weight Stack Vs. Plates
As we mentioned earlier, weight stacking systems are the holy grail when it comes to lat pulldowns for our home gyms; they allow us to rapidly change the weight by simply removing and inserting the selector pin. The great thing about this is it lets us perform advanced training techniques such as drop sets etc.
However, there's a flip side, although stacking systems are excellent for speedy adjustment times they do in general carry a much higher price ticket than their plate loading counterparts. Also, when we consider that nearly all home-based weight stack systems top out at 200lb, you start to realize that stacking systems have their limitations.
200lb capacity is fine for most women, teenagers, and untrained men. Still, ultimately more advanced trainers will need more than 200lb, especially for back exercises such as seated rows and close grip pulldowns.
Although weight stack systems are the gold standard for home use, plate-based systems are more practical and come with much higher capacities. So save your self a few hundred bucks and opt for a plate loaded machine. We can live without cable drop sets!
Adjustable Seat or Leg Holders
Full range of motion is of the utmost importance when looking for the right lat pulldown machine for your body height. Some machines come with an adjustable height seat while others have adjustable leg holders.
Look for a machine that has as many adjustment positions as possible. This will allow you to find the perfect fit for your body. Also, if you are a tall guy over 6'1," look for frame designs which have the already adjusted lowered seat. Xmark and the Powertec are two machines known to suit taller users well.
Olympic Plates or 1″ Standard Plates
Before you buy a lat pulldown machine, you are going to need some weight plates. Great if you have some already, but if you haven't, these can be quite pricey, especially Olympic plates.
Most lat pulldowns take the standard 1″ weight plates but no need to worry if you only own the Olympic size because you can buy some Olympic adaptors separately (slide over the 1″ loading bars). Some machines will include the Olympic adaptor within the price; if not, they can be purchased relatively cheaply from any decent online fitness store.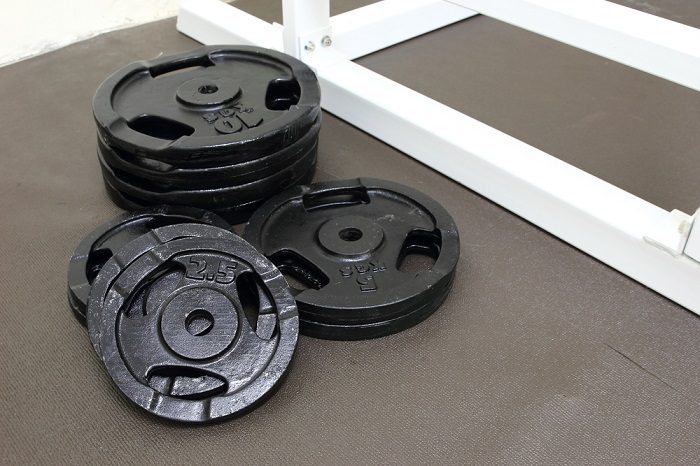 If you need to buy plates for your machine, I recommend purchasing the 2″ center holes Olympic sized plates. As you progress with your training, you will find nearly all gym gear requires Olympic sized plates.
Opt for cast iron non-certified plates from a reputable company – buying non-certified will save a load of cash. Certified plates will cost you double or even triple that of non-certified.
Forget about plastic-covered plated or bumper plates. They are more expensive and unless you plan on performing Olympic lifting movements. There is no need for bumper plates in a hypertrophy based home gym.
Lat Pulldown Accessories
There's an abundance of attachments you can get your hands on for your high and low pulley cable system, some are useful, whereas others remain dubious.
The first accessory that comes as standard with most lat pulldown machines is the pulldown bar. A standard bar measures 48″  and its the cornerstone of cable attachments.
The standard bar will let you perform a variety of cable-based exercises way beyond the pulldowns, including mass building exercises such as tricep pulldowns, an excellent exercise that works all three heads of the tricep. All kinds of bicep curls, upright rows, and front raises. The lat pulldown bar is the king of versatility for cable systems.
However, there are a few things to be aware of length, knurling, and shape.
For guys who have particularly wide shoulders, you'll want to try and get hold of an equally wide pulldown bar to match; otherwise, you may find your grip width limited by the bar length.
You'll notice a lot of lat pulldown bars are covered in rubber at the endpoints, we need to avoid those why? Because after a year or so of use, the rubber will eventually wear off; this leaves a nice shiny area with absolutely no grip.
Look for a bar with medium knurling partially at the endpoints and along the straight part of the bar.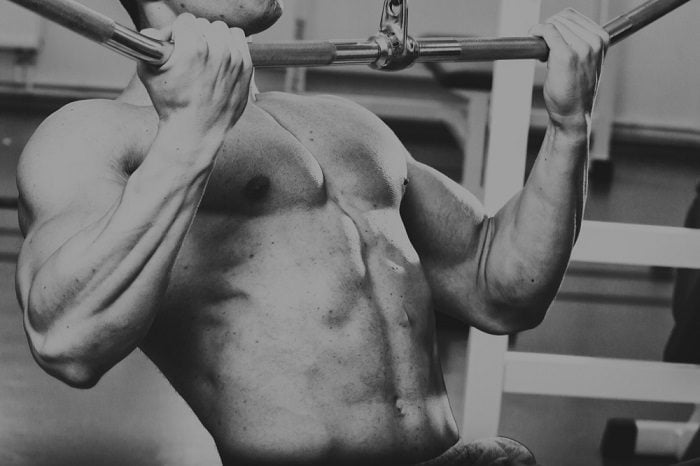 Upside Down Lat Pulldown Bar
A pulldown bar with upward angled handles forces the elbows outwards and helps to spread the scapula and focus the stress on the lats. Because this type of specialized lat pulldown bar is differentiated only at the endpoints, the remainder of the bar is just as versatile as a standard lat pulldown bar.
Still, the upside-down lat pulldown bar can prove quite hard to get hold which usually means the price is slightly higher than a regular bar.
Cable Rope Attachment
Apart from the pulldown bar, the cable rope is probably the most common attachments you will find when it comes to any cable machine. The rope is usually black thicky threaded and comes with rubber stoppers at each endpoint. The rubber stoppers act as handles.
Rope attachments open up many useful exercises such as tricep pushdowns, face pulls, rope curls, and overhead extensions. A good one costs around $30 and worth every buck. Anyone who owns a cable machine should have one of these!
Double D Handle Attachment
The Double D is a 3D shaped handlebar that is typically found on the seated row.
Another versatile piece that can be used to perform standing rows face pulls, seated rows, and close grip lat pulldowns. Probably will not be used every day in your weight training routine, but its one of those essential bits of kit I'd recommend purchasing for your cable pulley machine even if you only use it for seated rows.
Straight (Short) Bar
The last essential attachment I'd recommend purchasing is the straight bar. Thankfully this bar you shouldn't have to pay out for unless, of course, you want to upgrade the one that came with your Lat pulldown machine.
There are a multitude of short cable bar options, including simple 20″ straight bars, longer 30″ bars, and various models with neutral-grip handles and even rotational handles.
If your short bar that comes as standard with your cable machine doesn't rotate, then it may be a good idea to upgrade to one that does. Why? Otherwise, things like curls get difficult, as the bar will want to rip out of your hands (or rip the skin off of your hands)
EZ short bars are another excellent attachment; not only will they provide your wrists with some much-needed relief for most of your curling, but they are also great for tricep pushdowns and rowing.
To Sum Up
Trying to find the best home lat pulldown machine is tough, the quality of machines on offer out there can vary so much it can be challenging to dig out the good from the bad.
Thankfully five machines were worth some serious consideration. Two of which really stood out amongst the rest. The first being the Xmark XM-7616 Lat Pulldown.
The Xmark Lat pulldown is a surprising heavy-duty option for the price. 11 gauge steel, smooth running quality pulleys, and a lifetime frame warranty. If you want to feel like your training on a lat pulldown from your local gym, you won't get any closer to commercial-grade than the Xmark Lat Pulldown Machinefor under $600.
If your budget is a little slimmer, then your next best choice would be Valor CB-12 Lat Pulldown Machine, this thing shines with versatility and build quality and is second to none for the price point.
The CB-12 has been around for some time now, yet users continue to shower the lat machine with praise even after years of use. A durable, versatile machine at a great price.