What Are Spin Bikes And Where We Can Use Them?
Suppose you do not know about spin bikes. Then these are the stationary machines that most gyms have, and you can sit on them and ride them just like a bicycle. Many fitness fanatics also have these bikes at home.
There are many benefits to spin bikes, such as burning calories, increasing lung capacity and strengthening the muscles of your heart, etc.
We are here to brief you on some of the significant benefits of spin bikes. We hope you will like them helpful, especially if you buy a spin bike for your home.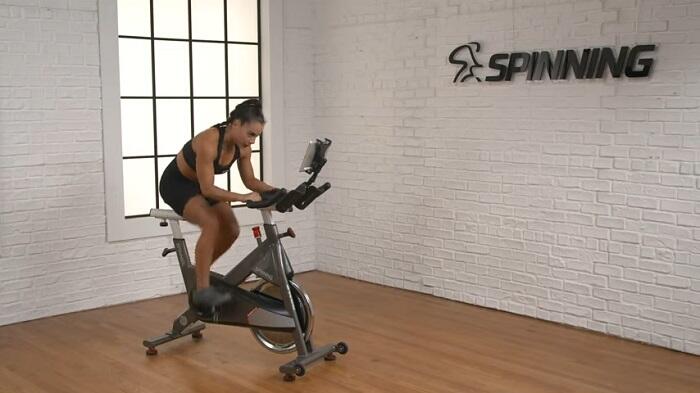 Let's Burn the Calories
Many people start exercising or join a gym when their calorie rate becomes too high, and we are here to assist you and help you sort out this problem quickly. Among many other benefits of spin bikes, the most significant advantage is that they help burn calories.
Spin bikes are the best thing that you can use to burn the maximum calories that have stacked in your body and are making you look fat.
According to gym masters, they help burn almost 400 to 600 calories in just 40 minutes, which means that you can burn more than 300 calories in one hour.
Experts suggest pairing spin bikes with pulse monitors to estimate the total amount of calories burnt during the workout for better results.
The biggest benefit of a spin bike is that you can easily use it even if you are a beginner, and you do need specific training to make it work for your needs.
Get Rid of The Heart Problems, One of The Major Benefits of Spin Bikes.
Spin bikes can provide an extensive range of workouts. You can do many workouts using spin bikes. Any person who wants to improve their heart rate can start working out with them. These bikes are perfect for both aerobic and anaerobic workouts.
According to doctors, you can improve your heart stroke volume by working out using a bicycle. If you do not know heart stroke volume, then in simple words, it is the volume of blood that the heart pumps out.
Beneficial For Knees and Joints
The best thing about spinning bikes is that it puts less, or you may say no pressure at all, on the knees. It is one of the best alternatives to cardio workouts.
Many people face discomfort doing intense cardio workouts. But when it comes to spin bikes. They can help you a lot, and the pressure is divided into all pressure areas equally. And as a result, you feel no discomfort when you are doing a workout on a spin bike.
Many studies have suggested that people with Osteoarthritis are advised to work out on a spin bike if they want to get rid of the pain.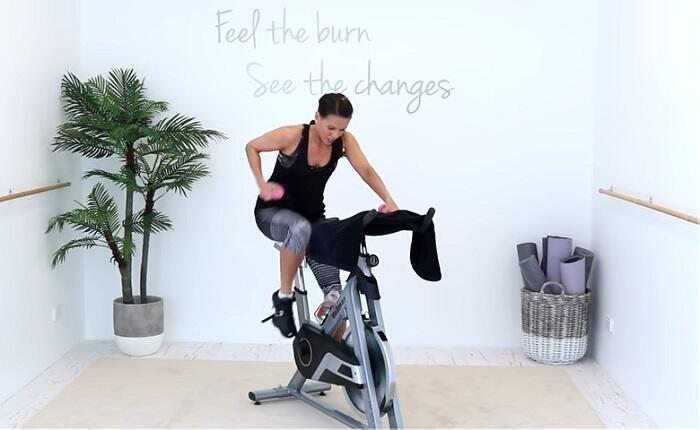 Indoor Practice
Are you into sports? And you really can't miss a day without riding a bicycle? The Global Pandemic has restrained many people to their houses. But if you have a spin bike, then it can sort out your problem. You can take a ride on one of these bikes to feel like you are riding on a road.
Even if you want to participate in sports or games, you can practice it at home and then quickly go and take part in the race. So, these are no doubt perfect if you want to do realistic training.
Best For Mental Strength
Do you know that a spin bike can also help you develop an "I Can Do It!" attitude? They are highly beneficial in developing mental health. This is because it has many features, and as you will find, the more features, the more you will ride.
There are recline and push-through modes that will train you for taking a ride on the hills and bumpy roads. You can set the pedal stroke levels from smooth to hard and easy to difficult on most bikes. They will give you confidence and will also help you in self-control power.
Benefits of Spin Bikes Having Different Training Modes
Almost 90% of spin bikes have more than one mode. Everyone can take a ride on these bikes. It does not matter what age you are, what experience you have, and your weight. All you have to do is sit and ride and ride and ride…
You can easily change the intensity, also speed, and levels. Moreover, these are not specific for a particular person or a group, and anyone can take a ride on them without any discomfort. Even if you are a beginner, you can take a ride on it, or if you are a professional, it is still great for you.
Tracking Performance
When you take a ride on regular bikes, you can barely count the time or a pulse rate. But spin bikes are perfect if you want to monitor your performance, and you can easily measure and track your performance rate.
You can take a ride in your living room and play the videos on the screen in front of you. Even some spin bikes can help you connect to the best instructors that can help you stay motivated and burn the extra fats.
There's a variety of mobile apps that are built-in with spin bikes. Through that, you can easily connect to people globally and check out their workout routine. Moreover, many different games will help you in getting entertained while you are doing the workout.
And yes, if you want real-time matrices, then spin bikes can help you with that.
Ride Anywhere
Indoor cycling can let you feel relaxed at home. You can use them anywhere in your home. The best part of these bikes is that you can place them anywhere, and some of them can even fold, and you can place them under your bed.
Many people misunderstand them by treadmills. And think they are hard to move from one place to another. But the best thing about these bikes is that you can move them around your house just like a bicycle.
Some of them fold flat, and you can place them in the corner of your room. Moreover, you can easily move them and clean the area and then put them again over that area.
Meeting the Community
Are you bored working out alone? Spin bikes can allow you to meet fitness fanatics online. Many apps are connected with fitness spin bikes, and all you have to do is register yourself and get connected with the fitness community.
Even some apps have free registration, and you can use the premium services for more than a year. You can also connect with your favorite trainer and ask them to help you lose the maximum weight. Not only this, but you can stream the workout videos using the apps.
Some apps let you earn money. So, if you know any workout tips, you can also live stream and upload your workout videos. And through these, you can also earn.
The community is restricted to a specific area; you can connect with the people globally and explore more about fitness spin bikes.
Our Verdict About Benefits of Spin Bikes
Getting perfect health is a dream of every person. But how can you be healthy? Well, the workout is the ideal option for all those who want to burn the maximum calories. But there is another thing too. Gyms usually charge a lot, and most of us cannot afford the membership.
Thanks to the Global pandemic, many gyms are still not functional, and you can barely have your turn in the remaining gyms. But you can bring your gym at home.
Spin bikes can help you a lot, whether it is mentally, financially, and health-wise. The price of spin bikes ranges from low to high. So, rather than spending more and a lot of money on gym memberships and taking risks of catching Covid, you can easily buy a spin bike.
Among many other benefits of spin bikes, the best one is that you can do a workout at any time of the day without getting worried about going out.
So, we recommend spin bikes as the perfect thing for all those who want to do workouts and cannot make the time. If you're going to have excellent health, then purchace it right now. You won't regret it.