ProForm 440R Magnetic Rower
There used to be a time when just about everyone wanted an exercise bike in their homes, they were affordable, gave you a great cardio workout and saved you the hassle of traveling to the local gym. Indoor rowers were around, but most were so costly not many of us could afford one of these excellent machines.
Fast forward a few years and thankfully we're now spoilt for choice when it comes to affordable home rowing machines.
The ProForm 440R Rower is just one of over 100 indoor magnetic rowers that have been designed purposefully for home use.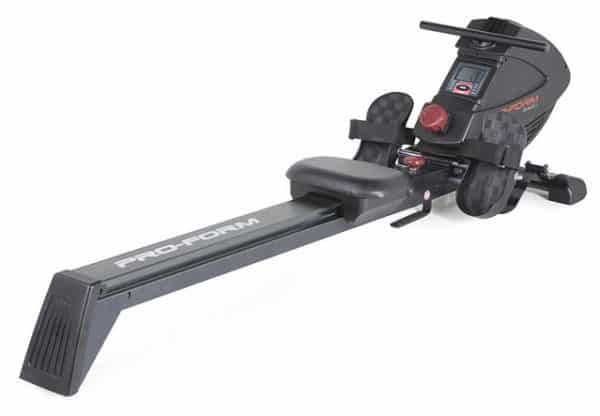 Priced to suit most people's budget, this versatile, compact, magnetic rower has a lot to offer. In this review, we take a very close look at this entry-level rower from ProForm,  we'll also compare it to a couple of other similarly priced magnetic rowers.
Why Choose The ProForm 440R Magnetic Rower?
The benefits of owning a rowing machine far outweigh most other cardio machines, why? A rower will give you a pro-level cardio workout while strengthening your back, shoulders, arms, and quads, which is why most people buy one of these things.
They provide a great way to work out your upper and lower body all while giving your lungs and heart a workout at the same time.
But the ProForm 440R offers a little more, this rower comes with a low pulley station, this can be a handy feature if you plan on an extensive upper body workout, the pulley system allows for exercises such as bicep curls, tricep extensions, and upright rows.
 Interval Training
Interval training can be used as an alternative to lengthy often boring cardio sessions, many of us when we cycle or row for long periods of time can get bored, but as the ProForm comes equipped with a low pulley station, you could try some interval training:
For eg. 10 mins rowing, stop, then 5 sets of biceps curls repeat but this time add in 5 sets of upright rows. A nice option to have!
Resistance
Users love the smooth realistic rowing motion of the ProForm 440R rower. Generally, the larger the flywheel the more realistic feel you achieve but surprisingly, although this rower has a reasonably small flywheel, users have praised how smooth and realistic the rowing action is.
There are two main types of rowing machines, an air rower, and magnetic, the 440R is a magnetic rowing machine. Is magnetic better than air? It depends on what your preferences are.
We feel magnetic rowers are much better suited to home use than air rowers, simply because most magnetic rowers are whisper quiet to use, you do not disturb others around you, I heard of one guy exercising on his magnetic rower in the bedroom while his wife was asleep, this proves just how quiet they are.
A quiet machine is also great for apartment living where there are fewer rooms, if you have an air rower in an apartment anyone else who lives will hear you and be annoyed every time you row, a decent magnetic machine will disturb no one including yourself, especially if you like to watch TV when you're exercising.
One other point worth noting about magnetic resistance is that the resistance is constant, by this I mean it doesn't matter how fast you row the resistance will not increase unless you manually change the resistance yourself via the resistance knob. Many love this as it lets you row at a slow pace with strong resistance.
Air rowers, on the other hand, are dynamic, the faster you row the stronger the resistance, people like dynamic resistance because it gives a much more natural feel to the rowing action.
The 440R rowing machine has 8 magnetic levels of resistance, but remember this is an entry level rower, do not expect super strong resistance on the upper levels, this rower is best suited for beginners and intermediate users.
It's also an excellent machine for warm-ups etc, just don't expect intense cardio workouts with this one, for that you'll need to spend a couple of hundred more.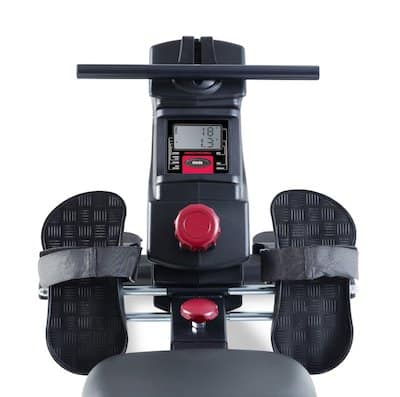 Sadly most budget rowers come with a budget monitor and this is true for the ProForm, it's not bad at all, just fairly basic.
There's no built-in pulse receiver so monitoring heart rate is out.
The one thing I do like about the monitor is the nice large LCD display, unlike many others in this price range where you almost have to stop rowing to read the stats, the 440R monitor can be easily read without interrupting your exercise.
Although Basic the ProForm monitor still tracks a useful amount of data including:
Strokes
Total Strokes
Distance
Time
Calories Burned
One of the main drawbacks of buying a rowing machine is their large footprint, this is fine if you have enough space in your home gym to accommodate a rower, but if space is tight, you'll be happy to hear this rower folds in one simple step, more than halving its overall footprint.
And to move it couldn't be easier, just tilt and roll on the built-in transport wheels.
I've read a few complaints about the assembly of this rower, the main complaint being the instructions are hard to follow, whilst most users will get the 440R assembled in 45 mins or less, some may struggle. All tools and parts are provided.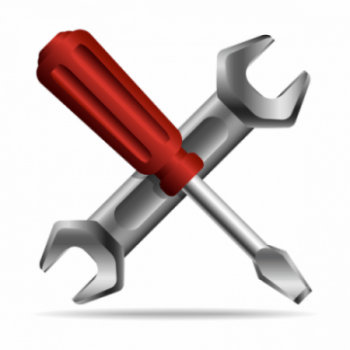 Soft touch ergonomic handle, adjustable ergonomic padded seat and pivoting pedals with foot straps, should keep comfort levels up on this rower, although all three of these comfort features were not appreciated by everyone.
Some said the seat was too small, others mention the handle was too thin and hard to grip when rowing.
But on the positive side, the complaints were few and far between, many praised how smooth the seat slides on the rail, and how natural the rowing action felt.
When it comes to height restriction, a user mentioned he was 6'4″ and had no issues with full leg extension which is excellent for an entry level rower.
Seat uncomfortable for some
Resistance is not strong enough for experienced athletes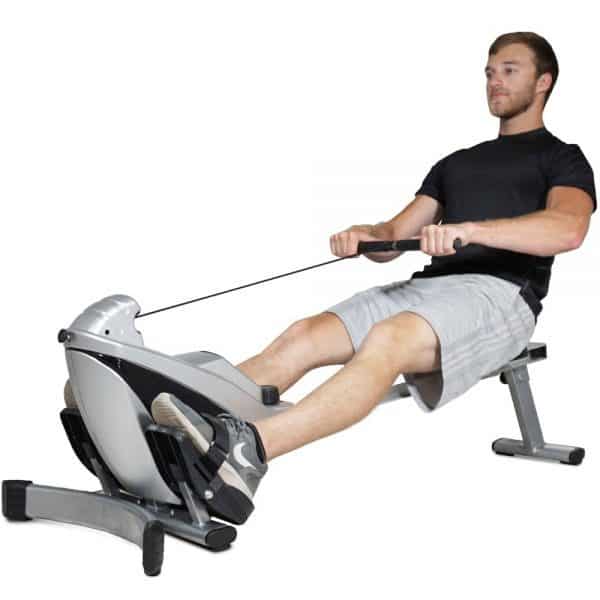 Titan Fitness Magnetic Rower
The Titan Fitness Magnetic rower is one of the lightest magnetic rowers available. Being lightweight, will make it easier to move around and store, but the lack of weight will also contribute to stability issues and maybe some durability issues. Generally speaking, the weight of a machine gives us a good clue to the overall quality of the rower.
The weight of the machine is not a deal killer by a long way, and this is an entry level rower, after all, so we do not expect the Titan rower to be built like a tank.
The rower has been designed with wide stabilizing feet, capped with rubber, this should help with stability issues.
Titan Fitness is, in my opinion, one of the best companies out there who produce top quality products at low prices and their rower is no exception. Just like the ProForm, this rower comes with 8 resistance levels and a basic monitor.
A comfortable wide seat and smooth whisper quiet rowing action are the best features of this rower.
Despite its negatives, the Titan Fitness rower is one of the better budget rowers, built by a company you can trust with good customer service, this rower deserves some serious consideration.
A nice, sleek looking, foldable rower from Merax, slightly more heavy duty feel with this rower, and a hefty weight at 90lb gives you some added reassurance of quality and durability.
At the upper end of entry-level, the Merax rower should appeal to most fitness levels, its strong resistance in the upper 3 levels sets it apart from the other 2 rowers in this review
If you are looking for a low-cost rower with strong resistance then the Merax is a great choice, but costing over a $100 more than both the ProForm and Titan we felt slightly let down by the basic monitor supplied with the Merax.
To Sum Up
The ProForm 440r Rower should not disappoint anyone looking for a budget rower, this rower is great for beginners looking to improve their cardio fitness.
Just remember, don't expect too much from these entry-level rowers, they do the job they are built to do and that is, give you a decent low impact cardio workout. If you are a seasoned athlete I'm afraid this rower's resistance strength will not be enough for your needs.
The main selling feature of this rower is it's smooth almost silent rowing action, which is hard to find at the lower end of the market.
Overall a top pick for beginners or anyone looking for a full body warm-up before their main weightlifting session.