There are a lot of entry-level spin bikes flooding the market right now, and the range of quality on offer in this price range is huge. The last thing you want to do is end up with a poorly built spin bike that will last only a few months before breaking down.
Thankfully the Sunny Health & Fitness Sf-B1423 Belt drive bike is one entry-level indoor bike that stands out from the crowd, it has been built by a company with a ton of experience in low-cost fitness equipment, and it boasts more features than most in this price range.
Impressive Features For a Low-Cost Indoor Cycle
With a heavy-duty frame, belt drive system, and a 40plb flywheel, the Sunny SF-B1423 will provide one of the smoothest cycling motions you'll find for under $300, and its also going to feel solid when cycling thanks to that 92lb frame which will keep this thing planted to the floor even when standing and cycling.
Yes, the Sunny is an impressive indoor bike that punches way above its price tag in the entry-level range, and today I want to take a close look at all the pros and a few of its cons. But first, let's take a quick look at the Sunny Indoor cycling bikes' product specs!
Product dimensions –  47L x 20W x 44H in
2-way adjustable handlebars and  4-way adjustable seat
Resistance type – friction
Integrated transport wheels
Why Do We Like The Sunny SF-B1423?
What you have to like most about the Sunny indoor bike, and most of their fitness gear is the build quality for the price point.
Sunny is one of those companies that get all the essentials right with their indoor bikes, such as heavy-duty frames, quality welds, and durable components.
Their bikes are built to last and that's what this company prides itself on – quality cardio gear at affordable prices.
Stability – Heavy Duty Frame – Adjustable Levelers
Stability is often overlooked when people decide on a spin bike for home, yet it's one of the most important things you should look out for. It's something I urge you to take into consideration, especially if you plan on intense workouts that require a stable bike.
The Sunny weighs 92lb; this is heavy for a low-cost indoor bike which is a good thing as the extra weight will give us that extra stability we need. The weight is also an excellent sign this indoor bike is made from quality materials.
Another handy stability feature of the Sunny SF-B1423 is its adjustable feet levelers. And what's great about the levelers is they independently adjust so you can keep your bike level on uneven surfaces.
The Sunny also includes nice wide stabilizers at either end of the bike. Again these are perfect for preventing any wobble, which can be offputting when cycling.
For stability, the Sunny scores high. Its heavy-duty frame, adjustable levelers, and wide stabilizers will make sure this spin bike feels stable even when your standing and cycling.
40lb Flywheel Smooth Cycling Motion
Another outstanding feature of the Sunny Health SF-B1423 indoor bike is its flywheel. Usually, we are not treated to flywheels this heavy unless we pay mid-level prices, so it was a nice surprise to see a heavy flywheel featured on a low-cost indoor bike.
Whys a heavy flywheel important? Heavy flywheels ensure a smooth cycling motion. It gives the bike a more natural feel, and extra momentum, particularly important if you were thinking of using the bike for long spinning sessions.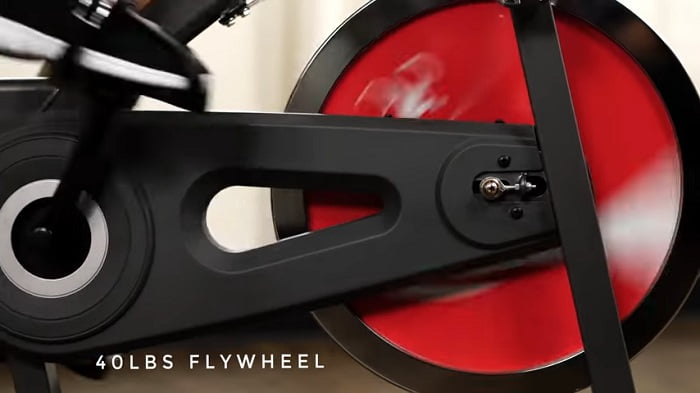 Maintenance Free Belt Drive System
A few years ago, nearly every low-cost spin bike featured a chain drive system, and while there's nothing wrong with a chain drive system, they are noisy because the chain has to roll over the sprocket. They also require some maintenance as the chains have to be lubricated, just like an outdoor bike.
Belt drive systems are fairly new to indoor bikes; they cost a little extra to manufacture than chain drives which was one reason we only saw them on mid-level to higher-end indoor cycles.
Fast forward a few years, and now belt drive systems are starting to filter their way down to low-cost bikes, and you'll be happy to hear the Sunny benefits from this excellent maintenance-free, whisper-quiet drive system.
Belt drives are the preferred choice of most indoor cyclists not because they are maintenance-free but because they hardly make a sound when in use, which is perfect for those who dont want to disturb others around them with the sound of their workouts.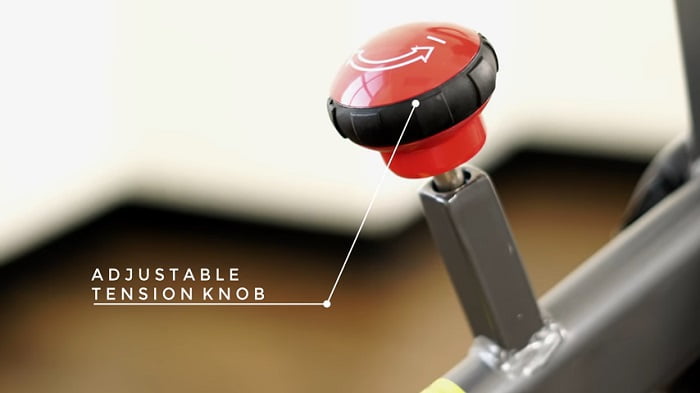 Variable Resistance – Friction Pad
Friction resistance is easy to use, all you have to do is turn the tension knob, and the felt pad above the flywheel will press against it creating the resistance you feel in the pedals.
The more you turn the tension knob, the harder the pad presses against the flywheel, and the stronger the resistance you will feel.
This is an entry-level spin bike, so do go expecting the resistance strength of a pro bike. Still in the upper levels, it's easily strong enough for intense workouts.
The Sunny SF-B1423 is a variable resistance bike, so whatever fitness level you are right now, from complete beginners to intermediate, you should be able to find a resistance strength to suit your workout needs.
The only drawback of friction resistance is the slight whooshing noise made by the pad connecting with the flywheel as it turns.
And there's a tiny bit of maintenance involved. Don't let the maintenance be a deal-breaker. All it involves is replacing the friction felt pad every six months when it wears. It's a simple job that takes a few minutes, and they are cheap to replace.
Basic – Easy To Use Monitor
It shouldn't come as a surprise to find a basic monitor on the Sunny SF-B 1423, as nearly all bikes in this price range feature basic monitors. Some dont include one at all,  but the good thing is they're easy to use and only take a few minutes to set up.
The Sunny SF-B1423 monitor tracks all the essential workout stats such as time, speed, distance, and calories burned. The Sunny doesn't provide a tablet holder, although many people use the close grip handlebars to balance their tablet.
If you dont like the idea of balancing an expensive tablet on the handlebars, you can always buy a tablet holder for the bike; they cost around $15 and are easy to mount.
Adjustable Seat & Handlebars – Will It Fit Me?
Sunny doesn't give us a max or min-height for this bike. All they say is the bike seat can be adjusted between 28 ins and 36 ins from the pedal at its lowest position.
Still, luckily there's a ton of feedback for the Sunny, with users as tall as 6'4″ finding a comfortable fit. And the minimum I have read is 5'1″.
One downside of buying a budget spin bike like the Sunny is that the handlebars only adjust vertically. This can be an issue for shorter users with short torsos as some may have to overstretch to reach the handlebars. It's not a deal stopper, but it's something to think about if you are on the petite side.
Assembly Under 1 Hour
The good thing about fuss-free indoor bikes is that they are nice and easy to put together. Most of this bike comes pre-assembled with only the handlebars, seat, stabilizers, and monitor to attach.
Full build instructions are provided as well as all of the tools for the job. The average assembly time is under 1 hour.
Heavy-duty frame – stable
Variable resistance – suit most fitness levels
40lb flywheel – allows for a smooth un-jerky cycling motion
Belt drive system – quiet, maintenance-free
4 adjustable levelers keeps bike level on uneven floors
Includes basic easy to use monitor
Transport wheels – just tilt and roll to store
Great price for a high quality, durable indoor bike
You'll need to change resistance pads every six to twelve months depending on use
Monitor doesn't include any pre-set programs
Handlebars can't be adjusted horizontally 
Sunny SF-B1001 Indoor Bike
The Sunny SF-B1001 is one of Sunny's most popular low-cost spin bikes. It's been around for a few years now and still receives high ratings wherever it's sold.
Built with a heavy-duty frame, this thing weighs close to 90lb, which is impressive considering the price. It also boasts 4 adjustable levelers and wide stabilizing bars, making it one of the most stable bikes in its price range.
Like the Sunny SF-B1423, the Sunny SF-1001 has a 4-way adjustable seat and 2-way adjustable handlebars and includes a heavy flywheel for a smooth cycling motion.
However, the Sunny SF-B1001 doesn't include a belt drive system. This bike uses a chain drive, which, as mentioned before, is slightly louder when in use.
We should remember chain dives work just as well as belt drives. You will feel no difference when cycling; in fact, chain drives can feel more natural because they mimic the outdoor bike more closely.
Apart from the chain drive system, there really isn't a noticeable difference between the two bikes.
If you can put up with the extra noise, and you dont mind the lack of a monitor? Choosing the Sunny SF-B1001 could save you a few bucks. It's another well-built bike from Sunny, perfect for people just starting with indoor cycling.
To Sum Up
There's a reason the Sunny SF-b1423 Spin Bike has become one of the most popular choices under $300 and that simply because it provide more than anything else in this price bracket.
The build quality the heavy-duty frame and belt drive system are what shines about this bike.
You need a stable spin bike for intense without and you want a bike that lasts. There are people who have owned this spin bike for a few years and are still praising it, which is a great sign that this no-frills bike from Sunny has passed the test of time, something many bikes in this price bracket struggle with.
So if you have been looking for an indoor bike one that's durable and quiet, one that can stand up to calorie-burning workouts, the sunny SF-B1423 is a great choice. Yes, it's still a long way off of commercial-grade but for a home spinner its about as good as you'll find for the price.