Marcy builds some great budget gym gear, and most of the time, these guys are unbeatable for the price.
However, Marcy are known best for building affordable weight training equipment, so it's going to be interesting to see if they can carry that quality over to their cardio gear?
Today I want to have a look at their lowest priced spin bike, the Marcy Revolution Cycle.
The Marcy Revolution XJ-3220 is a cycle that boasts a 40lb flywheel, a heavy-duty frame, and a 300lb weight capacity. Sounds impressive so far for a spin bike with such a low price tag? Still, this fuss-free spinner will inevitably have a few drawbacks, which we'll touch on later.
First, let's take a quick look at the Marcy Revolution product specs!
Product dimensions –  40 x 20.5 x 43 inches
2-way adjustable handlebars and  4 way adjustable seat
Resistance type – friction
Why Do We Like The Marcy Revolution Cycle?
One of the most important features to look out for when choosing a spin bike is the flywheel's weight. Typically we see anywhere between 20-30lb flywheels on budget bikes and between 30-50lb on mid-level bikes.
So it was a really nice surprise to find that the Marcy revolution cycle comes with a heavy 40lb flywheel that's almost unheard of in this price range.
Whys a heavy flywheel a good thing? Heavy flywheels provide you with a smooth cycling motion; cheap spin bikes with light flywheels have jerky cycling motions that can be off-putting. A heavy flywheel produces a smooth motion and safe movement by producing more power at a steady rate.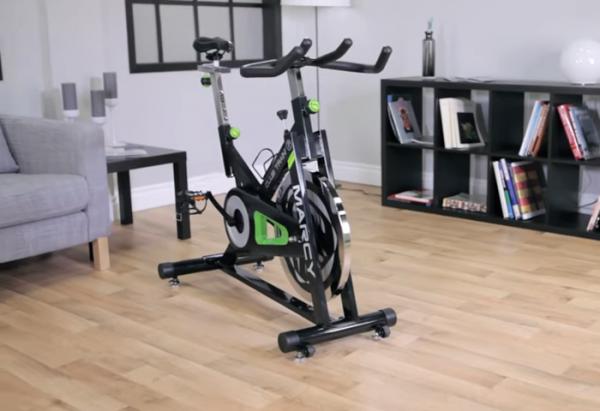 Stability – Adjustable levelers And Impressive Weight
Something else I noticed about the Marcy is how heavy it is.
Okay, it doesn't weigh anything close to a bike you'd find in your local gym, but for a budget spin bike, 89lb is impressive. I've reviewed a ton of budget spin bikes lately, and most weigh bewent 50-70lb.
Why is weight important? Not only is the weight of a bike a telling sign of the quality of materials used, but the weight of a bike will also help with stability, which is why I'd normally recommend the heavier, the better. You want this thing planted to the floor so you can stand and cycle without it moving too much.
Your own weight plus the 89lb of the bike should make the Marcy a decent spin bike for climbs.
Let's not forget we also have the 4 adjustable feet levelers. A convenient feature for those who have uneven floors, the adjustable levelers make sure you can keep the bike level.
Where's The Monitor?
Missing monitors aren't just an issue reserved for an entry-level bikes such as the Marcy. I've come across high-end spin bikes that don't include a monitor.
Yes its slightly disappointing there's no monitor to check speed, distance pulse, etc., but it's not a biggie. Most people love to use fitness apps or watch TV while they exercise. There's even a variety of excellent free cycling videos you can watch on YouTube to give you some motivation and keep away the monotony of long cycling sessions.
Still, what bugs me about this bike is they haven't provided a tablet/phone holder, yeah you could place your tablet on the handlebars, but if you own a new iPad, you definitely dont want to risk it falling and breaking.
If you want to use your tablet with the Marcy spin bike safely, you can buy a tablet holder they cost around $15.
Chain Drive Systems The Pros And Cons
The Marcy revolution XJ-3220 supports a chain drive system.
The chain drive system of a spin bike is very similar to what you see on a regular outdoor bike. This is great for some guys who want their indoor bike to mimic the feel of an outdoor bike as closely as possible.
Yes a natural pedaling motion is desirable; still, the chain has to go over the sprocket, which sadly makes some noise, and it's because of this noise, many people now prefer a belt drie to a chain drive when choosing an indoor cycle.
Belt drives cost more to manufacture, so we mainly see chain drive systems on budget or older spin bikes.
There's nothing wrong with a chain drive system. It does just as good a job as the belt drive system, so dont let it be a deal stopper. As I mentioned, its only drawbacks are the extra noise, and just like an outdoor bike, the chain has to be lubricated every once in a while.
Resistance Stength/Type – Friction
With friction resistance, there are no set levels to choose from; the tension knob of your spin bike can be turned until you find a resistance strength suitable for your workouts.
The closer the friction pad is to the flywheel, the stronger the resistance you will feel in the pedals. However, there are no micro-adjustments with the Marcy spin bike, so you might find fairly big jumps in resistance strength, which is a common issue with friction resistance and cheaper spin bikes.
But the good thing about this bike is you have a 40lb flywheel. This will ensure the resistance in the upper levels feel smooth but will also be consistent and non-jerky.
This isn't a pro bike, so dont expect super-strong resistance. It's a $300 indoor bike. Still, it's a good one with a heavy flywheel, so it should easily provide enough resistance strength for intense calorie-burning workouts.
Most of The Marcy Revolution Indoor Bike Comes Pre-Assembled
You'll be happy to hear there isn't a whole lot of assembly required when the Marcy arrives on your doorstep. Most of the bike comes pre-assembled you'll still have to attach pedals, handles bars, the stabilizers, and the seat, but nothing too complicated and shouldn't take longer than an hour.
Clear instructions and all the tools for the job are provided.
Heavy-duty frame 89lb aids stability
40lb flywheel – smooth unjerky cycling motion
4 way adjustable seat – 2 way adjustable handlebars
Easy to assemble, under 1 hour
Protects joints – excellent low impact alternative to a treamill
4 adjustable feet levelers – keeps bike level on uneven floors
Integrated transport wheels just tilt and roll to move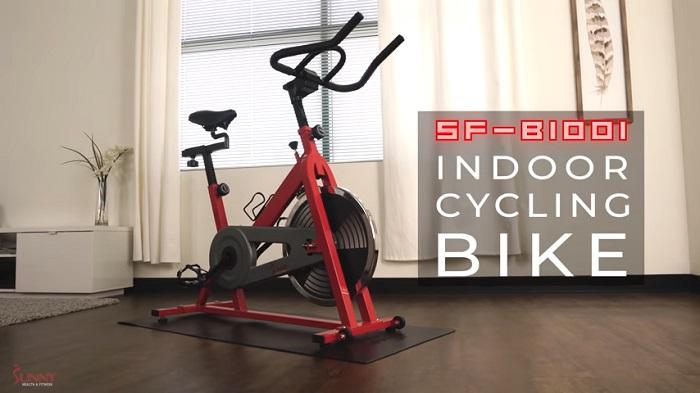 Sunny Health SF-B1001 Spin Bike
Sunny Health & Fitness are another company that specializes in quality, affordable cardio gears. These guys have been around for a couple of decades and really know what they are doing in this space.
Their SF-B1001 spin bike is in direct competition with the Marcy. Both bikes are priced in the entry-level range, and both bikes have similar features.
There really isn't much between the two. The Marcy and the Sunny have impressive heavy-duty frames for the price point, both bikes use chain belt drive systems and friction resistance, and both include the 4-way adjustable seat and two-way adjustable handlebars.
If you take a close look at the picture, you will see the Sunny doesn't include a monitor, just like the Marcy.
The only real difference between the two bikes is the flywheel's weight, the Sunny at 30lb and the Marcy at 40lb. And when it comes to durability, Marcy and Sunny have great reputations for building quality gear that lasts.
It's a tough choice between the two as both bikes are so similar in features and price. I feel the Marcy just edges it thanks to the 40lb flywheel
To Sum Up
For a budget spin bike, the Marcy is one of the best out there. I love that it boasts a heavy flywheel; we usually see 40lb flywheels on bikes costing over $500. A 40lb flywheel means we can be sure of a smooth cycling motion.
However, we shouldn't get too carried away when choosing bikes in this price range; we can't expect them to provide the same resistance strength as commercial bikes.
What the Marcy has been designed for is beginners who want to increase their cardio fitness at home. It's an excellent choice to introduce people to indoor cycling and should last beginners and some intermediates a few years of growth.
If you've been after a well-built spin bike that doesn't break the bank, the Marcy Revolution Indoor Cycle is worth some serious consideration.