With so many spin bikes crowding the market, especially in the $300 to $400 price bracket it can be confusing to what bikes are worth some serious consideration. While there are a ton of badly designed and cheaply built spin bikes out there, the are a few excellent exceptions; one of those is the Ativafit indoor cycling bike.
The Ativafit is packed full of some of the latest features including a belt drive system that gives you a smooth pedaling motion and a heavy-duty flywheel perfectly suited for spin workouts.
And unlike other spin bikes, Ativafit has thought to include a large comfy seat with extra padding excellent for long cardio sessions and keeping your butt from getting too sore.
High-Quality Bike Low Price Tag
Ativafit are a company known for building high-quality gym gear at prices most of us can afford, and their IC-702 spin bike is no exception. Built with a heavy-duty semi-commercial frame and weighing close to 85lb, this thing has been built to last.
85lb is a good weigh for a $300 spin bike and a telling sign the bike is made from quality materials.
Review
In our Ativifit indoor Cycling bike review, I want to take a close look at all this bike has to offer, its drawbacks, and make a quick comparison with one of its closest rivals.
But First, let's take a quick look at the Ativifit IC-701 product specs.
Product dimensions –  L:39″ W:19″ H:48″
Max user height – 5'0″ – 6'5″
2-way adjustable handlebars and – 4 way adjustable seat
Resistance type – friction
Why Do We Like The Ativafit Indoor Cycling Bike?
Spin bikes have come a long way in the past few years, and thanks to the introduction of a belt drive system that replaces a chain system, they are now much quieter in motion.
If you live in an apartment or you havent got a spare room to house, you're new spin bike? Purchasing one that doesn't make much noise when your exercising is desirable as it means you won't be disturbing others or yourself with the sound of your workouts.
Not only are belt drives great for keeping noise to the minimum, but they are also maintenance-free. You dont have to lubricate the chain or worry about the chain falling off when you're cycling.
Not all bikes in this price bracket come with a belt drive system. Many are built with a chain drive because it is cheaper to manufacture.
I've seen chain drive systems on bikes costing over $500, so it was a nice surprise to see a belt drive system on the Ativafit, and it's definitely a feature you should look out for when deciding on a spin bike.
Heavy Weight Flywheel – Smooth Motion
The main benefit of a heavy flywheel is that it makes your cycling movement less jerky and more controlled.
A heavy flywheel will also ensure safe movement by producing more power at a steady rate. What does this mean? Basically, it's great for long spin workouts and climbs.
With a cheap spin bike, you're looking at 20-25lb flywheels. Still fine for beginners, but when you start to spend a few more bucks, we thankfully can get hold of a spin bike with a decent flywheel weight, such as the Ativafit.
Ativafits flywheel weighs 35lb, it's perfect for home spin classes, and it shouldn't feel much different from the ones you use in your local gym. Smooth cycling motion is what we are after, and you will get that with the Ativafit spin bike.
Stability – 4 Adjustable Levelers
Something often overlooked when buying an indoor bike is the stability of the bike. This is an affordable spin bike, so we cant expect a rock-solid spin bike as you'd find in a commercial gym.
Still, it looks as if Ativafit has done all they can to keep this bike as stable as possible when cycling.
The first and most useful stability feature has to be the adjustable levelers on each corner of the stabilizing bars. Levelers are there to keep the bike level on uneven floors. It's a handy feature, and one I know is essential for many of us with uneven floors.
The second is this bike's weight. At 85lb, it's a mid-weight bike, not as heavy as a pro bike but much heavier than some of the budget spin bikes. The extra weight will help keep things stable, and it's also a telling sign the Ativafit is made from quality materials.
You can get hold of a cheap rubber floor mat to get rid of any lateral movement, although it shouldn't be a major problem with the Ativafit thanks to the rubber levelers, which should grip polished floors well.
Variable Resistance – Friction Felt Pad
The only real drawback of the Ativafit indoor cycling bike is that it uses a friction pad to create resistance. This is nothing unusual in this price bracket all bikes in the $300-$400 use friction felt pads rather than the more expensive magnets to create resistance.
Whys it a slight drawback? Because friction resistance makes a little more noise than magnetic resistance, not overly load by any means a faint whooshing as you cycle.
Also, because the felt pad makes contact with the flywheel to create the resistance, it will over time start to wear, so some maintenance is required. Changing the pad every 6 months is recommended; however, if you lubricate the pad when needed, you can prolong its lifespan.
Friction pads are cheap and easy to fit dont let a small amount of maintenance put you off.
Resistance Strength
You shouldn't have any trouble when it comes to finding the right strength of resistance either. Just turn the tension knob until you find the strength of resistance for your workout.
We need to remember this isn't a pro bike, so the strength of resistance, even at its strongest, may not be challenging enough for seasoned cyclists or athletes. Still, for most users, resistance strength is easily strong enough for intense calorie burning workouts.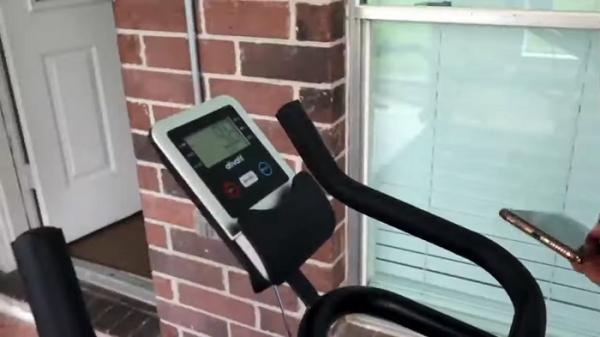 Easy To Use But Basic Monitor
There's no getting away from it, but you will find a basic monitor when you spend less on an exercise bike, especially around the $300 price mark. However, this monitor is much better than most I've seen in this price bracket.
The monitor's screen is nice and large, making it easy to read your workout stats. And something we dont usually see on a basic monitor is your choice to set workout goals, a useful feature for those who aren't going to use any fitness apps.
We'll never find built-in fitness apps at this price, but what we can hope for is a tablet/phone holder so we can download our own. Thankfully the guys at Ativfit have thought of this and provided a holder for a phone or small tablet so you'll be able to follow spin workouts etc., from your chosen fitness app.
I find the free cycling videos on Youtube are a good option if you dont want to spend lots of money on subscription fitness apps.
As I mentioned, the monitor does track all the important workout stats and such as time, distance, total distance, speed, and calories burned. No pulse or RPM tho.
Assembly – Most of The Bike Comes Pre-Assembled
It wasn't so long ago it took a whole afternoon to assemble an indoor bike. Now, most of the bikes we order come pre-assembled with just a few parts to put together which is a good thing as it saves a ton of time and frustration.
The majority of users built the Ativafit bike in under 30 minutes. Although there are few parts you'll need to attach, such as the stabilizer bars, the seat post, seat, and the monitor, but nothing too difficult.
Full instructions and tools provided.
Heavy-duty, sturdy – supports up to 275lb
Belt drive system – less maintenance than chain and whisper quiet
Comfy large well padded seat
4 way adjustable seat – 2 way adjustable handlebars
35lb flywheel – smooth motion
Easy to use monitor large screen – goal tracking
Device hold and bottle holder
4 adjustable feet levelers – keep you bike level on uneven floors
Great price for a high quality spin bike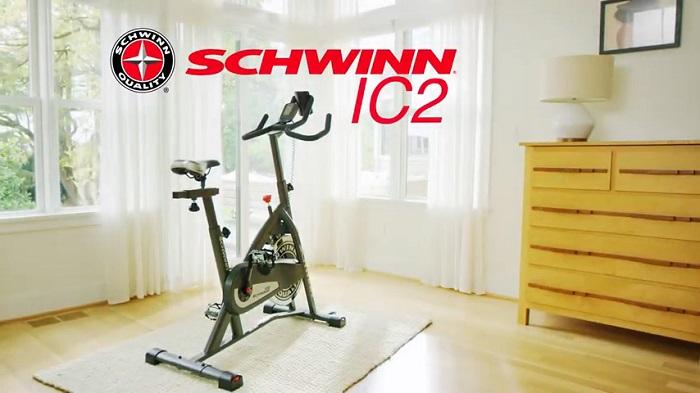 Schwinn IC2 Indoor Bike
The Schwinn IC2 has been around for a few years now, and it's one of the most popular spin bikes in this price range. This isn't surprising considering it's built by Schwinn, who usually delivers on quality and price.
 However, 5 or so years have passed since the Schwinn IC2 was released. Since then, other companies such as Ativafit have released more advanced spin bikes with belt drive system heavier frames and improved designs that better suit spin workouts. (and cheaper)
The Schwinn IC2 costs $50 more than the Ativafit and offers less. The chain drive system is noisy, it can only boast a 30lb flywheel, and users have mentioned that the resistance system is loud and tends to get stuck.
So why does the IC2 continue to stay popular? The reason is, it boasts a Schwinn badge. People know the company and trust it, still with bikes such as the Ativafit on the market, which offers so much more at a lower price. Schwinn will either need to update their IC2 or cut the price considerably.
To Sum Up
The Ativiafit indoor cycle is a well-designed spin bike for home use. We love the heavy-duty frame and adjustable feet levelers. This will ensure you have a stable bike, which is essential for intense workouts.
The belt drive system will keep noise to the minimum, and the 35lb flywheel is heavy enough to keep your cycling sessions feeling natural, smooth, and unjerky.
An excellent low impact choice for anyone looking to increase their cardio fitness at home—great value for a high-quality spin bike.