We're getting close to mid-range prices with the PowerBlock Sports Bench, so we should be able to expect a heavy-duty build, quality upholstery, and versatility, all the features sadly missing from most of the budget lightweight benches.
Heavy Duty  – Suitable For Barbell and Dumbbell Lifting
And thankfully, it's the build that impresses me most about the Powerblock bench built from heavy-duty 14 2″x3″ steel tubing. This thing is going to feel solid, and thats exactly what we want from a weight bench.
There's no need to worry about weight capacity either this bench has a max capacity of 550lb. It's a realistic capacity, and it has the build to take it, which means we can use the bench for heavy dumbbell lifting and barbell/rack work.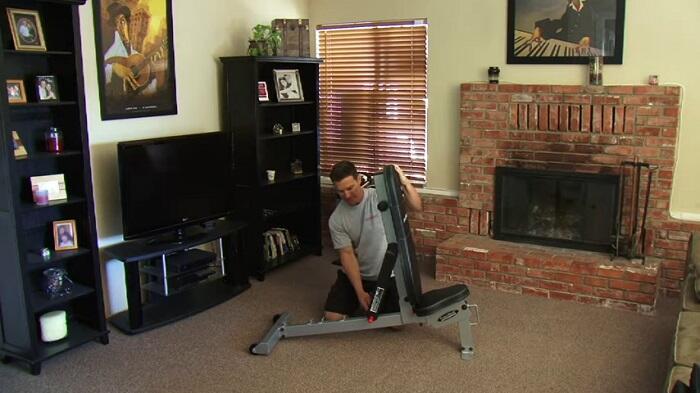 Today we're going to take a look at everything the PowerBlock Sports Bench has to offer, including its drawbacks.
I've reviewed a ton of gear from the guys over at Powwerblock, and they haven't yet failed to impress me. Let's find out if their PowerBlock Bench is as good as the rest of their equipment.
First, a quick look a the sports bench product specs!
Product dimensions – 50 x 21 x 16 inches
Adjustable back pad positions: flat to 30, 45, 60 degrees and also military position
Transport wheels and handle
Frame – 14 Ga. 2″ x 3″ powered coated steel tubing
Why Do We Like The PowerBlock Sports Bench?
The best feature of this bench is its heavy-duty frame. We don't see many benches in this price bracket with a weight of 57lb.
57lb is an impressive weight for a bench that costs just under 200. The extra weight will ensure the bench stays planted to the floor when in use, plus it a telling sign the bench is made from quality materials.
Another thing I like about the PoweBlock Sports bench is its height in flat, at 16″ this bench is low, it's not too low though, commercial flat benches typically have a height of 17″ so we need an adjustable bench that can get as close to this height as possible.
Too many adjustable benches are terrible when in flat as many have flat heights of 19″-20″, which is too high, and you'll find yourself having to put 2″ blocks under the bench just to find a comfortable pressing position. So although 16″ is slightly low it's much better than being to high. Also, a low center of gravity will help again with stability.
5 Back Pad Positions – Ladder Adjust
The Sports Bench includes 5 back pad positions, more than enough for all our pressing needs. But what's great about the sports bench is that includes the all-important near vertical for seated shoulder presses.
So many benches have a max incline of just 70 degrees which is slightly too low to target the shoulders fully. We need a bench that includes a max incline anywhere from 80-90 degrees if we want to hit the shoulder hard. so I was thankful that Powerblock including this important angle.
And it's nice to see a ladder adjustment system used on the Powerblock bench back pad. I prefer ladder adjust to the pull pin type. They're quicker to adjust and sturdier.
Still, we are missing a decline angle for decline presses which is a disappointment but not a huge one. Weighted dips are just as effective for adding lower pec mass as decline presses, which brings me to one of the accessories for the bench.
Powertblock has designed a dip station that attaches to the back of the bench. You have to buy it separately, but it's a great add-on and something I recommend if you want to make the most from the bench.
Adjustable Seat
We may be lacking a decline for decline pressing, but we do have an adjustable seat for support when incline pressing.
An adjustable seat is an essential feature for bench pressing in low incline angles as it stops your butt from slipping down the bench and provides you a stable base to press from. Vital for those who want to press heavy safely.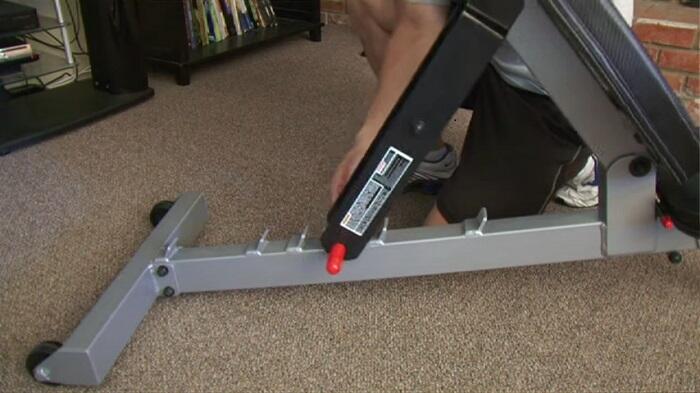 Realistic 550lb Weight Capacity
There's a lot of cheap benches out there boasting high weight capacity, some as high as 1000lb, yet they have 20lb lightweight frames and could never realistically take their max weight capacities on a regular basis.
On the other hand, you have reputable companies like PowwerBlock, who build quality gear, and their Powerblock bench, although boasting a much better build than any of the cheap benches keeps its weight capacity realistic. 550lb is a weight capacity PowerBlcok are happy with, and if they say it will take it, it will, plus it has the build quality to back it up.
Still, we need to remember the max capacity includes your own bodyweight, so if you're a 180lb guy, you're left with 370lb for lifted weight. Not many people will outgrow a 550lb bench to quality even if using the bench for rack work.
15 Minutes Assembly
You'll be happy to hear most of the PowerBlock Sports Bench comes pre-assembled. All you'll need to do is bolt the rear stabilizing bar to the bench frame shouldn't take more than a few minutes, and then make sure all other bolts are tight before first use.
Heavy-duty frame – stable build
5 back pad positions that includes a near vertical for seated shoulder press
Adjustable seat for support when incline pressing
Ladder adjustment system for back pad – fast to adjust and sturdy
Transport wheels and handle
10 year frame warranty – one year parts
Some user complaints of the seat making noises when in use
To Sum Up
It's nothing big to fault with this bench. Yeah, we haven't got a decline, but it's definitely not a deal killer as the bench makes up for it with its other impressive features.
I like that the Sports bench is quite heavy as the weight really does help keep the bench stable and gives you the feel you're lifting on a quality piece of equipment rather than a cheaply made unstable bench.
We have enough adjustment angles for pressing, an adjustable seat for support in incline, and thankfully the Sports bench includes a near-vertical for military presses—everything we'd expect from a decent weight bench.
And it's a great bench in flat to thanks to its height of 16″ from pad to floor. Overall the PowerBlock Sports Bench doesn't disappoint. It's easily one of the best benches you'll find for around $200.