You need to be careful when choosing a cheap adjustable dumbbell as they always come with a few drawbacks. I've reviewed a ton of affordable dumbells in the past few years, and most of them appeared because of the pandemic, which bought a huge surge in demand for home gym products.
The YooZoo Adjustable Dumbbell is one of those dumbbells made by a company with little experience in this market. I didn't expect big things. Still priced at $150 for a 44lb dumbbell they are certainly worth a closer look.
Includes Comparison With Best Sellers.
In today's review, I'll look at everything the YooZoo Adjustable Dumbbell offers, including those drawbacks I mentioned. At the end of the review, I'll also compare the YooZoo Dumbbells with the best sellers, the Bowflex 552, as it will be interesting to see how they match up.
Product dimensions – 17.7″Lx8.6'W'x7″H
Weight – 44lb per dumbbell
Adjustment system – twist lock
Weight increments – 6.6lb 15lb 25lb 33lb 44lb
Material – metal, plastic
Why Do We Like The YooZoo Adjustable Dumbbell?
Although the company YooZoo doesn't have a great deal of experience making gym gear, they surprisingly got a lot right with these dumbbells. And my favorite feature has to be the speedy adjustment system.
The YooZoo dumbbell uses a twist-lock adjustment system. It's the fastest of all the adjustment systems, taking just one second to adjust.
What's great about owning a dumbbell with a fast adjustment system is that you can perform any advanced or basic bodybuilding technique that requires fast weight changes. Even drop sets that require the quickest weight changes can be performed with the YooZoo dumbbells.
Still, you need to remember when using a twist-lock adjustment system to make sure the dumbbell is sitting fully in the storage tray before adjusting the weight amount.
Replaces 5 Sets of Fixed Weight Dumbbells
Something else you'll love about this set of bells is how much space they save. The YooZoo Adjustable Dumbbells replace five sets of fixed weight dumbbells, that's a heck of a lot of space to save. They can be stored in a cupboard out of the way, under a bed, or best of all, try and find a small, sturdy table, this way, you won't have to keep bending down to pick up the dumbbells every time you change the weight, which can be a pain in the backside.
Fixed Length Handles (1st Drawback)
I mentioned that most cheap adjustable dumbbells come with a few issues, and one of those is the length of the handle. The YooZoo's handle is nearly 18″ long. This is a long handle for a dumbbell, and the reason it's so long is that these dumbbells use a fixed-length handle.
A fixed-length handle is a handle that stays the same length no matter how much weight you're lifting, you could be lifting 6lb or 44lb, and the handle length stays the same.
Can Be Awkward To Lift With
The problem with handles this long is that they are awkward to lift with, especially when curing. There's not much you can do about long handles apart from getting used to them. Even popular sets like the Bowflex 552s use a fixed-length handle. It is something you'll adapt to in a few weeks or so. But they will never feel natural like a fixed-weight dumbbell.
You'll need to spend a little more if you want an adjustable dumbbell with a compact handle. The Core Fitness Dumbbells are probably the best affordable adjustable dumbbells that boast a compact handle. A compact handle is a dumbbell handle that only increases in length when you add more weight; this makes for a more natural feeling dumbbell.
Too Much Plastic
Too much plastic in the design isn't just an issue with the cheaper adjustable dumbbells. This is a problem with nearly all the fast-to-adjust sets. Unless you want to spend $500+ on an all metal set of adjustables, you'll have to live with some plastic in the design.
The YooZoo adjustable dumbbells have plastic in the adjustment system surrounding the weight plates and the handle itself. There's a ton of plastic, which means you'll have to be extra careful with these dumbbells.
The first thing that usually breaks if you drop a dumbbell like the YooZoo is the plastic casing surrounding the weight plates, and if this breaks, it makes the dumbbell unusable. Also, the adjustment systems are delicate. So no training to failure and dropping the YooZoo dumbbells from height. They'll survive drops of 6″ or so but nothing higher than that. And drops aren't covered in the warranty.
9lb Weight Increments May Slow Progress
One of my main concerns with the YooZoo's is they have too big a jump in weight for proper progression. Small weight increments are one of the keys to progress no matter what piece of equipment you are using and what exercises you are perfmong, and for dumbbells, ideally, we want 2.5lb to 5lb at the highest.
The YooZoo dumbbell adjusts in increments of 9lb, this is a large jump in weight; even serious lifters shy away from a dumbbell with such large weight increases.
Large weight increases will cause you to cheat your form and slow progress, especially for isolation exercises.
Depending on your training schedule, large weight increases may be okay but for beginners and I'd always recommend you choose a dumbbell with at most 5lb increments.
Think of it this way if you can curl a 20lb dumbbell for 10 reps and you want to keep adapting, curing a 25lb dumbbell represents a 25% in load, that's okay, but still a large jump for anyone. If it were 9lb increments that jump in load would increase to almost 50% which is basically useless for bodybuilding.
Should I Buy a Single or a Pair?
If you have the budget, I'd recommend purchasing a pair of dumbbells; otherwise, you'll miss out on compound movements which should be the backbone of a decent muscle-building schedule. Compound movements increase muscle mass, build strength and burn fat faster than any other exercises, and you'll need two dumbbells to perform them.
Anything Else Worth Mentioning?
I should mention again if you want smooth, fast weight changes to make sure the YooZoo dumbbell is sitting fully in its storage cradle. I know a few people have made the mistake of not sitting a twist-lock dumbbell fully in the storage tray and have wondered why the weight changes were clunky, and that's because you need to push the dumbbell down into the tray properly.
Twist lock adjustment system – adjusts in just one second
Space saving design – replaces 5 sets of fixed weight dumbbells
Feel solid when lifting – no weight plate movement
Affordable – a pair for under $300
Long handles can be awkward to train with at first
Large jumps in weight slow progress
No drops from height as there's a lot of plastic in the design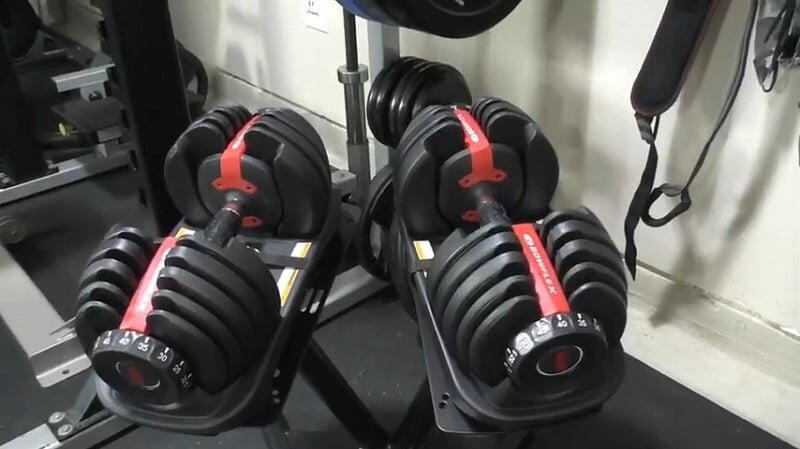 Bowflex 552 Dumbbells
I thought I compared the YooZoo dumbbells with the Bowflex because the Bowflex 552s have come down a lot in price lately, which means for a pair, they don't cost much more than a pair of YooZoo adjustable Dumbbells.
This set of bells is so popular because the 552s are one of the only selectable sets of dumbbells that adjusts in 2.5lb increments, making them an excellent choice for beginners or anyone who wants to progress fast with their lifting.
Like the YooZoos, the Bowflex 552s are fast to adjust. They use a weight selection dial on either end of the dumbbell, which takes just a few seconds to adjust.
Bowflex gym gear is high quality, and you can really feel it with this set of bells. They were the first set of adjustable dumbbells I owned, and they never let me down.
Still, however good the Bowflex 552's are, they also have their drawbacks, such as fixed-length handles not as long as the YooZoos the Bowflex's are an inch or so shorter. And the Bowflex dumbbells have plastic in their handles and surrounding the weight plates so they are another set of dumbbells you'll need to be careful with.
Overall the Bowflex 552 dumbbells give you much more choice because of the smaller weight increments. In fact, they replace 15 sets of fixed weight dumbbells compared to just 5 of the YooZoo, which makes you understand why they are worth spending that little extra.
Sold in singles or as a pair.
To Sum Up
I love the adjustment system of the YooZoo Adjustable Dumbbells, it's the fastest on the market, and it's so easy to adjust. This dumbbell feels solid, which is surprising for an adjustable dumbbell in this price range. There's no plate movement. It doesn't feel cheap.
Still, those long handles and large weight increases hold this adjustable dumbbell back somewhat. The handles you can live with they're not a deal-breaker, but I feel those large jumps in weight may be too much for a beginner who just started lifting.