What surprised me most about the Cap Adjustable Dumbbell is how good it feels when you're lifting. I've reviewed a ton of cheap adjustables similar to the Cap adjustable dumbbells, and nearly all of them have some weight plate movement or rattle. The Cap Barbell dumbbells feel solid, which is exactly what you want. They're also fairly compact, so there are no long awkward handles hitting your side when curing.
Speedy 1 Second Weight Changes.
And it's not just the solid, high-quality feel of the Cap Barbell dumbbells that appeals; the speedy weight changes are impressive, as the Cap Dumbbells use a Twist Lock adjustment system, taking just a second to adjust. It's the fastest adjustment system out there and great to see featured on a 25lb dumbbell.
Includes Comparison With LifePro 25lb Adjustable Dumbbells
Decent build quality, a fast adjustment system, and a compact design are the essentials I want to see from anyone producing dumbbells. Still, in this price range, there are always a few minor drawbacks that I'll get into later in the review, but overall the Cap Dumbbell is a dumbbell worth taking seriously, and today, I want to look at everything it has to offer. I'll also compare the Cap dumbbells with one of the best sellers in their price bracket, the LifePro 25lb dumbbells, as it will be interesting to see how they match up.
First, a quick look at the Cap Barbell Adjustable Dumbbell product specs!
Product dimensions – 14.37 x 7.28 x 6.1 inches
Weight – 25lb per dumbbell
Adjustment system – twist – lock
Material – metal, plastic
Why Do We Like The Cap Adjustable Dumbbell?
Some advanced and basic bodybuilding techniques require fast weight changes. And if you want to perform exercises like drop sets at home that require quick weight changes, you must choose a dumbbell with a fast adjustment system. You don't want to be messing around with a slow system that takes longer than  5 seconds to adjust.
The twist-lock adjustment system of the Cap Barbell dumbbell adjusts with just a twist of the wrist; there is no dumbbell exercise you can't perform with this impressive adjustment system. To adjust the Cap Barbell dumbbell, you must twist your wrist to the desired amount of weight you want to lift and lift the dumbbell from its storage cradle. It's that easy. Taking just a second.
Only Adjust The Dumbbell When in The Storage Tray
If you want smooth, fast weight changes, always sit the dumbbell fully in its storage tray before changing the weight.
5lb Weight Increments – Good For Beginners
Another important feature of any adjustable dumbbell is the weight increments. Ideally, we want 2.5lb or 5lb weight increments for dumbbells. Any larger will cause you to cheat your form and slow your progress.
Small weight increases are one of the keys to progress no matter what exercise you're performing or apparatus you are using, so you need to avoid the cheap dumbbells with 10lb weight increments. This is too big a jump, even for serious lifters.
The 5lb increments of the Cap Dumbells aren't ideal, but they're okay for most levels of lifters, even beginners, and a huge improvement over what some adjustable dumbbells are offering.
Can I Drop a Cap Dumbbell?
Fragile adjustment systems are one of the drawbacks with most selectable dumbbells, including the Cap dumbbells. There's always some plastic in the systems. It seems unavoidable with fast-to-adjust dumbbells. Even sets like the Bowflex 552s are full of plastic. It's something you have to live with unless you want to pay $500+ for a set of all-metal adjustbales.
So dropping your new dumbells isn't a good idea; you'll break the adjustment system. The Cap Barbell dumbbell will survive drops from 12″ or so, but I wouldn't risk training to failure and dropping them on that last killer rep. Drops are never covered in any of the dumbbell warranties.
 Less Plastic Than Most
The Cap Barbell has less plastic in the design than many adjustables I've reviewed. At least you have metal plates without the plastic casings. So many companies choose to add plastic casings to the weight plates for protection. This is a bad idea because the weight plate casings are the first things to crack if you drop a dumbbell, and once cracked, they're unusable. It's a major issue with the Bowflex and Core Fitness dumbbells.
Thankfully Cap Barbell decided to powder coat their weight plates to protect from rust rather than use those horrible plastic casings. So while there is some plastic in the design of the Cap dumbbells, be thankful there's less than the majority of selectable dumbbells.
Is 25lb Per Dumbbell Enough?
You can't buy any extra-weight plates to add to this dumbbell. You'll need to go out and purchase a heavier pair to continue progressing once you reach the 25lb max. Still, in my experience, 25lb per dumbbell is a good weight to start with if you're new to lifting. There's easily enough weight there for upper and lower body workouts.
Still, while most people shouldn't outgrow this dumbell anytime soon, you'll be surprised how quickly gains in strength come when you first start lifting, and it's realistic that a few of you could outgrow this dumbbell in the first six months or so.
It might be good to start with a 50lb per dumbbell pair if you're serious about your lifting. This gives you much more room for growth and will save you money in the long run. Cap barbell does make a 50lb version of this dumbbell which uses the same twist-lock adjustment system.
Two is Better Than One
If you haven't got the cash right now to buy a pair of dumbbells?  Buying one will always be better than nothing at all. Still, it's best to purchase a pair of dumbbells, especially if you want to benefit from compound movements that require two dumbbells or a barbell.
Compound movements add muscle mass, build strength and burn fat faster than any other exercise. They should be the backbone of any muscle-building routine, and If you only have a single dumbbell, you'll miss out.
Space Saving Design
One of the reasons people prefer adjustable dumbbells over the fixed weight type isn't just because they save you money. They also save you space. A pair of Cap adjustable dumbbells replaces five sets of fixed weight dumbbells. That's a heck of a lot of space to save. You can store them under a bed in a cupboard or on a table.
The Cap Dumbbells do not come with a stand, and there isn't one available to buy. It might be a good idea to get hold of a small sturdy waist height stable table to store the dumbbells. This will save you from bending down whenever you want to change the weight.
Solid feel, no plate movement
Fast twist-lock adjustment system – 1 second adjustment times
5lb weight increments good for any level of lifter and great for isolation exercises
Fairly compact handle – natural to lift with, not awkard
Great price for a well made twist lock dumbbell
No drops from height – some plastic in the design
Some users may outgrow the 25lb max weight relatively quickly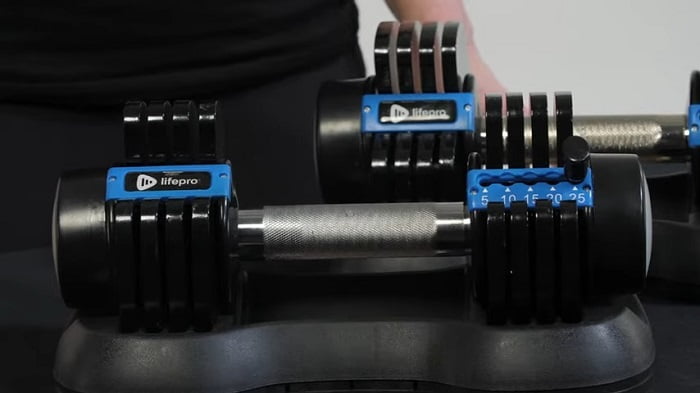 LifePro 25lb Adjustable Dumbbells
I've reviewed a lot of gym gear from LifePro over the past few years, and one thing I've noticed is that these guys pride themselves on quality, and surprisingly their prices are competitive. The LifePro Dumbbells are a high-quality pair of 25lb dumbbells.
They're very similar to the Cap Barbell dumbells in that both don't use those plastic casings for the weight plates, which is excellent news. Both boast the 5lb weight increments. And both use 14″ dumbbell handles, so the LifePros feel just as natural to lift with as the Cap Barbell dumbbells.
The only significant difference between the Caps and the Lifepros is the adjustment systems. The Caps use a twist-lock system, and the Lifepros use a pull slide selector. I've always liked selector adjustment systems; they're fast and easy to adjust. Just pull and slide the selector over the weight you wish to lift. Still, I've known slide selectors to break more easily than other adjustment systems. They can snap if used with force. It's rare for this to happen, but it's something worth noting. If you buy a pair of LifePros, be sure to be careful when adjusting.
The Lifepro 25lb dumbbells are the same price as the Cap Barbells. You can buy a pair of LifePros for around $180, which is a great deal considering the overall quality of the dumbbells.
Depending on which adjustment system you prefer? There really isn't much between the Caps and the LifePros. I'd probably edge towards the Cap Barbell dumbbells simply because I love the Twist Lock adjustment system. It's so fast to use.
To Sum Up
Apart from some plastic in the adjustment system and handle of the Cap Barbell Adjustable Dumbbells, there's nothing I can fault about them. These guys got everything right with their 25lb adjustable dumbells. It's designed perfectly for someone just getting into lifting at home; with a compact design, small weight increases, and an easy-to-use adjustment system, your progress will be fast with this impressive dumbbell from Cap.
One of the best 25lb dumbells I've reviewed; well made, affordable, and super fast to adjust.