It's surprising to find a set of adjustable dumbbells for under $200. Most companies charge this for a single dumbbell, so how come the Keppi Adjustable Dumbbells are so affordable? It's the weight range; these things only go up to 25lb. They're designed for beginners or anyone who doesn't need to lift heavy at home—the lighter the dumbbells, the lower the price tag.
The majority of adjustable dumbbell sets max out at 50lb per dumbbell, and while this is usually the best way to go because you need to allow room for growth, those sets are expensive, and not all of us need such a heavy set of bells.
Keppi Adjustable Dumbbells – In the Top 3 In This Weight Range.
I've reviewed a ton of adjustable dumbbells over the past decade, and there are only a few 25lb sets I'd recommend. The choice is limited for this weight range. The PowerBlock 24's, the AtivaFit 25lb set, and now the Keppi's. All three sets are fast to adjust, solid, and compact enough not to feel awkward when lifting.
In today's review, I want to look at everything this impressive set from Keppi has to offer, including any drawbacks because there are a few. Also, at the end of the review, I'll compare the Keppi's with the PowerBlocks 24's, one of the best sellers in this price and weight range.
First, Let's take a quick look at the product specs!
Product dimensions – 14.2″Lx7.5″Wx6.3″H
Adjustment system – twist-lock
Weigth increments – 5, 10, 15, 20, 25lb
Material – Silicon steel plates
Why Do We Like The Keppi Adjustable Dumbbells?
The best feature of the Keppi dumbbell has to be its adjustment system. The twist-lock system is the fastest to adjust out of all the adjustment systems out there. Twice as fast as a Bowflex adjustment system.
The reason this system is so fast to adjust is that the dumbbells can be adjusted  with one hand, there isn't a dial on each end like the Bowflex Dumbells, and there are no plates to take on and off and collars to screw tight like the old school sets of dumbells. Instead, you can adjust the Keppi dumbells with a simple twist of your wrist. Takes just a second to adjust.
Space-Saving Design
Another feature I love about the Keppi adjustable dumbbells or any fast-to-adjust set is just how much space they save. The Keppi's replace five sets of fixed-weight dumbells, making them perfect for a home gym where space is usually tight.
No Plate Movement
And lastly, this set from Keppi is solid, and by solid, I don't mean they won't break when you drop them; what I mean is the plates do not rattle around when you're lifting, the actual dumbbell feels solid in hand, which is always a good thing.
No Plastic Casing Surrounding The Weight Plates
One of the big issues with the top-selling adjustable dumbbell sets like the Bowflex 552's and Core Fitness sets is that they designed their weight plates with a protective plastic casing, and while the plastic casing keeps the noise down and makes for a slightly smoother weight change, its the first thing that breaks if you drop a dumbbell.
I've heard of so many people cracking the plastic casing of the Bowflex plates, and it's not a small problem because it makes the dumbbells unusable, and drops aren't covered in any of the warranties, so you'll end up with a hefty repair bill.
Thankfully the guys who designed the Keppi dumbbells did their research and designed their plates without the plastic casing, which is great news; instead, the Keppi plates are made from silicon steel and coated in anti-rust paint, which is what we want.
Can The Keppi 25lb Dumbbells Survive Drops?
As I just mentioned, the good thing with the Keppis is we don't have the plastic casing,  but we do have a fair bit of plastic in the handles and adjustment system. 
Plastic parts in the handles and adjustment systems are drawbacks of most adjustable sets. These delicate parts will break if dropped from a height. They'll survive a few drops of 6 inches or so, but I recommend you don't train to failure and drop a Keppi dumbbell. You still need to be careful.
Handle Length – is it important?
The Keppi's have a 14″ fixed length handle. 14″ is okay; the only issue here is that the Keppi dumbbells use a fixed length handle which means no matter how much weight you're lifting, whether it's 5lb or 25lb, the length of the handle stays the same.
I'd usually recommend looking for an adjustable dumbbell with a handle that only increases in length when you add weight, as this keeps the dumbbells compact and gives a more natural feel when lifting. However, this is a 25lb set and not a 50lb set so the handle isn't too long even though it's a fixed length.
14″ handles can still be awkward for curls, especially if this is your first set of bells. Still, after a few weeks, you'll get used to the handle length. And when you consider the Bowflex fixed handle length is around 16″,  the Keppi's handles are much easier to get used to.
Anything Else Worth Mentioning?
What does your training involve? How serious are you about lifting and progression? The Keppi Dumbbells are not a heavy set of bells, so it's worth thinking hard before you buy this set. Strength gains come quickly when you first start lifting, and you could find yourself out growing this set of bells in 6 months or so.
Also, the Keppi's are non-expandable, and by that, I mean there are no weight expansion packs to add to the set when your training exceeds the 25lb max. You'll have to buy a heavier set of dumbells to progress.
Super fast Twist-Lock adjustment system
5lb increments allow for proper progression
Space saving design – replaces 5 sets of fixed weight dumbbells
Dumbbells come with their own storage cradles
No plate wobble when lifting – feel solid
Great design – look like a conventional dumbbell – fairly easy to train with
Decent price for a set of twist-lock adjustable dumbbells
Plastic in handle and adjustment system – no drops allowed
Fixed length handle – not a deal killer but something a few users may have trouble getting used to
No expansion packs available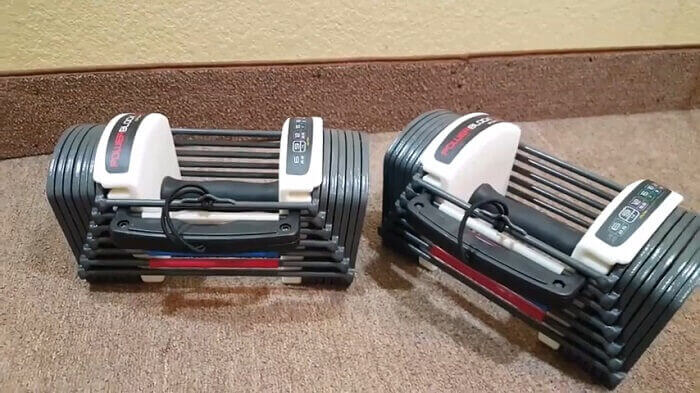 PowerBlock 24's Adjustable Dumbbells
Powerblock has been making dumbbells for the past two decades. These guys know what they're doing, and their dumbbells are some of the best on the market.
PowerBlock makes many sets of dumbbells, from 24lb per dumbbell right up to 90lb per dumbbell, and the 24's are their lightest set of dumbbells. The best feature of the PowerBlock sets is their compact size; this is a dumbbell that only increases in length when you add more weight. They use a weight stacking system to select a weight using a magnetic pin.
They're not as fast to adjust as the Keppi's, the PowerBlocks take maybe 3 seconds to change, but they are easily fast enough for most people's needs. Also, the PowerBlocks are tough; they have some plastic in the handle but no plastic in the adjustment system, so this set will take a few drops.
Another feature I love about this set is that they adjust in 3lb increments. Smaller weight increments allow for faster progression. There are no big jumps in weight, which means they're perfect for beginners and intermediates.
I've owned a set of Elite PowerBlocks for years, and they have never caused me any problems. Thanks to their compact size and speedy weight adjustments, I find them easy to train with. The blocky design might put some people off, but it doesn't affect the feel of the dumbbell.
The PowerBlock 24's max weight is 24lb per dumbbell and replaces eight sets of fixed weight dumbbells. You should be able to get hold of a set of 24's for just under $200, the same price as the Keppi's.
To Sum Up
The Keppi Adjustable Dumbbells are impressive, and the fast twist-lock adjustment system is what sells this set of dumbbells. We usually only benefit from this type of adjustment system on the heavier 50lb sets of dumbells, so it's great to see it featured on the cheaper lightweight sets like the Keppi.
Also, the build quality is high, this set feels solid, they're well made with no plate rattle, and best of all, there's no plastic casing surrounding the weight plates.
Are they worth it? Yes, if you're not planning on lifting heavy or you are a beginner, a set like the Keppi's are worth the money. They look great, they're pretty easy to train with, and they save you a load of space. Still, they are not perfect, there's a fair amount of plastic in the build, but that's something you have to live with, all the fast to adjust sets have some plastic.