These guys haven't been around long, so I wasn't expecting much when I first saw the Fit Sir Adjustable Dumbbells, but I must say I was for a while pleasantly surprised with the Fit Sir Dumbbells.
Twist Lock Adjustment System
The Twist-Lock adjustment system is excellent, and it's what sells this 55lb dumbbell. Its the fastest adjustment system on the market and great to see featured on a pair under $400. Also users have mentioned how solid they feel with no plate movement, which is a surprise as most cheap mid-weight dumbbells have some plate rattle.
Still, like all adjustables in this price range, there are drawbacks, maybe not deal stoppers but certain things you'll need to consider before purchasing the Fit Sir Bells. Today I want to cover the drawbacks, and all the pros of this 55lb pair from Fit Sir. I also want to compare them with the Bowflex 552s as there isn't much of a price difference right now, so it will be interesting to see how these two match up.
First, let's take a quick look at the Fit Sir dumbbells product specs!
Product dimensions – 17 x 6.5 x 5.2 inches
Weight – 55lb per dumbbell
Material – metal, plastic
Why Do We Like The Fit Sir Adjustable Dumbbells?
As I already mentioned, the adjustment system impresses most with the Fit Sir 55lb dumbbells. You need dumbbbells with fast adjustment systems because some advanced and basic bodybuilding techniques require speedy weight changes. Techniques such as drop sets can not be performed with an adjustable dumbbell that takes longer than 5 seconds to adjust.
One Second Adjustment Times
The Fit Sir Dumbbells take just a second to adjust and can be adjusted with a twist of your wrist. There's no need to adjust each end of the dumbbell. Twisting the handle will adjust both ends at the same time. It's super fast and easy to do.
55lb Per Dumbbell Perfect For Beginners and Intermediates
Something else I like about the Fit Sir adjustable dumbbells is the weight you get for the price point. 55lb per dumbbell is an excellent weight for a dumbell and perfect for anyone just starting with bodybuilding at home. It's much better than choosing one of the lighter 25lb dumbbells, which many lifters outgrow in their first six months or so.
55lb per dumbbell gives you more room for growth. You'll be surprised how quickly gains in strength come in the first few months, and you'll be happy you bought 55lb dumbbells that can match your gains and allow you to continue your progress.
Are 10lb Weight Increments Too Big a Jump?
Small weight increases have always been one of the keys to progress no matter what equipment you are using or exercising you are performing, and for dumbbells, ideally, you should be looking for 2.5lb or 5lb weight increments at most.
The Fit Sir adjustable dumbbells adjust in increments of 10lb. The large jumps in weight are the main drawback of this otherwise impressive pair of dumbbells.
10lb weight increments are usually too big a jump, even for season lifters. Jumps in weight this big are almost useless for isolation exercises and for bodybuilding in general.
The problem with jumps in weight this big is that it will cause you to cheat your form, and this slows progress which is the opposite of what you want. If you are strength training? Larger jumps in weight might be okay especially for leg workouts, but most people looking to increase muscle mass will want a dumbbell that uses smaller weight increments.
No Drops From Height
The Fit Sir Adjustable Dumbbell isn't a dumbbell you can throw around your gym. There's too much plastic in the design. Plastic is something that plagues most adjustable dumbbells, not just the Fit Sir bells.
There's plastic in the adjustment system, the handle, and a plastic casing surrounding the top of the weight plates. This amount of plastic is normal for an adjustable dumbbell in this price range, but what it means is you cant drop the dumbbells on that last killer rep because you'll break the adjustment system. You need to be careful as drops aren't covered in the warranty.
Long 17″ Fixed Length Handles
The last of the drawbacks is the Fixed length handles. Fixed length handles stay the same length no matter how much weight you're lifting. Fixed length handles are long, especially so on heavier 55lb dumbells like the Fit Sir.
Can Feel Awkward at First
I wouldn't say fixed length handles are a deal stopper as they are something you can get used to overtime. But if this is your first set of dumbbells, the handle's length will initially feel awkward. Exercises like curling can be a headache with fixed-length handles. Still, Once you have adapted to the length, it shouldn't affect your training negatively.
However, many adjustable dumbbell pairs like the Powerblocks Pros use compact handles. Compact handles are handles that only increase in length when you add weight. This is the gold standard for home gym adjustable dumbbells. This type of handle feels natural and less awkward to lift with.
Replaces 5 Pairs of Fixed Weight Dumbbells
One of the reasons I use adjustable dumbbells is because they save so much space. Space is tight in most home gyms, so freeing up space for more equipment is usually high on most people's list. Adjustable dumbbells like The Fit Sir's replace five pairs of fixed weight dumbbells, saving you a lot of space.
Get Hold of a Small Sturdy Table
Some people like to store their adjustable dumbbells under the bed out of the way, or some leave them on the floor. I recommend either buying a cheap dumbbell stand, or you could get hold of a small sturdy table to keep your dumbbells on. A table or stand is a good idea as it will save you from bending down whenever you want to change the weight of the dumbbell.
Should I Buy a Single or a Pair?
The Fit Sir Dumbbells are sold in singles, and if you haven't got the budget right now to buy a pair, a single is always better than nothings as there are many exercises you can perform with a single dumbbell. Still, it's always better to buy a pair of dumbbells as a pair will allow you to perform compound movements.
Compound movements build strength and muscle faster than any other type of exercise, and you'll miss out on them if you only have a single dumbbell.
Anything Else Worth Mentioning?
One last thing is to make sure to adjust the dumbbell weight only when the dumbbell is sitting fully in its storage tray. This will ensure fast, smooth weight changes.
Feel solid with no plate movement
Use the twist lock adjustment system – change weight in less than a second
Good price for a 55lb dumbbell
Save space – replace 5 pairs of fixed weight dumbbells
Concave-convex Non-slip Handle
8 safety locks keep weight plates securely in place
large jumps in weight might be a deal stopper for some
Long fixed-length handles are awkward to lift with at first, especially when curling
There's a fair amount of plastic in the design which means no drops from height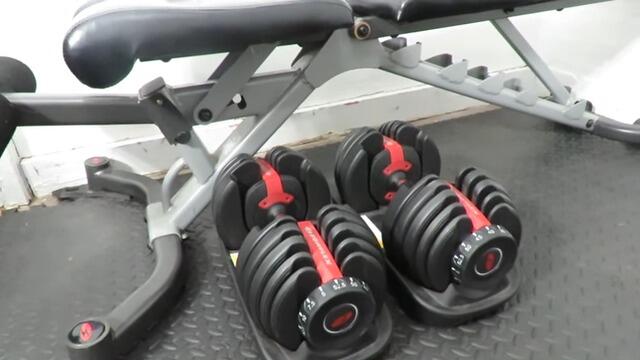 Bowflex 552 Adjustable Dumbbells
The Bowflex 552s have been the most popular pair of adjustable dumbbells for years. This pair is so popular because Bowflex was the first company to introduce a super fast selectable adjustment system. Their weight selection dial system is what helped put Bowflex at the top, and they have stayed there ever since.
Still, it's not just the speedy adjustment system that's impressive about the Bowflex 552 dumbbells. What I like most about their dumbbells is that they offer the desirable 2.5lb weight increments, and they're one of the only fast-to-adjust dumbbells offering small weight increments.
The 2.5lb weight increments make the Bowflex a great choice for any lifter at home who wants to progress properly with bodybuilding, especially useful for isolation exercises that demand smaller weight increases.
The Bowflex dumbbells are undoubtedly an impressive pair of bells, but just like the Fit Sir Dumbbells, they also have their drawbacks as they use a fixed length handle and have a ton of plastic in the design more than the Fit Sir dumbbells. The Bowflex 552s are another adjustable dumbbell you must be careful not to drop.
I wanted to compare the Bowflex 552 dumbbells with the Fit Sir adjustable dumbbells because the Bowflex 552s only cost 30 bucks more. And if you consider the Bowflex 552 offer the important smaller weight increments, that extra $30 seems more than worth it. Or put it this way, the Bowflex 552s replace 15 sets of fixed-weight dumbbells while the Fit Sirs replace just 5.
To Sum Up
The Fit Sir Adjustable Dumbbells have a lot going for them. They're more impressive than many adjustables out there right now. They're solid and well-made. And I love that they boast a twist-lock adjustment system. It's so easy to use and fast.
The build quality seems high as these dumbbells receive nearly all positive reviews; the only thing holding them back is those large weight jumps. If you can live with those? Then yes, this is a good price for 55lb twist-lock dumbbells.