If you are looking to buy the Redliro Treadmill, you don't want to make the mistake of expecting anything that resembles a high-end treadmill you may have used in your local gym. The Redliro Under Desk Treadmill is a lightweight, compact machine, and that's part of its appeal.
There's no heavy-duty build here or large running deck. This machine hasn't been designed for intense cardio sessions. Its been designed for walking and light jogging, and its best feature is that it can be used under a desk.
Lightweight But Doesn't Feel Cheap.
And that's what I love about this treadmill, its lightweight build makes it easy to move and store. And what's best of all, you can use it under a desk while you're working, and when the handles are raised, you can up the pace. It has one of the smallest footprints of any treadmill I've reviewed, so it's perfect for small spaces, and although it doesn't boast a heavy-duty build, it doesn't feel like it's made from cheap materials. This thing feels fairly solid when exercising, which is a nice surprise for a treadmill in this price range.
I've reviewed many under-desk treadmills over the years. Most of them lacked any quality, and their motors lacked power; the Redliro treadmill somewhat bucks this trend with a decent 2.25HP motor (twice the power of most under-desk treadmills) and a solid build. It seems these guys have really made an effort with their 2-in-1 treadmill, and today I want to take a look at everything it offers, including its drawbacks.
Before we get on with the review, let's take a quick look at the product specs!
Product dimensions – L x W x H: 51.9 x 24.8 x 42.1 in
Running belt size – 41″ x 15″
Why Do We Like The Redliro Under Desk Treadmill?
What sells this treadmill is its 2-in-1 feature. It's not limited to 4mph like most under-desk treadmills. If you want to take your cardio to the next level and up the pace, a little, all you need to do is lift the raiser/handle, and your top speed increases to a max of 7.5mph.
You Only Paying $50 More For The Raiser.
The raiser is a cool design feature, giving an under-desk treadmill extra appeal. And what's most impressive is you're not paying that much more for the privilege. A decent under-desk treadmill without the raiser costs around $300, and the Redliro under-desk treadmill with raiser costs an extra $50, which I think is worth it for this useful feature that allows you to jog on the treadmill.
The 2-in-1 feature is this treadmill's best feature, but what I love about this machine is just how easy it is to set up and use.
The Redliro treadmill comes completely pre-assembled from the factory. There's no complicated assembly or monitor to set up. Once unboxed, you can jump on it and get going. It's a hassle-free treadmill. Yes, you'll have to lubricate the belt every 100 miles or so, but that's about it.
Small Running Blet Just 41″ In Length
I mentioned in the intro not to expect too much with an under-desk treadmill, and I was referring mainly to the belt length of the treadmill. Compact treadmills always come with a short running belt. If you want a small treadmill that's easy to store and light? The downside is the short running belt.
41″ actually isn't too bad for an under-desk treadmill. I've reviewed some that were just 39″.
So who can use a 41″ running belt? A 41″ belt will have a max height of around 6'2″ for walking. If you want to use this treadmill for jogging, then the max height limit is much lower because of the larger stride used when you're jogging. The max height for jogging on a running belt this length is around 5'7″
All under desk treadmills, not just the Redliro, suffer from short running belts. Even higher-priced under-desk treadmills, costing twice that of the Redliro treadmill, have short 40″ belts.
If you need a larger running belt? The only thing you can do is buy a larger treadmill, not an under desk or 2 in 1.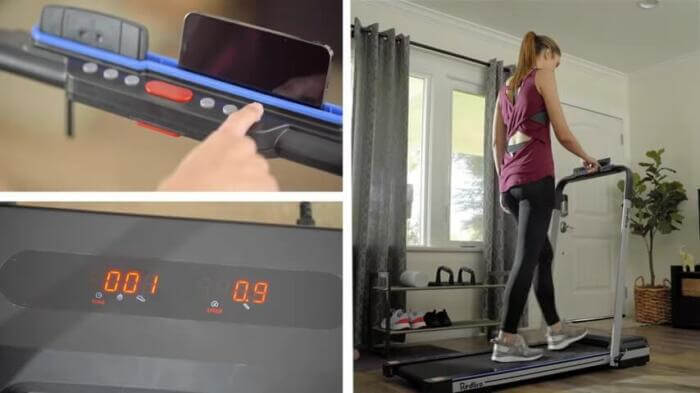 Easy To Use Monitor With Workout Programs
The design of this treadmill doesn't really allow for a convention monitor with tons of features. And you wouldn't expect anything high-end in this price range, but for a basic monitor, I was impressed.
The LED screens are pretty large, so there easy to read while you workout, and you get 12 workout programs which is a nice surprise. Not many under-desk treadmills include pre-set programs. Pre-set workout programs are great because they add something extra to your cardio sessions and keep you challenged and coming back for more.
The monitor is easy to use, you have a choice of controlling speed from the handlebars when raised, or you can use the remote control when using under a desk. There's nothing complicated about this monitor.
The monitor tracks most of your essential workout data, such as time, distance, speed, and calories. The only letdown? There's no way to monitor your pulse rate.
Anything I Didn't Like?
There's no incline. I think all treadmills, even under desk treadmills, should include an incline as it doesn't cost much to add a manual incline to a treadmill. Nearly all budget treadmills include a manual incline, so it's a shame no one has thought to add one to a budget 2 in 1 like the Redliro treadmill.
Low Weight Capacity
Something else worth mentioning is this treadmill's weight capacity, which is low at 220lb, and I recommend staying well below the max capacity of a low-cost treadmill like this. A more realistic weight capacity would be around 180lb. You don't want to overwork the motor.
Narrow Belt Takes Some Getting Used To
The running belt is narrow. You might be shocked how narrow when you first try using the treadmill. It's 15″ in width, which is normal for a walking treadmill, but if you've never used a treadmill this size before, it does take some getting used to. Stepping off the side of the treadmill in a middle of a workout can be an issue with narrow belts. A narrow belt is okay for walking and light jogging, but I wouldn't risk anything more intense on a narrow belt.
Is This Treadmill Quiet Enough To Use While on The Phone?
When using the Redliro Treadmill under your desk, your top seed probably won't be much higher than 3mph. At this speed, most treadmills are whisper quiet. Still, because this treadmill is designed for desk walking, it uses an ultra-quiet 2.25HP motor which means the person on the other end of the call will not hear the treadmill.
Do I Need a Treadmill Mat?
This is a light treadmill, so it hasn't got much weight to help with stability. A treadmill mat will help with slips on polished floors and protect your floors from scratches. If you live in an apartment, a treadmill mat is usually a must, as the mat will help absorb a lot of the vibrations from your workouts.
Sunny Health & Fitness makes the best cheap treadmill mats. Click link below to view on Amazon
Decent build quality for price point – feels stable
 2-in-1 design allows for under desk walking and raised handle jogging
Fuss-free treadmill – easy to use and no assembly
Slim design can be stored under a bed
Five layer deck cushioning to protect your joints from the impact of each foot strike
Built-in transport wheels, just tilt and roll to move
Short running belt limits max height for jogging to 5'7″
To Sum Up
All under-desk treadmills have drawbacks, short running belts and basic monitors. Under desk treadmills aren't designed for serious runners or athletes. What they are, are excellent treadmills for people who want to burn off some calories while working at their desk, and the guys at Redliro have got everything right with their design. The Redliro treadmill is easy to use, small enough to be used under any desk, boasts decent build quality for the price point, and has a more powerful motor than most desk treadmills on the market.
The person who's going to get the most from the Redliro 2 in 1 Treadmill will be someone whos 5'7″ or under, as you'll be able to use this treadmill for both walking and jogging.