You get a lot for your money with Sportneer. These guys pack as much into their equipment as possible and keep their prices low. They're a fairly new company, but they're starting to make waves in the fitness world and are challenging the likes of Sunny Health and Schwinn. The Sportneer Folding Treadmill we're reviewing today is their budget treadmill, but it doesn't feel like it. It feels surprisingly solid, with many users praising how stable this thing feels, which is rare for a low-cost treadmill.
BlueTooth, Incline, and 64 Workout Programs.
It's great to find a low-cost treadmill that's well made, but it's not just the build quality that impresses me about this treadmill. I also love that these guys have included a decent monitor with a ton of workout programs and an incline which is an essential feature if you want to get the most out of your cardio sessions. And best all, it's one of the easiest to assemble treadmills on the market, taking just a few minutes to assemble.
It's a treadmill I feel is worthy of a closer look, and today I want to take a close look at everything it has to offer, including its drawbacks, as there are a few minor ones. First, a quick look at the product specs!
Product dimensions – 55.9 x 26.7 x 47.2 inches
Max user height – 5'9″ for jogging
Running belt size – 43.3″ x 16″
Why Do We Like The Sportneer Folding Treadmill?
I'm sure what most people will like when they receive this treadmill is how easy the machine is to set up. It's not too bulky. It's a compact treadmill, and assembly takes 10 minutes. There's no messing around having to figure out complicated monitors and trying to connect to fitness apps that never work. This treadmill is fuss-free.
And its fuss-free design is what sells it to me. Once it's delivered, you can get it up and running in under 10 minutes. And if you're tight on space and need to fold it away after your workout? The Sportneer treadmill includes a soft drop folding system, something you don't usually find on treadmill in this price bracket.
Soft drop folding systems are great because you can literally fold the running deck with one hand, halving the original footprint of the treadmill, and once folded, you can roll it on its built-in transport wheels to store in the corner of a room. Everyhting about this treadmill is simple and hassle-free.
Build You Butt Calves & Hamstring With Incline Jogging
A feature I always recommend you look for when choosing a treadmill is an incline. Many budget treadmills don't include an incline feature, but the good ones do. Still, there are no auto inclines in this price range, but there are manual inclines, which we see with the Sportneer treadmill. It boasts a 3-way manual incline with a max incline of 5%.
A treadmill with an incline will allow you to get more from your workouts as walking or jogging on an incline burns twice as many calories, and it builds and strengthens those hard-to-train muscles like your glutes calves, and hamstring. It really is an essential feature, one I'm happy Sportneer thought to include.
Easy To Use Monitor With 64 Workout Programs
I like the monitor on this treadmill, yes there are no high-end features, but for a budget treadmill, this monitor is decent. Boasting over 60 workout programs is impressive. Workout programs are useful because they keep away the monotony of long cardio sessions and challenge you and keep you returning to the treadmill for more.
The monitor also includes Bluetooth and built-in speakers, which is nice to see in this price range, and it tracks all the essential workout data such as time, distance pulse, and calories.
It's an easy to use monitor as you can select almost everything with a single touch of a button, there are no complicated menus to scroll through, etc. Another handy feature are the speed controls on the handle grips. Having handlebar speed controls saves you from reaching forward in the middle of a workout to change speed. They're a nice feature to include and one you'll use a lot.
The Drawback – 43-Inch Running Belt
It's hard to find fault with a treadmill that offers so much for the price point, but there's always a drawback with the smaller treadmills, and that's the size of their running belts. The Sportneer belt measures just 43″ in length, which is pretty small for a treadmill belt.
A 43″ belt will allow users up to 5'9″ to jog on the treadmill. Anyone taller than this can only use the Sportneer treadmill for walking.
The one positive of owning a treadmill with a short, narrow belt is that it keeps the size of the treadmill down. This is a compact treadmill, so it's a good choice for small spaces.
Soft Drop Folding System
I was surprised to find a soft drop folding system on a treadmill with such a low price tag. Usually, these systems are reserved for treadmills twice the price of the Sportneer. What's so good about a soft drop system is that it makes folding the treadmill a breeze. All you need to do to unfold it is give it a slight push with your foot, and the treadmill deck will slowly lower itself.
And to fold the treadmill is just as easy. You can lift the deck with one hand, and once folded, it more than halves the original footprint of the treadmill, a useful feature, especially for those who need to fold the treadmill daily after use.
Do I Need a Treadmill Mat?
The Sportneer treadmill is pretty light, and light treadmills tend to slip on polished floors. A treadmill mat will help somewhat with stability and protect your floors from scratches. If you live in an apartment, a treadmill mat is usually a must because a mat will help absorb a lot of the vibrations from your workouts.
Sunny Health and Fitness make the best cheap treadmill mats. Click Link Below to view on Amazon
10 Minute Assembly
The Sportneer treadmill comes 95% pre-assembled. All you'll need to do is attach the handlebars and attach the monitor to the handlebars. There's a 5 step easy to follow manual for assembly. Most people got this assembled in under 10 minutes.
Maintainance: The treadmill arrives pre-lubricated from the factory, so there is no need to add any when you set up the treadmill. You'll need to lubricate the treadmill every 100 miles or so. Also, try to keep the belt clean as this will prevent any debris from getting into the motor.
Easy to set up and use – there's nothing complicated about this treadmill
Good quality for price point
3-way manual incline, burn twice as many calories
Decent monitor with 64 workout programs and Bluetooth
Soft drop folding system allows you to fold the treadmill deck with one hand
Ultra quiet motor – carbon brushed, allows you to watch TV or listen to music while you exercise without being disturbed by the sound of the treadmill
Built-in transport wheels just tilt and roll to store
43″ running belt only suitable for users up to 5'9″ for jogging
No wireless heart rate monitoring
Fitness apps not included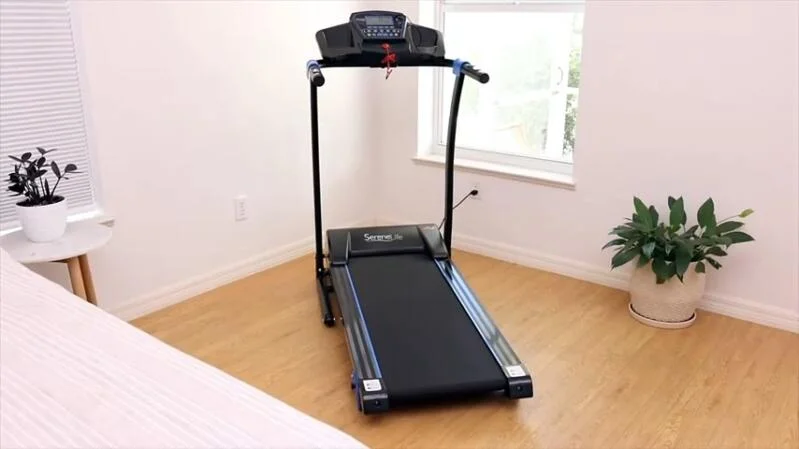 Serenelife Folding Treadmill
Serenelife are another company known for making high-quality gear and keeping prices low. Their treadmill is one of my favorites in this price bracket because just like the Sportneer treadmill, these guys got the essentials right.
The build quality is great, with many uses saying how stable and well made the Serenlife Treadmill feels for the price point. It's very similar to the Sportneer treadmill in that both treadmills weigh the same, both use the 43″ x 16″ running belt, both boast excellent soft drop folding systems, an ultra-quiet motor, and BlueTooth.
The only slight difference between the two machine is the number of workout programs offered. The Serenlife offers just 15, which is still great for a treadmill in this price range, while the Sportneer treadmill provides a whopping 64 workout programs.
Overall the Serenelife is another impressive machine for under $500 made by a company you can trust. These guys have been around for years and always receive great feedback.
To Sum Up
The Sportneer Folding Treadmill is a good buy. There's not much I can find fault with it. The build quality is there, and that's what's most important. And it doesn't lack features either like so many budget treadmills do. This treadmill includes an incline feature, a soft drop folding system, Bluetooth, and workout programs. It's also easy to use and set up and compact. The Sportneer treadmill is all a beginner needs for light cardio at home. These guys got most things right with their budget treadmill.
Does anything hold it back? The small running belt limits its appeal; the people who'll get the most out of this treadmill will be people who are 5'9″ and under, as you can use it for what it's designed for, and that's both walking and jogging.