There are a lot of treadmills in this price range, some much better than others. I've been reviewing low-cost treadmills for years, and I've learned you need to be extra careful in this price bracket as the quality from one treadmill to the next can vary hugely. Thankfully the Sunny Health Pink Treadmill isn't a treadmill you need to worry about.
Sunny Health & Fitness has been around for decades. These guys specialize in low-cost fitness gear, and they are one of the only companies I've come across that manages to produce high-quality cardio equipment with relatively low price tags.
Long Running Belt, Decent Monitor, and Feels Solid.
What stands out about his treadmill is its features. There's no other treadmill for around $400 that boats a 49″ running belt, a decent monitor with workout programs, and a high-quality build. Users have praised this treadmill, saying how good and solid it feels when exercising. This type of praise is rare for a treadmill costing $400, which makes me want to take a closer look at this impressive machine from Sunny Health.
Before we get on with the review, let's take a quick look at the product specs!
Product dimensions – 62 x 25.5 x 50 inches
Running belt size – 49" X 15.5″
Why Do We Like The Sunny Health Pink Treadmill P8700?
What stands out most to me about this treadmill is the length of the running belt. Im used to seeing belt lengths in the low to mid-40s for treadmills in this price range, so to see that Sunny used a 49″ belt on this treadmill is impressive.
Why is the length of a belt so important? The length of the running belt determines who can use the machine and for what.
A 49″ belt will allow users up to 6'1″ to walk and jog on the Sunny Pink Treadmill. And when you consider the majority of treadmills around $400 have max user heights for jogging of only 5'7″, you start to understand why the Sunny is such a good buy.
The extra length makes a big difference when jogging on a treadmill. You won't feel as restricted as on most cheap treadmills. The longer the running belt, the better.
Easy To Use – Hassle Free
Something else I know many love about this treadmill is how easy it is to set up and use. There are no complicated monitors that take an hour to future out, and assembly is easy, taking just 30 minutes. Just unbox the treadmill, attach the uprights and monitor, and you're ready to go. And with its soft drop folding system, it's super easy to fold. It can be folded with one hand. Everyhting about the P8700 is fuss-free.
Includes Incline – Great For Building Your Glutes
You're not going to find power adjustable incline on an affordable treadmill like the Sunny P8700 but what we do get is a 3-way manual which is better than nothing.
I always recommend if you're going to choose a treadmill, choose one with an incline feature. Why? Because jogging on an incline will burn twice as many calories as jogging on a flat surface, plus jogging on an incline is going to help strengthen and build those hard-to-train muscles like your glutes, hamstrings, and your calves, it really is a must feature if you want to get the most out of your cardio workouts.
The Sunny pink treadmill has a max incline of 5%, which is decent for the price point.
Monitor With 9 Workout Programs
Monitors on low-cost treadmills are nothing special they don't come packed full of features with HD screens etc. They usually only track the essential workout data. Still, the Sunny Treadmill does boast a few extra features, including speed controls on the handlebars, which is a cool feature.
The extra pair of speed controls on handle grips saves you from reaching to the monitor in the middle of your workout to change speed.
Another nice feature of this treadmill monitor is that it comes with a few workout programs. Workout programs are useful because they give you an extra challenge and keep coming back for more.
But perhaps what's best about this monitor is that it's easy to use. There is no need to scroll through a load of menus. You can access everything you need with a single touch of a button.
The Sunny monitor also tracks all your essential workout data such as speed, distance, time, calories, and pulse. Plus, you have a tablet holder if you want to download some fitness apps on your iPad.
Weight Capacity and Motor Power
This isn't a treadmill designed for large users. The max capacity of the Sunny P8700 treadmill is just 220lb. It's always a good idea to keep below the max capacity of a low-cost treadmill, especially as the motor isn't that powerful. I'd recommend staying at least 20-30lb below the max capacity. That way, you won't put the motor under too much stress and risk an early burnout.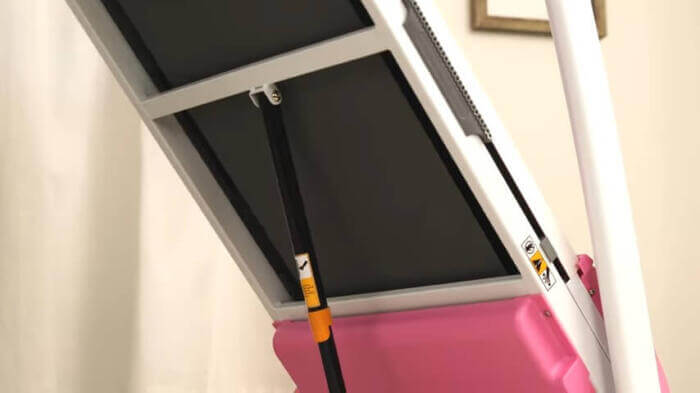 Soft Drop Folding System
The Sunny Health Pink Treadmill folds to almost half its original footprint, but what's most impressive is its folding system. This budget treadmill from Sunny Health surprisingly uses a soft drop folding system. These systems are great. They use hydraulics which makes folding them a breeze. You can fold this thing with one hand. It's that easy.
Anti Shock System (protect your joints)
It doesn't matter what age you are; protecting your joints is always a good idea. It's one of the reasons many runners choose to avoid hard impact surfaces like roads and train indoors on a treadmill. The Sunny treadmill running deck includes a deck cushioning system with four shock pads that run under the running belt, which helps protect your joints. The Sunny treadmill's anti-shock system will reduce the impact of each footstrike by a whopping 40%.
Anything I Didn't Like?
The length of the running belt is impressive for the price point, but the width isn't so good. With a width of just 15.5″, this running belt is narrow. The problem with narrow running belt is that you risk stepping off the machine in the middle of your workout. This isn't such a problem with light cardio like walking or jogging, but it can be an issue if you're considering using this treadmill for fast paced cardio.
I thought it was worth mentioning as some of you maybe be surprised just how narrow a 15'5″ belt is. Still, it's not a deal breaker as nearly every budget treadmill comes with a narrow belt. It's something you'll need to get used to.
30 Minute Assembly
Most of the Sunny treadmill comes pre-assembled. All you'll need to do is attach the two upright bars, the console with the handrails, and several other small parts shouldn't take longer than 30 minutes.
For maintenance, it's best to try and keep the running belt clean to prevent any debris from getting into the motor. You'll also need to lubricate the belt every couple of months if you use the treadmill for more than 5 hours a week and every six months if used less than 3 hours a week. 
You can check our How-To Clean a Treadmill Guide if you have more questions. 
Good quality build – feels solid
Impressive length belt for price range – suitable for users up to 6'1″ for jogging
Decent monitor – with workout programs and one-touch buttons
Speed controls and pulse sensors on the handle grips
Deck cushioning to protect your joints
Built-in transport wheels just tilt and roll to move
Narrow belt – need to be careful not to step off the side of the treadmill when exercising 
In Two Minds About The Pink? Sunny SF-T4400
If you're in two minds about the pink of the Sunny P8700, and you still want something that offers just as good value for money. Then the Sunny Health SF-T4400 might be for you.
The Sunny SF-T4400 is Sunny Health's best-selling low-cost treadmill. This machine has been around for a couple of years and has always received praise for offering great value for money.
The SF-T4400 is basically the same treadmill as the Sunny Pink Treadmill apart from the color. (currently, the SF-T4400 is about $20 cheaper than the pink version.) it boasts the same 49″ belt, monitor, folding system, shock system, and incline; everything is the same.
To Sum Up
I'm sure most people will be happy with the Sunny Health Pink Treadmill; it includes everything you need for light cardio workouts at home. Sunny Health got all the essentials right with this one.
It's not a heavy-duty treadmill, so don't expect gym quality, it's designed for walking and jogging, and its build reflects this. Still, it's impressive for the price point. I particularly like the length of the running belt, the soft drop folding system, and the easy to use monitor.
As I mentioned in the intro, it's hard to find a well-made treadmill in this price range, especially one that can cater to users up to 6'1″. The Sunny Pink treadmill is one of the best you'll find. The only other treadmill that comes close to the Sunny with a "50 belt is the Xterra Fitness tr150 Treadmill which also retails at just under $400.